Harakomeshi and Hokkimeshi in the town of Watari

Harakomeshi: a delicious bowl of rice topped with fatty salmon and sparkling salmon roe
Watari is a coastal town in the southern area of Miyagi Prefecture that is located at the mouth of the Abukuma River, the second largest river in the Tohoku region. Salmon caught in the river is a famous local specialty that has long been offered to shoguns as an autumn delicacy. Originating in Arahama in the town of Watari, Harakomeshi has plentiful cuts of fatty salmon and sparkling salmon roe (harako, also known as ikura) on top of rice cooked with salmon broth. As soon as you take a bite, you can savor the perfect harmony of rice, salmon and salmon roe. It is a treat only available in autumn.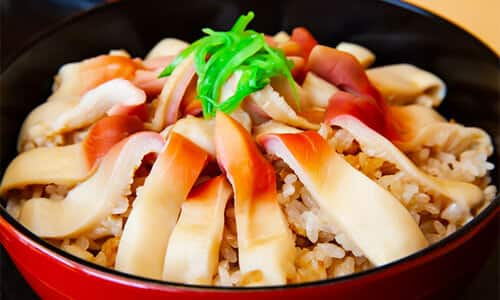 Fill your mouth with Hokkimeshi full of umami flavor
Hokkimeshi, which uses plenty of hokki-gai, or surf clam known as the king of winter clams, is a traditional local dish that has been handed down in the seaside district in the southern part of Miyagi Prefecture. Hokki-gai caught between December and May that is simmered in soy sauce turns bright red and is served over a bowl of rice cooked in the broth. The perfect harmony of the crunchy, chewy texture of the clam and the rice filled with the delicious umami flavor of the clam makes the dish hard to resist.
Location
Name
Harakomeshi and Hokkimeshi in the town of Watari
Website
http://burawatari.jp/en/spot/?keyword=%E3%81%8A%E9%A3%9F%E4%BA%8B
Address
1 Yuri, Watari-cho, Watari-gun, Miyagi
Access
Approximately 35 minutes on the JR Joban Line from Sendai Station
Restaurants can be found around Watari Station.
Please refer to the website of the respective restaurants for details.
Inquiries
TEL: 0223-34-0513 (Watari Town business and industry sightseeing section)
Please contact respective restaurants for details.