Sanyo-so was built in 1929 as the second home of former Mitsubishi conglomerate founder Yataro Iwasaki's eldest son, Hisaya, in Izunokuni, Shizuoka Prefecture. Since 1947, it has operated as a ryokan, a traditional Japanese inn. The 36 guesthouse-style rooms dotting the vast ground of 138,800 square meters offers a quiet retreat in a beautiful atmosphere.
The spacious entrance encompassing the size of 40 tatami mats is appointed with a table used in a traditional tea ceremony, accentuating the refinement of the Japanese ryokan. Tea ceremonies are held during the first three days of New Years so that visitors can relax with matcha tea after long travels. The 9,900-square-meter Japanese garden was designed by Kyoto's garden artist Jihei Ogawa. The house was the second home of the Iwasaki family, with weeping cherry trees in spring, iris in summer, the foliage of maple and dodan-tsutsuji trees in autumn, as well as cherry trees and Japanese plum in winter. Together with the main building, which is a Registered Tangible Cultural Property, visitors can enjoy an authentic Japanese atmosphere.
New building Japanese room
The guest room consisting of the main room and adjoining room creates an intimate atmosphere with a spot garden and private bath using water directly pumped from the hot spring. Open the wide-edged window and listen to the chirping of birds and the murmur of the winds and waters as you savor the sense of time away from the noise of the city.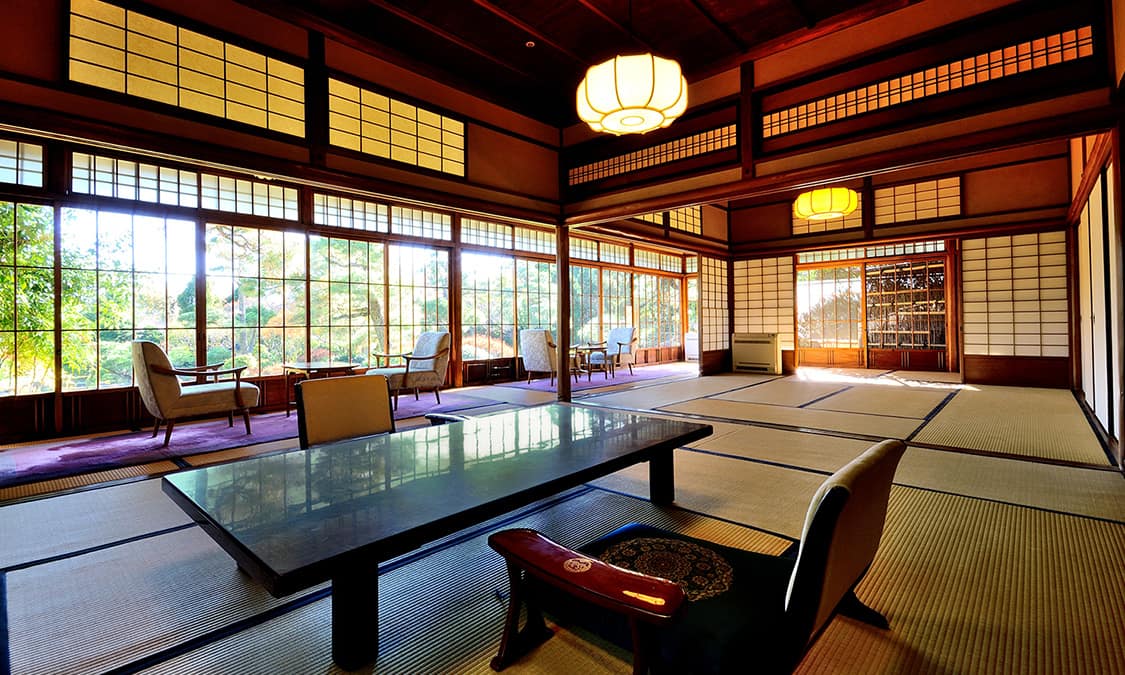 Enjoy a picturesque view of the 9,900-square-meter Japanese garden up close. Built more than 90 years ago, the room exudes a feeling of nostalgia with polished richness rather than antiquity. The decorative details, such as the warped glass and the intricately designed transom, are also worth seeing.