The Nippondaira Hotel commands spectacular views of the city of Shizuoka in Shizuoka Prefecture and Mount Fuji, a World Heritage site. Wholly rebuilt in 2012 under the concept of "combining spectacular natural scenery with art," the international-standard hotel beautifully coexists with the surrounding natural environment. From the spacious guest rooms, lobby and restaurant, the ever-changing scenery of Mount Fuji, Suruga Bay, and the dazzling night view will mesmerize guests like a work of art.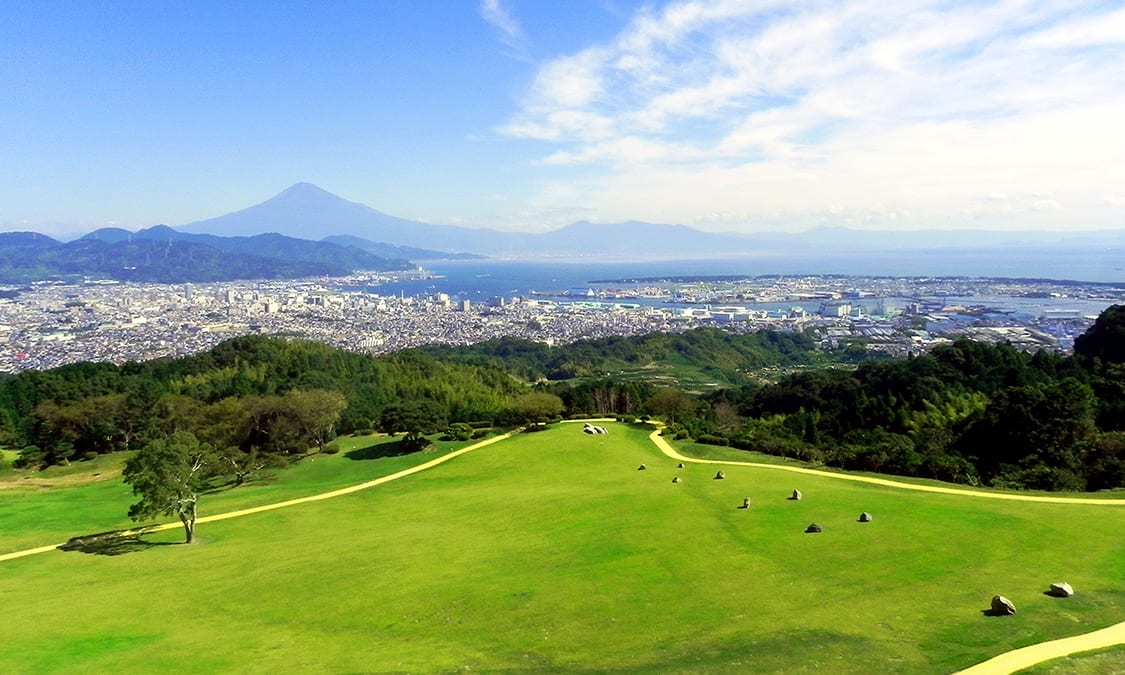 The Nippondaira Hotel is located in Nihondaira in Shizuoka City, a scenic site selected as one of the 100 Landscapes of Japan. It overlooks Mount Fuji, a World Heritage site, as well as Suruga Bay and Miho-no-Matsubara pine grove. Blessed with ever-changing scenery such as Mount Fuji at sunset, the view overlooking the city, and the night view of Shimizu Port, the hotel building was designed at an angle rotated five degrees in respect to the central axis of Mount Fuji. As a result, the panoramic view from the hotel is quite similar to the composition of the famous ukiyo-e artwork depicting Mount Fuji and Suruga Bay. The symbolic view taking advantage of its rich landscape is the reason for the Nippondaira Hotel to be aptly called "a hotel that combines spectacular natural scenery with art."
The Nippondaira Twin rooms, the only guest rooms bearing the Nippondaira name, are the representative rooms of the hotel. These 45-square-meter rooms with 6-meter-wide panoramic windows are well-appointed with beds and desks laid out to face Mount Fuji, low seating chairs, and interior designed with wood and plaster to provide a calming atmosphere where guests can relax and forget the sense of time. Attention to detail has been paid to enhance the enjoyment of the scenery, such as lowering the railings of the balcony so as not to obscure the view. With bathrooms that take in natural light from the rooftop through a lightwell, the rooms are bright and comfortable.
Six artworks are exhibited on the ground of the Nippondaira Hotel with the artist's wish to allow guests to touch and feel the warmth of the stones and gain courage and energy from them. The monument in the garden positioned as if to lead the observer toward Mount Fuji was created with the image of a mirror reflecting the mountain, and the entrance artwork greeting visitors represents an ancient monument that conveys a story without language.
Location
| | |
| --- | --- |
| Name | Nippondaira Hotel |
| Web Sites | https://www.ndhl.jp/english/ |
| Address | 1500-2 Mabase, Shimizu-ku, Shizuoka-shi, Shizuoka |
| Access | 25 minutes' drive from JR Shizuoka Station (Free shuttle bus service available) |
| Inquiries | TEL: 054-335-1131 |