Shimizu Fish Market Kashi-no-Ichi
Shimizu boasts the largest catch of frozen tuna in Japan. The Shimizu Fish Market Kashi-no-Ichi, conveniently located from Shimizu Station's East Exit, offers amazing deals on fresh seafood that you can buy and eat on the spot. Shop for quality ingredients carefully selected by professional dealers in the Ichiba-kan building, or if you are ready to eat, head to the seafood restaurants in the Maguro-kan building.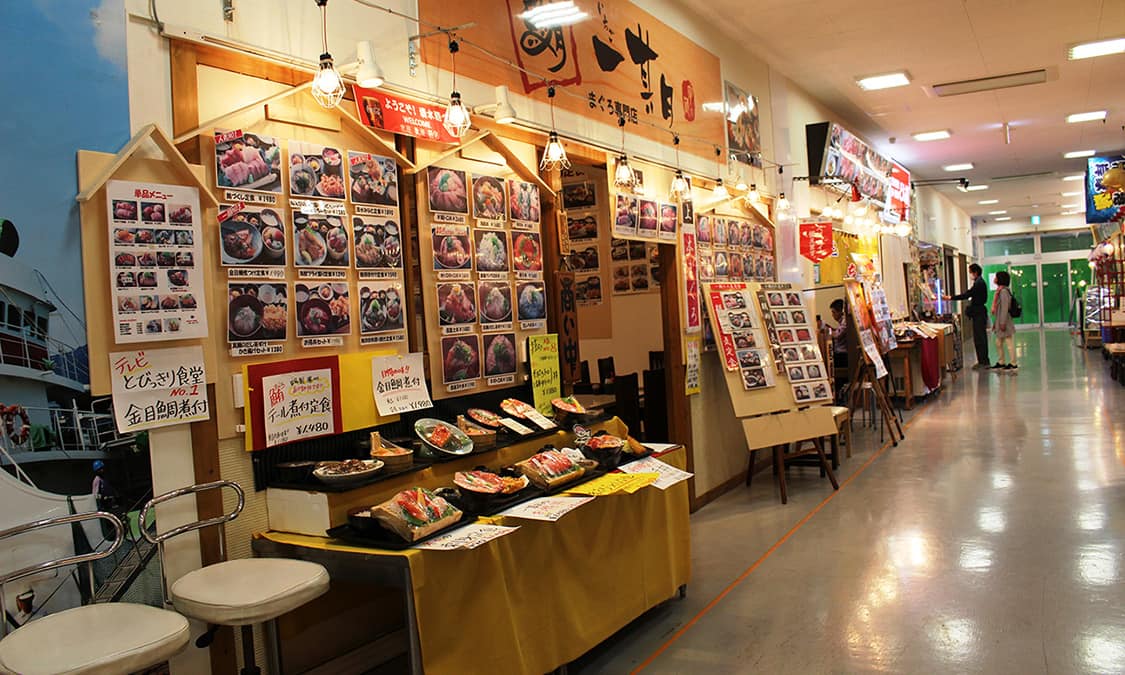 Ichiba-kan building has 20 shops and restaurants, all offering the freshest, best deals for a very satisfying shopping experience, with shops for home-made tofu, katsuobushi (dried bonito flakes), dried fish, sushi and other fresh seafood.
At Maguro-kan, visitors can enjoy extremely fresh seafood just caught locally in Shimizu. There are 15 delectable restaurants to choose from, ranging from donburi rice bowl shops and teishoku set meals to authentic sushi restaurants.
Location
Name
Shimizu Fish Market Kashi-no-Ichi
Web Sites
(In Japanese) http://kashinoichi.com/
Address
149 Shimazaki-cho, Shimizu-ku, Shizuoka-shi, Shizuoka
Access
5 minutes' walk from Shimizu Station on the JR Tokaido Honsen Line
Business Hours
Ichiba-kan: 9:30 to 17:30; Maguro-kan: 10:00 to 22:00 *1
*1 Closing times differ with each restaurant.
Closed
Wednesdays (If Wednesday is a public holiday, then the next day.) *2
*2 Some restaurants in Maguro-kan are open all year round.
Inquiries
TEL: 054-355-3575