Mount Yudono, a training ground for mountain worshippers
Standing 1,504 meters above sea level, Mount Yudono is a famous sacred mountain and training ground for Shugendo, an ascetic mountain religion in which practitioners engage in strict training in seclusion deep in the mountains. Together with Mount Gassan and Mount Haguro, they are called the Three Mountains of Dewa, and practitioners who train in these mountains are said to be able to attain the state of enlightenment of Buddha. At the gorge on the hillside in the northern part of Mount Yudono is Mount Yudono Shrine.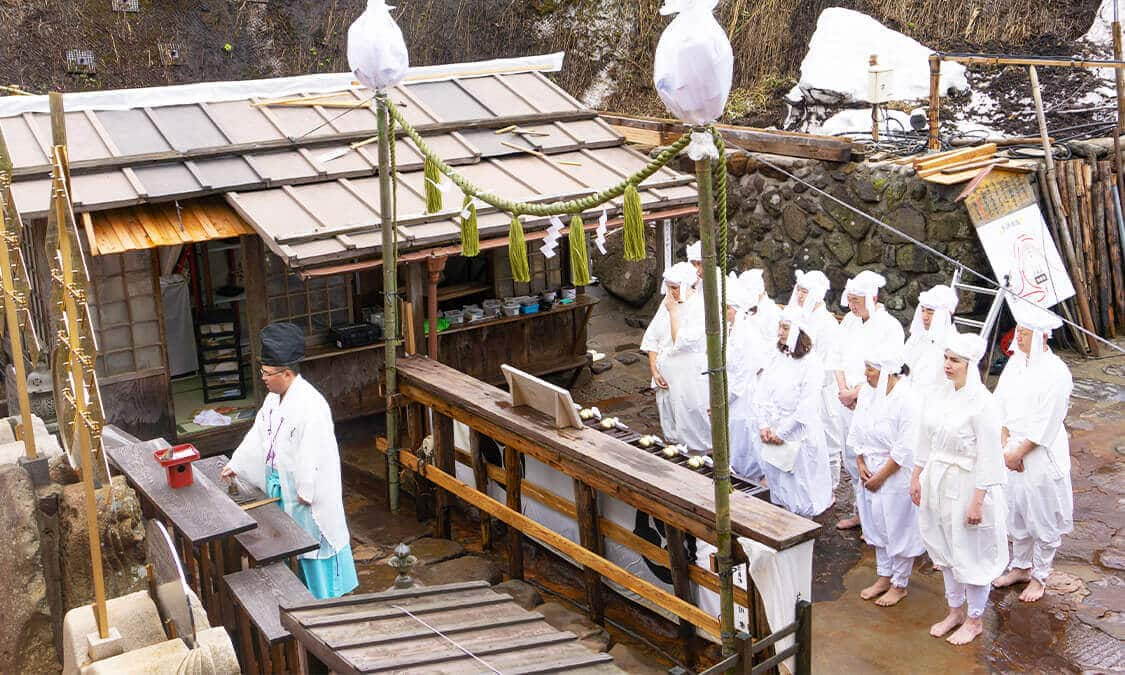 "Do not speak, do not hear" about Mount Yudono Shrine
Mount Yudono Shrine, located in the middle part of Mount Yudono, is a sacred place set apart from the rest of the world, known for strict rules such as no photography and no shoes allowed. There is no shrine building here, as a large brownish-red rock gushing hot spring water acts as the object of worship. From ancient times, worshippers have been told, "do not speak, do not hear" about what they have seen and heard at this mysterious shrine.
Mount Yudono Churen-ji Temple
In the early 800s, when the famous priest Kobo Daishi founded Mount Yudono, it is said that he built this distinguished temple at the foot of the mountain as a place for prayer. Enshrined here is the "Sokushibutsu," or the self-mummified body, of the monk Tetsumonkai Shonin. Churen-ji Temple is also famous as the setting of the Japanese literary work "Gassan." Be sure to see the 200-year-old Kasumi-zakura cherry tree called Shimekake-zakura, as well as the beautiful ceiling artwork in the temple's main building.
Mount Yudono Ryusui-ji Dainichibo Temple
Ryusui-ji Dainichibo is the head temple of Mount Yudono, founded by Kobo Daishi. Enshrined objects at the temple include the hidden Buddha statue carved by Kobo Daishi himself, the sokushinbutsu mummy of the monk Shinnyokai Shonin and the Shaka Nyorai (Sakya Tathagata) gilt bronze statue designated as an Important Cultural Property of Japan. In addition, don't miss the Nio-mon gate displaying the fearsome Nio statue created by the great 1200s Buddhist sculptor Unkei, as well as the 27-meter-tall ancient cedar tree, Odan-no-Sugi.
Location
Name
Mount Yudono
Website
http://www.dewasanzan.jp/publics/index/49/
Address
7 Rokujuriyama, Tamugibata, Tsuruoka-shi, Yamagata
Access
Approximately 30 minutes' drive from the Gassan IC on the Yamagata Expressway
Approximately 40 minutes' drive from the Shonai-Asahi IC on the Yamagata Expressway
From JR Tsuruoka Station, take the Shonai Kotsu Bus for approximately 1 hour 25 minutes to Gassan Hachigome bus stop
Business Hours
Visit to Mount Yudono Shrine: Late April to early November
Climbing Mount Gassan from Mount Yudono entrance: July to late October
Inquiries
TEL: 0235-53-3411 (Asahimura Tourist Association)
Admission
Purification fee:
Junior high school students and over: 500 yen; Elementary school students and under: free