Soko-ji Temple and Chokai-no-Mori Forest

Enjoy quiet and relaxing moments surrounded by beautiful nature in the Matsuyama area
Unlike the Sakata area on the coast, the Matsuyama area has a much calmer atmosphere. Home to a castle town for the Matsuyama Domain, it developed its own history and culture over time. This area is surrounded by beautiful nature and offers a host of interesting attractions for visitors, for example, Soko-ji Temple where you can experience Buddha image drawing and zazen training and the Chokai-no-Mori Forest which overlooks the panorama of the Shonai Plain and the Japan Sea.
Soko-ji Temple at Mount Toro
Soko-ji Temple was established in 1384 on Mount Toro. Its gate, established in 1811, proudly stands to welcome visitors after a stroll along the approach lined with a number of beautiful, 400-year-old mushroom-shaped cedar trees. The Horaien garden to the rear of the main hall is a typical example of a serene zen garden. In this garden, you can indulge yourself in a variety of spiritual experiences, such as zazen training, Buddha image copying, Sutra copying and gyocha tea ritual, inspired by the sounds of flowing water, bird song and chirping insects in a quiet and calm atmosphere.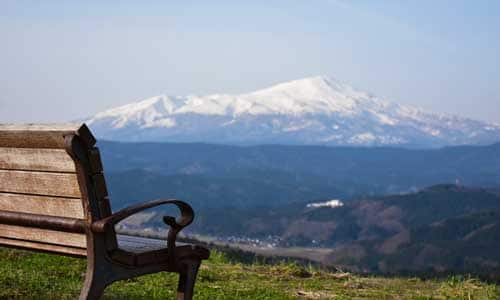 Chokai-no-Mori Forest with a panoramic view of the Shonai Plain, Mogami River and the Japan Sea
When driving along the mountain road, just after Soko-ji Temple, you will find the Chokai-no-Mori Forest. This famous scenic spot overlooks Mount Chokai to the north and the Japan Sea to the west, as well as the Mogami River that snakes through the vast Shonai Plain on its way to the sea. In the early evening on a sunny day, you can witness the dynamic bright orange sun sinking down below the horizon. The most stunning views may be seen for about a half month from the end of April when the sun is reflected on the surface of the water in rice paddies in the evening. The night view is also recommended. If you are lucky, you may also be able to spot the fires that are lit on the fishing boats out at sea.
Matsuyama Historical Park with a history and culture influenced by the Matsuyama Domain
This park was opened in the location where the Matsuyama feudal castle once stood. In this park, there are some pretty interesting attractions, such as Matsuyama Castle Otemon Gate (a Yamagata Prefecture Designated Cultural Property), Suishoan Tea House and the Matsuyama Cultural Heritage Museum. This park is also a great spot to enjoy a range of stunning seasonal flowers, for example, cherry blossoms in late April, azalea in early May and water lilies in late June. Some traditional events are also held throughout the year to showcase the history of the Matsuyama Domain.
Location
Name
Soko-ji Temple and Chokai-no-Mori Forest
Website
http://www.sokoji-sakata.com/Sokoji.html
Address
8 Sokojisawa, Sakata-shi, Yamagata
Access
Approximately 30 minutes' drive from JR Sakata Station
Approximately 10 minutes' drive from JR Amarume Station
Approximately 15 minutes' drive from the Sakata-Chuo IC on the Nihonkai-Tohoku Expressway
Business Hours
9:00 to 16:00 (10:00 to 13:00 for Buddha image copying, Sutra copying and zazen training experiences)
Closed
December to mid-March
Inquiries
TEL: 0234-62-2170
Admission
Adults: 400 yen; Elementary and junior high school students: 200 yen; Infants: free
Others
Gyocha (matcha and sweets): 600 yen (and entrance fee to the temple)
Reservations are required for a special kind of sweets three days prior to visit.
Buddha image copying, Sutra copying and zazen training experiences: 1,500 yen each (including entrance fee to the temple and gyocha tea ritual)
Goshuin stamp: 300 yen (Seasonal goshuin and special goshuin for those who participate in one of the experiences are available.)