Indulge in soaking in the abundant soft waters accompanied by the pleasant babble of a clear stream at a historic hot spring town that dates back 1,300 years
The hot spring town of Atsumi Onsen is located about 40 minutes by car from Shonai Airport in the southern part of Tsuruoka City near the prefectural border between Yamagata and Niigata. The rich nature surrounded by mountains and the clear stream flowing through the town add to the quaint ambiance of the historic town that dates back 1,300 years. The traditional inns offer delicious cuisine made with vegetables from the nearby mountains and seafood freshly caught in the Sea of Japan. For early risers, head for a stroll around the morning market.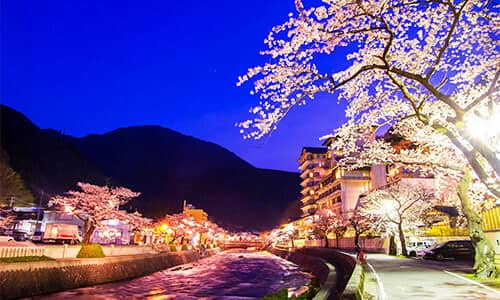 A hot spring town endowed with a river and mountains that can be enjoyed in every season
With mountains surrounding the town and traditional Japanese inns lining both sides of the Atsumi River that flows through the center of the town, Atsumi Onsen is steeped in a quaint ambiance. Visitors can enjoy the rich nature of the Atsumi River in every season: cherry blossoms in spring, sweetfish fishing in summer and in autumn watching salmons making their journey upstream. There are respectively three public baths and footbaths as well as two fountains where you can drink spring water. In spring, the footbath built on the banks becomes a beautiful scenic spot overlooking the river adorned with cherry blossom trees. The Japanese traditional inns serve seasonal dishes prepared with fresh seafood and vegetables sourced locally.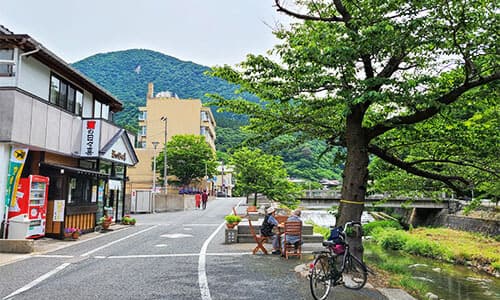 Start the day with a stroll through the morning market
Originally started around 260 years ago as a market selling food to persons spending a long time recovering from illnesses, the Atsumi morning market has continued to evolve. Today, the market features a large display of local food and crafts such as fresh vegetables and seafood, handmade pickles and dried food (open from April to November). In addition, the town is lined with several shops such as a footbath cafe with a gallery, restaurants, souvenir shops and liquor shops, which is ideal for a leisurely stroll.
Atsumi Onsen Rose Garden Park and marine park
Situated within the Kumano Shrine, the Atsumi Onsen Rose Garden Park where approximately 3,000 roses of 90 varieties bloom is a scenic spot overlooking the town. The roses are in peak bloom from June through October, and the rose festival is held in every June. A little way further from the town is the Marine Park Nezugaseki, known for a breathtaking sunset over the Sea of Japan. Selected as one of the 100 best beaches in Japan by the Ministry of the Environment, the marine park is a family-friendly beach that can be accessed in 20 minutes by car.