Maruike-sama Pond and Ushiwatari River
A pond at the foot of Mount Chokai overflowing with the mountain's blessings of spring water
Maruike-sama Pond originated from the abundant clear water delivered by rain and snow falling in the mountains surrounding the Shonai Plain of Yamagata Prefecture. The pond at the foot of Mount Chokai is 20 meters in diameter, five meters deep and filled only with spring water. The surrounding area is dotted with rivers, springs and waterfalls created by the beautiful water system nurtured by Mount Chokai.
Maruike-sama Pond overflowing with the spring water of Mount Chokai
Head toward the Minowa Salmon Hatchery in the town of Yuza, Yamagata Prefecture, and find Maruike-sama Pond quietly surrounded by trees. If you look at the transparent pond, you can see the spring water bubbling out from the bottom of the pond. Because the water is so clear and the spring water is constantly circulating, even fallen trees at the bottom of the water are not rotten. When the sun shines on the pond, the emerald green pool sparkles mysteriously. Maruike-sama Pond has been cherished since ancient times as an object of worship of Maruike Shrine located adjacent to the pond.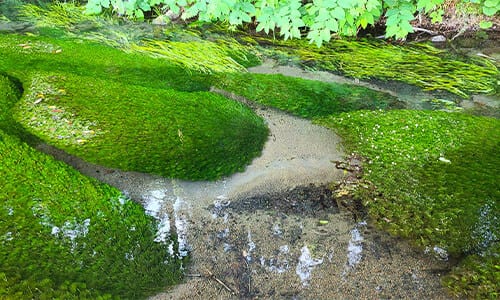 Ushiwatari River, a clear stream that nurtures plum blossom algae
Streaming down before Maruike-sama Pond, the Ushiwatari River flows with pristine, highly transparent spring water. Baikamo, a type of algae that grows in cool, clear streams can be found here, blooming beautifully with small plum-like white flowers in early summer. In the fall, a large number of salmon can be seen going upstream. A 20-minute drive from Maruike-sama Pond takes you to the Dohara Falls, where the subsoil waters of Mount Chokai gush out from the mountainside. The popular spring water spot attracts numerous regular visitors who go there to draw the subsoil water.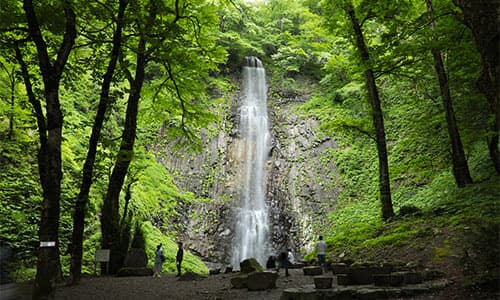 Marvel at the various large and small waterfalls
Many waterfalls of varying sizes can be found at the foot of Mount Chokai. The Tamasudare Falls in Sakata City, adjacent to Yuza Town, is the highest waterfall in Yamagata Prefecture at 63 meters, creating an astounding scenery of water falling from a precipitous cliff. It was once a training ground for mountain worshippers, and Mitake Shrine is enshrined in front of the waterfall. Also, the Juni Falls, which consists of 12 large and small waterfalls, creates a cool, pleasant landscape with different imagery for each waterfall. From a 28-meter-long, 1.2-meter-wide suspension bridge, you can enjoy the entire view of the 12 waterfalls.
Location
Name
Maruike-sama Pond and Ushiwatari River
Website
https://japantravel.navitime.com/en/area/jp/spot/02301-3400054/
Address
57 Sugusearakawa, Yuza-machi, Akumi-gun, Yamagata
Access
Approximately 50 minutes' drive from Shonai Airport
Approximately 5 minutes' drive from JR Fukura Station
Inquiries
TEL: 0234-72-5666 (Yuza Chokai Tourism Assocation)