Mount Ryutaku Zenpo-ji Temple

A temple rich in nature and history dedicated to the dragon god, the guardian deity of the sea
Located in Tsuruoka City, Yamagata Prefecture, Zenpo-ji Temple is known as the temple of the dragon god, the guardian deity of the sea. There are many valuable buildings in the 65,000 tsubo (21 hectares) precincts, including the five-storied pagoda. The large pond found through the trees behind the temple grounds is also one of the highlights.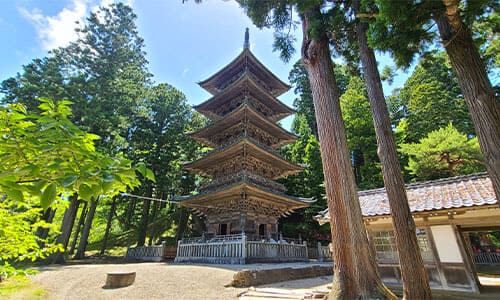 Ecclesiastical architecture and sculptures designated as National Registered Tangible Cultural Properties
Zenpo-ji Temple is one of the three major Soto Buddhist sect locations for worship. Dedicated to the dragon god, the guardian deity of the sea, the temple is worshipped by shipping agents and fishing industry workers who pray for safe sailing and a good catch. The vast temple grounds have six National Registered Tangible Cultural Properties such as the 38-meter-tall five-storied pagoda, the Gohyaku Rakando (Arhats hall) holding 531 Arhats, the main hall and the Ryuo-den hall. Observe the beautifully constructed architecture as well as the delicate sculptures of lions and phoenixes. You can also practice zazen seated meditation and taste Buddhist cuisine at this foremost prayer-training hall of the Tohoku region.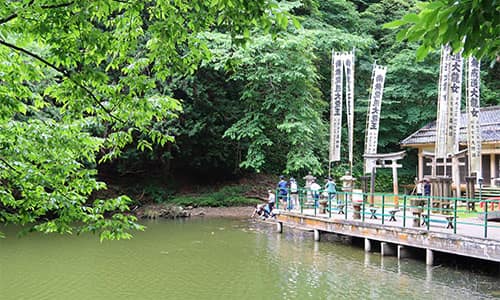 The original "human-faced fish"
Behind the temple is Kaibami Pond, said to be the home of two dragon gods and creating a mysterious atmosphere in a quiet space surrounded by lush green trees. The pond attracted attention in the 1990s as the home of the "human-faced fish," a carp with patterns that appeared to resemble a human face. It is said that there are still several human-faced fish living there today. Across from the temple is a popular spot for train aficionados: an old station house of Zenpo-ji Temple Station and a railroad car of the railway Shonai Kotsu Yunohama Line (between Tsuruoka and Yunohama Onsen), which operated until 1975.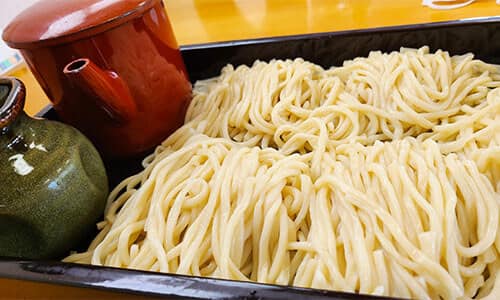 Mugikiri, a local dish loved by the people of Shonai
In the Shonai region centered around Tsuruoka City where Zenpo-ji Temple is located, there is a local dish called "mugikiri." The noodle dish is made by kneading wheat flour, spreading it thinly and cutting it into thin strips. It looks similar to udon noodles but feels smooth going down the throat, and is served chilled before you dip it in the sauce. While Yamagata is famous for soba noodles, there are many restaurants in the area where you can enjoy an assortment of both mugikiri and soba. Nezameya Hanbei, a 120-year-old restaurant just five minutes by car from Zenpo-ji, is popular among locals with a simple menu of only soba and mugikiri.
Location
Name
Mount Ryutaku Zenpo-ji Temple
Website
https://www.tsuruokacity.com/spirituality
Address
100 Shimogawasekine, Tsuruoka-shi, Yamagata
Access
Approximately 20 minutes' drive from Shonai Airport
Approximately 30 minutes' drive from JR Tsuruoka Station
Inquiries
TEL: 0235-33-3303