Mileage statements are emailed on a monthly basis to customers with a balance of one mile or more in the previous month. Customers can therefore check their mileage balance at the perfect time.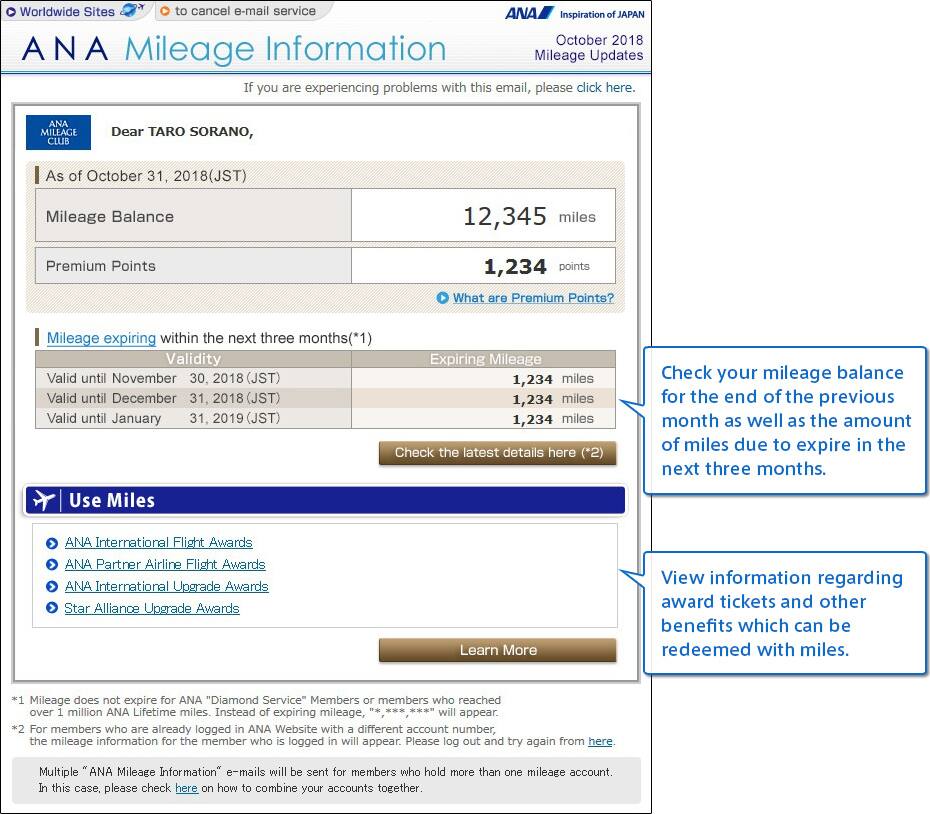 Inside the email, you can check your mileage balance for the end of the previous month as well as the amount of miles due to expire in the next three months.
Also you can view information regarding award tickets and other benefits which can be redeemed with miles.
This is a sample email. Content is subject to change without notification.
Customers who are not ANA Mileage Club members should enroll first.
About ANA Mileage Information
ANA Mileage Club members who have configured their settings as follows will receive emails.
Registered their home or work email address
Set their email preferences to receive emails from ANA
Customers can choose to receive emails in either HTML or plain text format.
Customers who choose HTML format may receive emails in plain text format.
Email start date and changing settings
Customers will begin to receive emails approximately two weeks after registration.
We may occasionally send other emails or ask you to complete questionnaires.
Customers who would like to receive mileage statements by post
As of the end of July 2011, ANA no longer posts mileage statements to customers free of charge. Customers who would like to receive statements by post will have 500 miles deducted from their balance each time a statement is sent to their registered address (up to four times per year).
Customers whose registered address is in China cannot complete procedures for this service using the ANA Mileage Club members-only functions on the ANA website. We kindly ask that you contact the ANA Mileage Club Customer Service Center in China by telephone to do so.