Information for International Airports in Japan during Busy Periods
Information

Airports may be very crowded during long public holidays in Japan such as the year-end/New Year period, Golden Week, and the Bon Festival.
Please arrive at the airport with adequate time to spare.
Nearby roads may be very congested and parking facilities may operate at full capacity during the period above.
Use of public transportation is recommended. When travelling to the airport by car, please check the availability status of the parking facilities at the relevant airport.
We kindly request that passengers confirm the following times by which each of the pre-boarding procedures should be completed.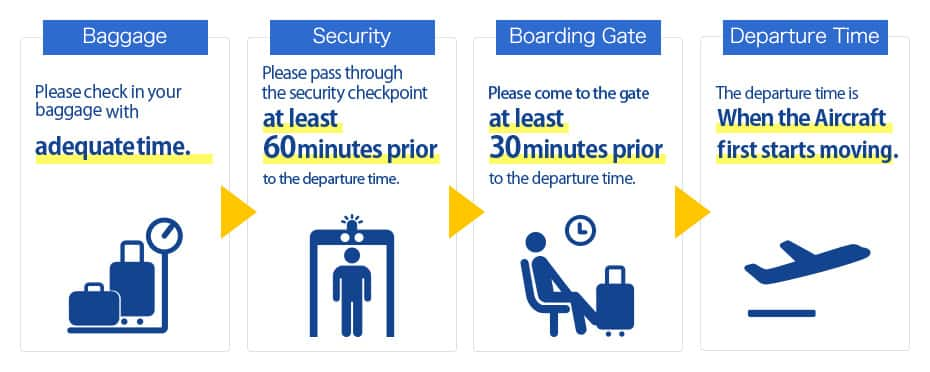 You may not be able to board after 10 minutes before departure.
Process below is necessary after you board.

Thank you for your kind cooperation.
Information for Smooth Boarding
A passport check is conducted at every international boarding gate.
We kindly ask that all passengers prepare their passport and boarding pass prior to arriving at their boarding gate.
Special guidance at each overseas airport
Information on the process for entering and exiting the country, as well as baggage, etc. is available. Please check it prior to departure.
According to the instruction by the Ministry of Land, Infrastructure, Transport and Tourism, airport security has been tightened and special security checks increased, with passengers now subject to shoe checks, etc. It may take time to pass the security checkpoint, so please pass the security checkpoint early and proceed to the boarding gate.
For passengers traveling with a small child
You will not be able to take your baby stroller into the cabin. Please remove the included accessories and check in the stroller.
The baggage counter may be crowded, so check in your baggage early. Passengers are allowed to carry on only 1 piece of baggage in addition to personal belongings (handbags, laptops, cameras, umbrellas, etc.). Be sure to check in other baggage at the baggage counter. Cigarette lighters, spare lithium batteries cannot be check-in, so please check them to carry onto the aircraft.
Please confirm in advance how your checked baggage should be handled.
Carry-on baggage is limited to 1 item that must weigh 10kg(22lbs) or less combined weight of all personal belongings and measure within 55cm by 40cm by 25cm, with all three measurements not exceeding a total of 115cm. Cutting tools such as scissors, as well as golf clubs etc. cannot be carried on board, so please check them in ahead of time.
Please check in baggage exceeding the specified dimensions in advance at the baggage counter.
Passengers connecting to Japanese domestic flights
Baggage inspection machines at the security checkpoint of Japanese domestic airports are fitted with a gauge that checks the size of carry-on baggage.
With online check-in, you do not have to check-in at the airport!
If you register your information in advance, you can check in online from 24 hours prior to the departure of your international flight! Make most of your time during busy periods.
Please complete "Online Check-in" before arriving to the airport.
Information on each airport
ANA is situated in the south wing of Terminal 1 at Narita Int'l Airport.
Please check-in at the counter of the operating airline when taking a code share flight operated by another airline. For details, please see Code share flight.
If you take the Tokyo Monorail or the Keihin Electric Express Railway to the airport, please be careful not to miss the airport stop.
Basic information on each city including the time difference and currency as well as airport access and immigration documents is provided. We hope it will be useful when planning your journey.