Baggage Handling for Itineraries Containing Codeshare Flights or Flights Operated by Other Airlines [International Flights]
If a codeshare flight or flight operated by another airline is included in the itinerary, the baggage rules of the other airline may apply.

When traveling on Japanese domestic sectors using a ticket for which the International Conditions of Carriage apply, the baggage rules for international flights will apply.

Please be advised that in the event that it is impossible to confirm whether or not an item can be transported by airplane before the departure time, the request for transport may be rejected.
Baggage Rules (baggage handling for itineraries containing codeshare flights or flights operated by other airlines)
Itineraries which do not only include flights operated by ANA will comply to IATA regulations or the regulations of the United States or Canada and the baggage regulations of airlines other than ANA may apply.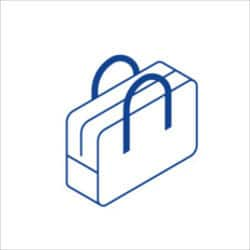 As a general rule, the free baggage allowance written on the flight ticket will apply.
Depending on the regulations of the airline checking in your baggage, the free baggage allowance may differ to that shown on your flight ticket. Please check with the respective airline for details.
Star Alliance Gold Members
Flights operated by Star Alliance member airlines or Star Alliance Connecting Partners
Please contact the operating airline.
Carry-on Baggage, Restricted Baggage, and Missing/Left Behind Baggage
Please contact the operating airline.
Benefits for Premium members
Please check with the airline with which you will check in your baggage.
For the handling on ANA-operated flights, please check the relevant information below.
What are codeshare flights?
A codeshare flight is the joint operation of an aircraft by two or more carriers, and refers to a flight with an ANA flight number (NH) operated by a partner airline.