Private Guided Tours of Japan
Creating the Best Travel Experience Together with You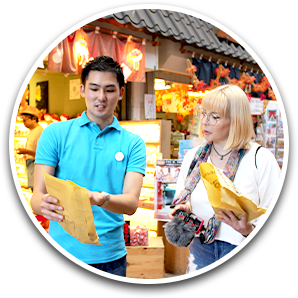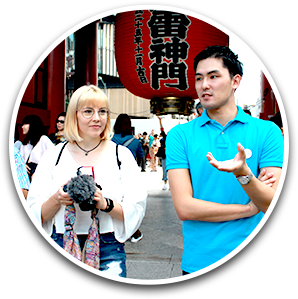 To ensure the safety of customers participating in tours, the following measures are taken during all tours for the foreseeable future.
All customers and guides will wear masks to the extent possible during tours.
Hand sanitizers provided at facilities will be used as much as possible during tours.
To ensure social distancing, some activities may be changed when the destination is crowded.
Tours may be halted or canceled depending on the trend of COVID-19.
Expert guides take you
to your dream trip
Wishing customers a pleasant journey even after their flight, ANA has partnered with private tour service otomo to create an amazing travel experience with you.
"Otomo" is a Japanese word meaning "to accompany," conveying the company's hope to guide customers to the many wonderful places across the country.
Let otomo's expert guides escort you on your dream trip and start exploring all that Japan has to offer.
Three Advantages of otomo
Tour schedule
All "Must-Sees"! Enjoy your First-Time Visit Tokyo!
Meet your guide in front of JR Harajuku Station's Omotesando Exit

If you get lost, use the Message function on My Page to contact your guide.

Explore Meiji Jingu Shrine

Relax in this oasis of the city surrounded by a sacred forest.
Your guide will show you how to buy tickets and take the train.

Visit Tokyo Tower

A prominent landmark in the Tokyo metropolis.

Lunch at Tsukiji Fish Market

Enjoy a variety of delicious sushi and sweets.

Visit the Tokyo Imperial Palace

Walk among the historic buildings and beautifully manicured gardens blooming with flowers.

Sightseeing in Asakusa

Visit Tokyo's oldest temple and stroll down the Nakamise shopping street filled with food stalls and traditional souvenirs.
This is a sample tour and may be different from the actual route or itinerary.
Travel costs, admission fees and other expenses are the responsibility of the customer.
Cancellation Policy
Cancellation policies differ depending on the reserved tour. In principle, there is no cancellation fee up to 24 hours or 48 hours before the tour. For specific policies, please see the reservation page for each tour.
Disclaimer
You will be redirected to an external website for further details.
Website terms of use and privacy policy adhere to the policies stated on the destination site. Arrangement and terms of use of the published tours are agreed on between the customer and otomo. ANA and ANA Sales are not responsible for any troubles or damages that occur during the use of this service. Please note the above before proceeding.