ANA Reports Profitable First Six Months to Fiscal Year 2007
- record revenue on strong international growth -
---
TOKYO October 31, 2007 - ANA Group today reported a record consolidated net profit of ¥105.5 billion on record revenue of ¥763.2 billion for first six months of fiscal year 2007, ended September 30, a 217% and 1.4% increase respectively. Net profit was boosted considerably by the sale of ANA Group's hotel assets on June 1 this year and is the highest ever posted at the mid-term point. Operating profit fell 2.5% to ¥67.0 billion, squeezed by the rising cost of jet fuel and the loss of income from the hotel business.
"This is a pleasing set of results for ANA Group, and demonstrates that our strategy to crate a solid financial base capable of weathering changes in the market is bearing fruit," said Tomohiro Hidema, ANA executive vice president Finance & Accounting. "We posted our largest ever consolidated revenue at the mid-year point, despite losing the revenue of our hotel business – which last year accounted for around ¥30 billion for the first half of the fiscal year. Furthermore, in spite of a ¥12 billion rise in costs, mainly attributable to fuel, our operating profit was only affected to the tune of ¥1.6 billion. This is thanks to a strong performance by our international passenger and cargo air transport services, which both showed a revenue increase of around 20%, to holding our position in the domestic market and to our efforts to control costs," he continued.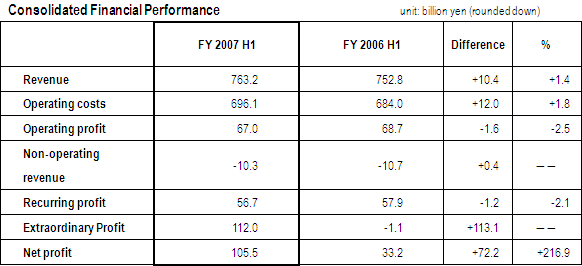 ANA Group consists of airlines, travel and other businesses, and in the previous financial year also owned and operated a chain of hotels. Each business segment performed as follows:

Domestic Air Transport
In the first three months of the year, local and Upper House elections coupled with a more competitive environment affected the number of passengers ANA carried. Although demand for leisure travel rallied towards the end of the period under review, a drop of 1.5% was recorded in the number of passengers travelling ANA for the entire six months. Notwithstanding, a revenue increase for the period was posted, attributed to: fare revisions in April and greater flexibility in the setting of discount fares; improvements to ANA's network - including the cutting of unprofitable routes, the more efficient assignment of aircraft to profitable routes and the start of code-sharing operations with Starflyer; and the roll-out of revolutionary SKiP system for boarding aircraft, which does away with the need to check-in, thus facilitation customer travel.

International Air Transport
The number of passengers travelling on international flights grew by 8% compared with the previous term. More flights were introduced on the Narita-Guangzhou route, aircraft were down-gauged on Nagoya-Shanghai to better match aircraft size to demand, and the fuel-efficient Boeing 777-300ER was introduced on alternate days onto the Tokyo-London route. As such, ANA was able to reduce costs and increase revenue generating capacity.
In September, ANA entered the rapidly growing market for travel between India and Japan with its six times per week Tokyo-Mumbai service – ANA Business Jet – using a Boeing 737-700ER in an all-business class configuration. All in all, 17% increase in revenue was reported.

Cargo
Domestic revenue and cargo volumes remained at almost the same levels as the previous term, despite greater competition. Internationally, ANA bolstered its fleet of four dedicated freighter aircraft with two wet-leased from ABX Air of the USA, increasing capacity by more than 70% year-on-year. As a result, volumes were up by nearly 35% and revenue by 20%.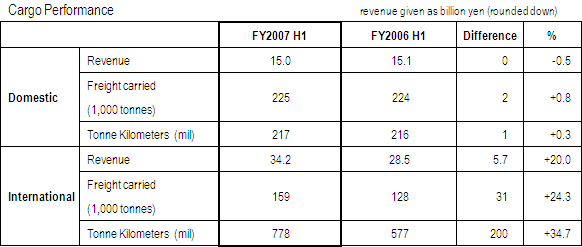 Outlook for FY2007
No change is expected from the forecast announced on April 27 this year.

Contact
Rob Henderson, Public Relations: r.henderson@ana.co.jp
Notes for Editors
– All monetary figures are given in billions of yen rounded down, percentages are rounded up.
– All comparisons are year-on-year.
– ANA Group airlines comprise: All Nippon Airways (ANA), Air Nippon (ANK) Air Japan (AJX), Air Nippon Network (A-Net), Air Central (CRF).