TOKYO January 23, 2008 - ANA today released details of its Corporate Plan for FY 2008, which runs from April 1 this year to March 31, 2009. This constitutes the first year of ANA's forthcoming Medium-Term Corporate Strategy 2008 - 2011, and is a blueprint for how the company will prepare for the opportunities presented by the expansion of airport capacity in the Tokyo metropolitan area in 2010 to realise its aim of becoming Asia's number one airline in terms of value creation.
Details of the plan for the 12 months commencing April 1, 2008 are as follows:
1. Outline

(1) International
Firmly establish a network carrier business model to increase ANA's competitiveness post the 2010 airport expansion in the Tokyo metropolitan area, and acquire the strategic know-how and global perspective needed to stand at the forefront of the wave of deregulation.
(a) Commence Tokyo Haneda-Hong Kong and Beijing (Nanyuan) flights
Use the longer operating times for charter flights at Haneda Airport in Tokyo - made possible under the Asian Gateway Initiative propounded by the Japanese government - to commence charter flights to Hong Kong. Also, commence charter flights from Haneda to Beijing's Nanyuan Airport during the 2008 Olympic Games.



(b) Further strengthen the network carrier business model
From April 1, 2008, flights to Taipei now currently operated under the EL flight number of ANA Group airline Air Nippon will be changed to the ANA flight code, NH, and undergo re-scheduling to provide better onward connectivity. The flights will also be operated under code-sharing agreements with United Airlines and EVA Airways.

(c) Increase flights from Osaka Kansai
Flights to Qingdao and Dalian will be increased to a daily service from March 2008 and June 2008 respectively. ANA's newest narrow-body aircraft, the Boeing 737-700, will be introduced on the Osaka Kansai - Hangzhou route.

NB All of the above subject to approval by the relevant government bodies.
(2) Domestic
Employ 'simple rotation' of aircraft to ensure a strong operational base that answers the needs of the market and fits the domestic competitive environment; adopt appropriate strategic measures, such as connecting fares, to support this and ensure profitability.
(a) Adopt 'simple rotation' to ensure a stronger operational base
Rotate aircraft on a straight forward return basis between ANA's major airport bases and domestic cities, and group aircraft by main type at bases, to improve on-time performance, the ability to recover from operational irregularities and better compete with the shinkansen (bullet train).


(b) Commence flights to Sapporo and Okinawa from Shizuoka Mt Fuji Airport
Inaugurate daily flights to both destinations from the opening of Shizuoka Mt Fuji Airport in March 2009.

(c) Provide high quality services
Retrofit 777-200/300, 737-500, 767-300, 747-400 aircraft types with Premium Class seating to facilitate the quicker introduction of ANA's latest domestic premium product offering, which goes into service in April.
(3) Cargo
Establish a basic cargo network to improve the profitability and efficiency of cargo operations, which ANA has designated as its third core business, and put in place a sales network and management structure in preparation for the company's planned Okinawa cargo hub.
(a) Establish basic cargo network
Increase operations to every weekday on Xiamen, Qingdao and Taipei routes using extra freighter capacity, in order to establish a basic cargo network structure.

(b) Introduce converted cargo freighters
ANA will take delivery of two cargo 767 freighter aircraft converted from ANA 767-300 passenger aircraft in FY 08 - one each in June and December. These constitute the world's first 767 cargo freighter conversions and are a measure of operational and management efficiencies at ANA.

(c) Strengthen cargo as ANA's third core business
ANA has designated cargo as its planned third core business. In order to reach this goal a cargo network will be built around Osaka Kansai, using ANA's newly established international express delivery company, to gain experience and strengthen ANA's cargo operations in readiness for the opening of ANA's planned new cargo hub in Okinawa, in the second half of FY 2009.
2. Plan in detail

(1) International



(2) Domestic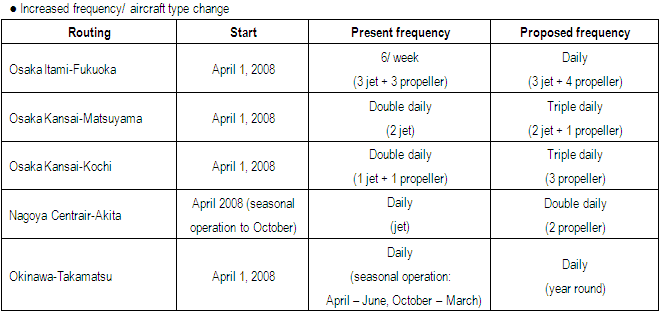 NB Subject to approval by the relevant government bodies.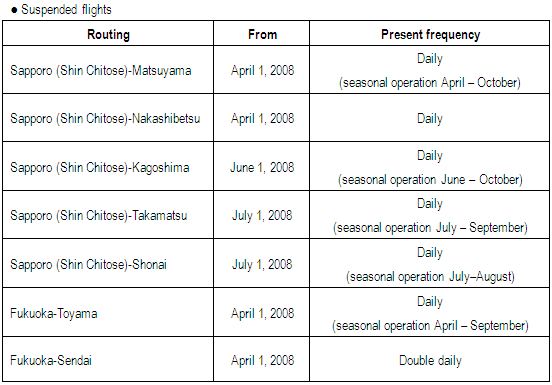 NB The above flight suspensions were previously announced on September 28, 2007, except Sapporo (Shin Chitose) - Nakashibetsu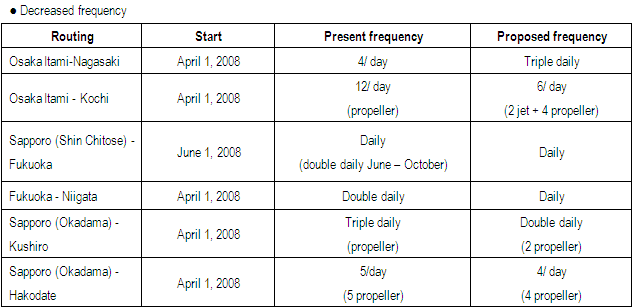 (3) Fleet Plan




(4) ANA Group international, domestic and cargo flight statistics compared to FY07