ANA Reports Profitable First Nine Months to Fiscal Year 2007
- record revenue, operating income and net income for the nine-month period -
---
TOKYO January 31, 2008 - ANA Group posted a record consolidated net income of ¥117.9 billion on record revenue of ¥1.14 trillion for the nine month period ended December 31, 2007, a 176.9% and 0.6% increase respectively. Net income was boosted considerably by the sale of ANA Group's hotel assets on June 1 last year and is the highest ever posted for the period under discussion. Operating income - at ¥93.9 billion or a 2.5% increase - is also a record for the nine-month period, despite the loss of revenue from the hotel business, and was buoyed by the performance of the airlines within the group.
"Improved debt to equity ratio and a set of pleasing results nine months through the current fiscal year, hopefully evidence a strong financial base and sound management that has allowed us to remain profitable, despite increasing competition and sky high oil prices," said Tomohiro Hidema, ANA executive vice president Finance & Accounting. "International services proved particularly strong, bringing just short of 15% more revenue, thanks mainly to strong business travel demand, while at home passenger numbers fell a little less than two percentage points, showing that we must continue our efforts to spur demand and provide more of what the customer wants. And we will also continue with our efforts to contain costs - in spite of an extra ¥22.4 billion added to our fuel bill compared with last year, we have so far managed to keep total costs at the much lower level of ¥4.7 billion," he added.
The following refers to the nine month period April 01 - December 31, 2007. For results for the three months from October 01 - December 31, please see the charts at the end of this release.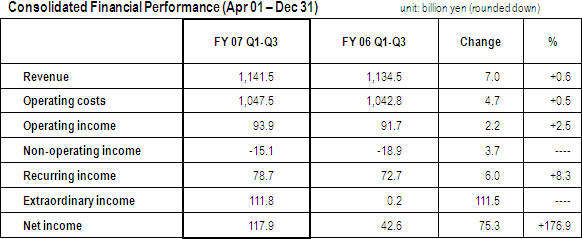 ANA Group consists of airlines, travel and other businesses, and in the previous financial year also owned and operated a chain of hotels. Each business segment performed as follows:

Domestic Air Transport
Increasing competition on trunk routes, such as Tokyo-Osaka, led to a fall of 1.8% in domestic passengers. However, thanks to a responsive discount fare policy, stringent revenue management and efforts to promote business travel, a ¥12.5 billion increase in revenue was reported. ANA's innovative boarding system that bypasses traditional check-in - SKIP - was rolled out across all domestic airports, improving customer convenience and providing the Group with a competitive edge.

International Air Transport
Europe, North America and Asia routes performed well, which coupled with strong demand for business travel led to increased passenger numbers and unit price. From September 2007, a new route opened between the 'downtown' airports of Tokyo Haneda and Shanghai Hongqiao, and improved load factors on the double-daily flights to Bangkok and Singapore, contributed to a 7.4% increase in passengers carried and a ¥30 billion increase in revenue.

Cargo
Despite increased competition on domestic routes, Group airlines were able to increase cargo volumes and maintain revenues at almost the same level as the previous year. International cargo revenues showed an increase of over 16%, to ¥7.6 billion, compared with the previous term, thanks to a strengthened network.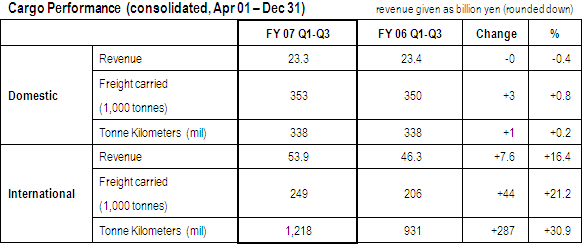 Outlook for FY2007
No change is expected from the forecast announced on April 27 this year.

Contact
Rob Henderson, Public Relations: r.henderson@ana.co.jp
Notes for Editors
– All monetary figures are given in billions of yen rounded down; other figures and percentages are rounded up.
– All comparisons are year-on-year.
– ANA Group airlines comprise: All Nippon Airways (ANA), Air Nippon (ANK) Air Japan (AJX), Air Nippon Network (A-Net), Air Central (CRF).
Consolidated results for the three months ended December 31, 2007