ANA Reports Profitable Fiscal Year 2007
- Group record consolidated profit. Group airlines report record revenue and int'l passengers -
---
TOKYO April 30, 2008 - ANA Group today posted a record net profit of 64.1 billion yen, a 96% year-on-year increase, in the wake of the sale of its hotel assets on June 1 of the period under review. Despite the loss of revenue from the hotels, consolidated revenue for the twelve months remained practically unchanged at 1.48 trillion yen, thanks to a strong performance by airlines within the Group. Operating profit was squeezed by the rising price of jet fuel and the accelerated depreciation of aircraft as the Group races to renew its fleet. As a result, consolidated operating profit fell 8.5% year-on-year to 84.3 billion yen.
"Airline revenue grew 4% over the past twelve months, driven predominantly by strong demand for business travel on international sectors, allowing us to more or less make up for the loss of our hotels and maintain consolidated revenue at almost the same level as last year's record," said ANA's Tomohiro Hidema, executive vice president, Finance. "A debt to equity ratio at its lowest ever level and an EBITDA of more than 200 billion yen, coupled with this healthy set of results, are hopefully signs of good fiscal management and a sound financial base. And this is in spite of sky-rocketing fuel prices, a 30 billion yen bigger fuel bill and increasing competition at home. We have our customers to thank for their patronage and loyalty, and our colleagues who strive to be ever more productive, seek efficiencies where possible, and try to be innovative in what we give to our customers," he continued.
The following refers to the twelve month period April 01, 2006 – March 31, 2007.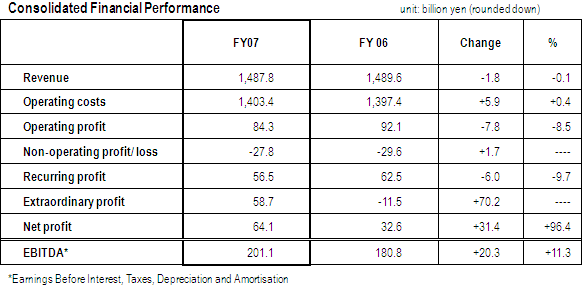 ANA Group consists of airlines, travel and other businesses, and in the previous financial year also owned and operated a chain of hotels. Each business segment performed as follows:

Domestic Air Transport
Demand for domestic travel was overall lower than in the previous term, however flexible discount fare policies and revenue management, and a push aimed at the business market meant that ANA was able to improve revenues by almost 2%, and limit a fall in passenger numbers to the same amount. ANA's innovative boarding system that bypasses traditional check-in – SKIP – was also rolled out across all domestic airports in the term under discussion, and all boarding passes were replaced with QR barcodes issued on simple receipts or sent by mobile phone, to improve customer convenience.

International Air Transport
Buoyed by strong demand for business travel, Europe, North America and Asia routes performed well, with international passenger numbers and revenue hitting record levels for the second year running. ANA resumed its India operation after a five year hiatus with flights from Tokyo Narita to Mumbai – using an all business-class 737-700ER – and a new route into Shanghai was inaugurated from Tokyo's downtown Haneda Airport. Other Asia routes saw increases in frequency and/ or aircraft size adjustment in line with demand, in order to strengthen the network, spur demand and increase profitability. Furthermore, the efficient 777-300ER was brought onto the Tokyo-London route, replacing a 747-400 service, contributing to the overall very competitive performance.

Cargo
Despite increased domestic competition, steady demand kept revenue and cargo volumes at the same levels as the previous year. Internationally, thanks to an increase in the freighter fleet from four to six aircraft, ANA was able to increase its network covering North America, China and Asia, showing an almost 20% growth in volumes carried and a 16% increase in revenue. For the first time, the total revenue generated by the Group's cargo operation exceeded 100 billion yen.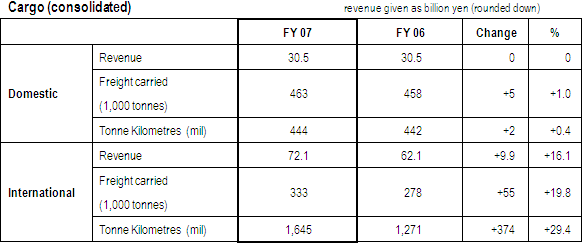 Outlook for FY2008
Over the coming four years ANA Group will implement its 2008 – 2011 Mid-term Corporate Plan, and concentrate its resources on the international passenger and cargo arenas, which have the highest growth potential. Although increased competition is expected, the Group forecasts a 22.1 billion yen increase in revenue for the coming fiscal year, thanks to this strengthened network and a more responsive fare policy aimed at spurring demand.

ANA Group expects its fuel bill to increase by around 35 billion yen year-on-year, but will work to find innovative solutions to offset that as far as possible through greater productivity and innovative cost-savings in other areas.
The Group expects to deliver 3 yen per share at the end of fiscal year 2008, ending March 31, 2009.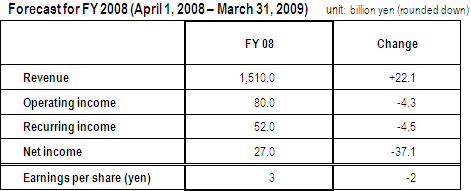 Assumptions: Dubai crude: USD 95/ bbl; Singapore Kerosene: USD 119/ bbl; exchange rate: USD 1=JPY 106
Contact
Rob Henderson, Public Relations: r.henderson@ana.co.jp
Notes for Editors
– All monetary figures are given in billions of yen rounded down; other figures and percentages are rounded up.
– All comparisons are year-on-year.
– ANA Group airlines comprise: All Nippon Airways (ANA), Air Nippon (ANK) Air Japan (AJX), Air Nippon Network (A-Net), Air Central (CRF).