ANA Reports Profitable Start to FY2008
- revenue holds and operating profit increases but CFO warns of increasing turbulence ahead -
---
TOKYO July 31, 2008 - ANA Group today reported consolidated revenue of ¥345.5billion and operating profit of ¥14.6 billion for the first quarter of fiscal year 2008, ended June 30, a drop of 1.2% and increase of 10.5% respectively. Net profit decreased 92.4% year-on-year to ¥6.6 billion, accounted for by an extraordinary gain on the sale of ANA's hotel properties in June 2007 which boosted the net profit reported in the first quarter of the previous year far beyond normal levels.
ANA Group operates within several business segments, mainly comprising airline transportation, travel, and other businesses, and until the end of the first quarter of the last financial year also owned and operated a chain of hotels.
Within the airline segment, a ¥1.5 billion year-on-year increase was reported overall, in spite of increasingly severe competition with other airlines and the bullet train in Japan, sky high oil prices and a domestic economy that has begun to show signs of stagnation in the wake of the US economic slowdown. Demand for business travel on North America and Europe routes remained healthy, resulting in increased passenger numbers and revenue, and thanks to a strengthened network, international cargo revenue and volumes showed increases of more than 18% and 26% respectively.
"While we are managing to weather the current conditions and seize opportunities to increase profitability where they arise, the high cost of oil makes the operating environment increasingly difficult," said Tomohiro Hidema, ANA's chief finance officer. "Thanks to our hedging policy we were able to contain oil related costs to a minimum this quarter, but expect to see them rise as the year progresses and so the outlook for our fuel bill is not optimistic. However, we will continue all efforts to drive down other costs where possible and will not alter our forecast for the entire fiscal year, in expectation of improving the profit base of our international passenger and cargo businesses. Similarly, we expect to spur domestic demand by increasing the efficiency of our domestic network, continuing to improve of our pricing structure, and by putting efforts into capturing a greater share of premium passengers, " he continued.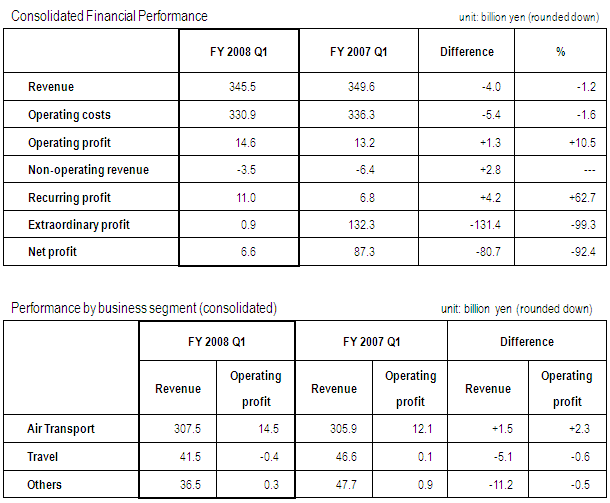 Domestic Air Transport
Available Seat Kilometers (ASK) were cut by 4% compared with the same period in the previous year and passenger numbers accordingly also fell 2.8%. Demand for domestic travel fell overall, and competition with other airlines and the bullet train increased. However, thanks to efforts to better match supply with demand and to increase ANA's competitive edge, including more flexible discount fares - for both leisure and business - and the introduction of new services, passenger numbers actually grew on trunk routes from Tokyo to Okinawa, Sapporo and Fukuoka. As a result, the fall in revenue on domestic routes was limited to 2%.

International Air Transport
In spite of the economic slowdown in the US, demand for business travel remained healthy on North America and Europe routes during the period under review. ANA expanded its Asia network and started flights from Haneda Airport, located near the centre of Tokyo, to Hong Kong, and introduced a new discount fare designed to spur demand. However, demand fell on China routes due to a food-related scare and the Sichuan earthquake disaster, leading to a drop of 0.4 percentage points in overall passenger numbers. Nevertheless, a 2.8% or ¥2.1 billion increase in revenue was reported on international routes.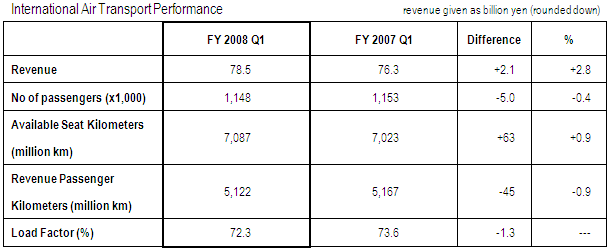 Cargo
Domestically, a new pricing structure was introduced in April affording greater flexibility to customers and allowing ANA to better fit their needs, which led to an almost 10% increase in revenue. While on the international front, although overall demand for exports from Japan remained flat, ANA concentrated its efforts on cargo flows between China and the rest of Asia, and between North America and Europe, as a result of which both volumes carried and revenue showed a marked increase.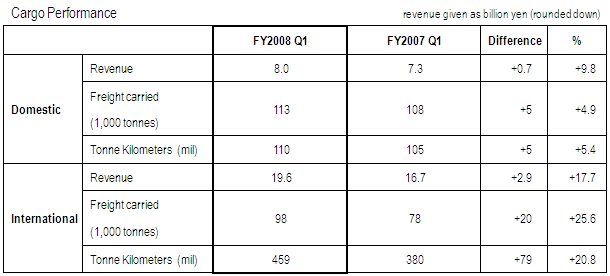 Forecast for FY2008
No change has been made to the full year forecast delivered on April 30 this year.

Contact
Rob Henderson, Public Relations: r.henderson@ana.co.jp
Notes for Editors
– All monetary figures are given in billions of yen rounded down, percentages are rounded up. All comparisons are year-on-year.
– ANA Group airlines comprise: All Nippon Airways (ANA), Air Nippon (ANK) Air Japan (AJX), Air Nippon Network (A-Net), Air Central (CRF), Air Next (NXA).

ANA Reports Profitable Start to FY2008