ANA Group FY2010-2011 Corporate strategy
- Rebuild the business base to accommodate the drastically changing
business environment, and achieve the steadily profitable structure -
---
TOKYO March 19, 2010 -ANA Group announced today its "ANA Group FY2010-2011 Corporate strategy" designed with the recognition that it is necessary for ANA Group to rebuild its business base to accommodate the global economic downturn as well as the drastically changing business environment.

ANA Group has so far been advancing its management reform with its own efforts within the Company by steadily carrying out its corporate strategy with the "selection and concentration" of businesses in its core. Also, against the backdrop of the global economic crisis since last year, ANA Group has been addressing the improvement in the balance of income and expenditure by more than 100 billion yen in a single fiscal year.

Opportunities such as capacity increase of the airports in the Tokyo metropolitan area and introduction of the strategical aircraft of Boeing 787, big business chance are coming in the fiscal year 2010 and ANA will build up our growth in a more global stage to reach our goal as becoming No.1 in Asia.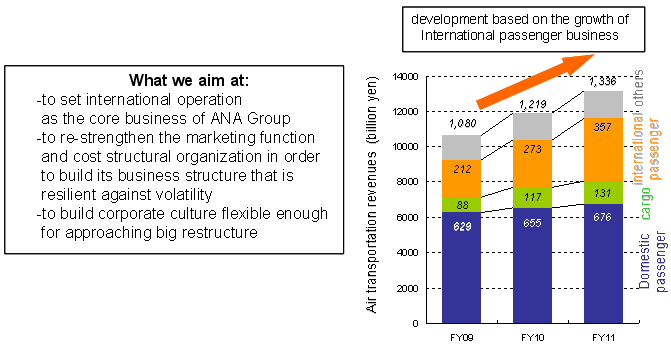 1. Outline of business strategy 2010-2011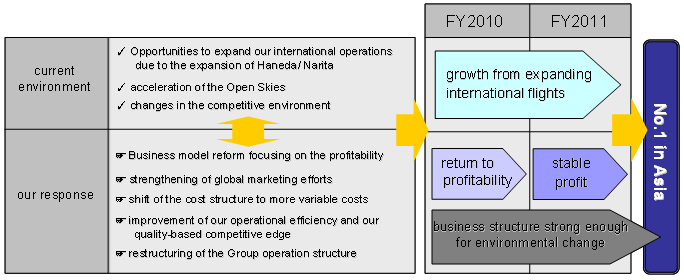 2. Overview of strategy
(1)
Expanding "network" business based on Haneda expansion and Narita-Haneda Dual Hub model
-
Will capture demand by using both airports as the hub mainly for the routes between North America and China and other Asian countries.
-
Will expand the market share through alliance with our partner carriers, and strengthen the profitability by flexible operations via code-sharing.
-
Using our domestic network, will enlarge our connection demand from the domestic local district. Will also start new routes in response to the trend in demands.*
*New service to Munich, the second hub of Lufthansa, will start from July, 2010 from Narita
*Resumption of the Haneda-Tokushima route will accelerate, service starting from October 31, 2010
| | |
| --- | --- |
| (2) | Expansion of Global Marketing with further penetration into new global markets |
| - | After being approved of the ATI, will structure a business model that is strategically strong as an alliance in such areas as networks, airfares, sales systems. |
| - | By expanding the target areas for marketing through the launch of the revenue management system handling flight connections (OD PROS), will ensure to capitalize on the global demands. |
| - | Reconsidering the general idea of flights as "international" and "domestic," and in stead group them as "long-haul" (routes to Europe and North America) and "short-haul" (meaning domestic and nearby Asia region). |
| - | Will create product and service by constantly keeping pace with the changing trend. |
| | |
| --- | --- |
| (3) | Stabilization of Okinawa cargo hub and strengthening the sales structure |
| - | Will develop a specialized cargo business operation by maximizing the connective combination of cargo flights and international and domestic passenger flights, and will differentiate our model from the rival carriers. |
| - | Will start the full-scale operation of cargo revenue management system (CARGO PROS), strengthening the management function of pricing and loading space. |
| | |
| --- | --- |
| (4) | Materialization of the New Cost Structure and the Productivity |
| - | Will implement measures to further improve its productivity |
| - | Will further examine our cost structure reform |
| - | Will carry out further reviews on the thorough check on the total costs and reviews on inter-Group transactions |

| | |
| --- | --- |
| | In addition to the above-mentioned cost reductions, the Company will carry out the measures to increase its revenue by 32 billion yen, materializing the improvement of the balance of income and expenditure by 118 billon yen in total. |
| | |
| --- | --- |
| (5) | Materialization of the Group Reform |
| - | Will commence the transition period toward the Group Headquarters/ Divisions in April 2010, to complete the process during FY2011. |
| - | Accelerating the initial schedule, will reduce the number of employees who are engaged in indirect operations by approximately 20% (approximately 1,000 persons) during FY2010. |
| - | Will carry out the combination of Air Japan and ANA & JP Express by July 2010, as well as the combination of Air Nippon Network, Air Next and Air Central by October 2010, and eventually consolidate the Group airlines into a 3-company system by the end of FY2011. |
3. Corporate Objective
| | |
| --- | --- |
| - | Will achieve the black in the FY2010 results and resume of payments of dividends in FY2010, and will aim at stabilizing the black in FY2011. |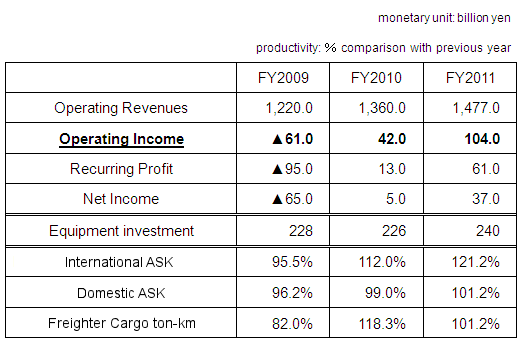 Contact: ANA Public Relations (TEL) +81-(0)3-6735-1111

ANA Group FY2010-2011 Corporate strategy