TOKYO July 10, 2012 -ANA Group, Japan's largest Airline Group, today announces that it will open two new international routes in Fiscal 2012, between Tokyo's Narita Airport and Yangon, Myanmar on October 15th 2012 and between Narita and Delhi, India on October 28th, 2012.
By expanding its route network in the growing Asian market, ANA aims to capitalize on the projected increase in demand for indirect flights between Asia and North America via Japan. This will allow ANA to accelerate the expansion of its international network, which is a key pillar of its FY2012-13 Corporate strategy, and further strengthen ANA's business model as a network carrier.
Ticket sales and reservations for flights between Narita and Yangon and Narita and New Delhi will begin on July 12th 2012. Flight details are as per the table below. Details are subject to approval of the relevant authorities.
Narita - Yangon

Narita - Delhi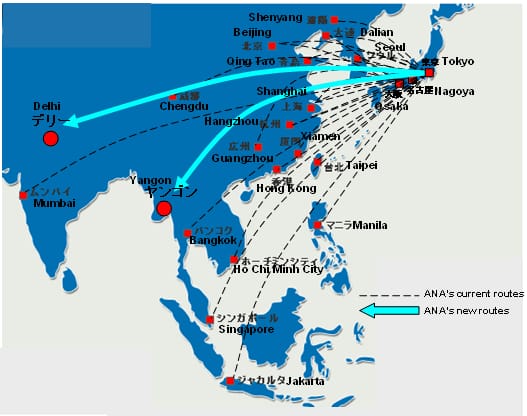 Contact: Ryosei Nomura and Megumi Tezuka, ANA Public Relations TEL +81-3-6735-1111
About ANA Group
All Nippon Airways (ANA) is the ninth largest airline in the world by revenues and the largest in Japan by passenger numbers. Founded in 1952, it flies today to 77 domestic and international cities in a fleet of 232 aircraft serving a network of 168 routes. ANA has 33,000 employees and operates about 1,000 flights a day. In 2011, it carried 43 million passengers and generated revenues of $17.1bn. ANA has been a core member of Star Alliance since 1999 and launched a joint-venture with United Airlines on trans-Pacific and Asia routes in April 2011; ANA launched a joint-venture with Lufthansa on Japan-Europe routes in October 2011. ANA has more than 23 million members belong to its Frequent Flyer Program (ANA Mileage Club). ANA is the launch customer for the world's newest and most advanced passenger aircraft, the Boeing 787 Dreamliner.