TOKYO October 29, 2012- ANA announces that it is to collaborate with the Mandarin Oriental Tokyo and St. Regis Hotel Osaka for in-flight dishes from 1st December 2012.

Menus developed by the Mandarin Oriental Tokyo will be served to Business Class customers on long-haul international flights. The new à la carte menu will be offered as a second meal before arrival and will feature dishes created by Signature, a Michelin 1-star* modern French dining at the hotel.

Menus developed by St. Regis Hotel Osaka will be served to Premium Class customers on domestic flights as SABO refreshments, which are served as a tea time menu between breakfast, lunch and dinner time.

*The restaurant has been awarded a Michelin star in the world prestigious guide's edition for Tokyo for the 5th consecutive time since 2008.


International flights - Mandarin Oriental, Tokyo's Signature collaboration menu
Olivier Rodriguez, Chef de Cuisine of modern French restaurant in Japan, has created a colorful and innovative menu that combines Japanese ingredients with the tradition of French cooking.


-
The menu will be offered from December 2012 to February 2013.
-
Offered on Business Class flights from Japan to North America and Europe.
(excludes Haneda-Los Angeles flights and Narita/Haneda- Honolulu flights)
-
Provided as one of the à la carte choices offered before arrival.

Domestic flights - St. Regis Hotel Osaka collaboration menu
Chef Nicolas Chevrollier has prepared a menu that brings together traditional bistro cuisine with the quintessence of contemporary French cooking.
The menu will allow passengers to enjoy the same luxurious atmosphere that prevails in the lounge of the St. Regis hotel.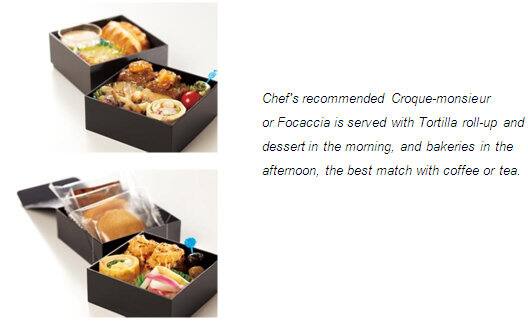 | | |
| --- | --- |
| - | The menu will be offered from December 2012 to February 2013. |
| - | Offered on Premium Class flights from Haneda, Itami, Sapporo and Fukuoka. |
| - | Provided as a Premium SABO refreshment menu. |

The Premium SABO will be offered on flights departing 9:01am - 11:29am and 1:01pm - 4:59pm. The morning and afternoon menus will be different. Tea and snacks on the afternoon menu will be provided on all routes.

*The dishes may differ from the photographs. Menus may be changed without prior notice. Please note that certain flight conditions may prevent us from offering this service.
About ANA Group
All Nippon Airways (ANA) is the eighth largest airline in the world by revenues (2011) and the largest in Japan by passenger numbers (2011). Founded in 1952, it flies today to 80 domestic and international cities in a fleet of 233 aircraft serving a network of 171 routes. ANA has 33,000 employees and operates about 1,000 flights a day. In 2011, it carried 43 million passengers and generated revenues of $17.1 bn. ANA has been a core member of Star Alliance since 1999 and launched a joint-venture with United Airlines on trans-Pacific and Asia routes in April 2011; ANA launched a joint-venture with Lufthansa on Japan-Europe routes in October 2011. ANA has more than 24 million members belong to its Frequent Flyer Program (ANA Mileage Club). ANA is the launch customer for the world's newest and most advanced passenger aircraft, the Boeing 787 Dreamliner.




About our collaboration partners

Mandarin Oriental, Tokyo
Mandarin Oriental, Tokyo's visionary design and award-winning service have been recognised as the epitome of sophisticated luxury in the city. Superbly located in the prestigious financial district within the historical and cultural centre of Tokyo, the first Mandarin Oriental Hotel Group property in Japan embodies the best of contemporary and time-honoured architectural splendour. The hotel features 178 luxuriously appointed guest rooms and suites, Michelin-starred dining, innovative bar concepts and a award-winning holistic spa all situated within the top nine floors of the soaring, Cesar Pelli-designed Nihonbashi Mitsui Tower, a site offering spectacular views of the city skyline while also providing access to stately banquet and conference facilities within the adjacent Mitsui Main Building, a Japanese cultural-heritage property.


Chef de Cuisine Olivier Rodriguez, 40, a Frenchman formerly of the three-starred Enoteca Pinchiorri in Florence, creates subtle yet imaginative experiences that tap his diverse culinary repertoire, established over more than 20 years working in France, Italy and Japan. The first of the Mandarin Oriental, Tokyo's restaurants to be recognised by Michelin in its inaugural Tokyo guide in 2008, Signature serves Rodriguez' light, modern French cuisine, each dish artfully presented in a stunning dining room high above the Tokyo skyline.


St. Regis Hotel Osaka
Being the first hotel in Japan established under the renowned luxury brand St. Regis, The St. Regis Osaka provides the highest level of services rooted in its rich heritage, which is the inheritance of the prestigious Astor family in America. With its signature "butler service" and more, every guest is guaranteed to be served with the finest hospitality in every moment of every stay.
The collaboration menu is the fascinating creation by Chef Nicolas Chevrollier, the Executive Chef of both the hotel and its French bistro "Rue d'Or". Based on the traditional French cuisine, the menu is arranged to modern flavors. Enjoy the contemporary French menu only available in the skies.


Born in Bordeaux, France, in 1973. With the background as a top-class graduate at a culinary institute in France, and experience of working at renowned restaurants in France between 1991 and 1995, Chevrollier came to Japan in 1999. His finest skills were first revealed during the time as the Vice Executive Chef of Westin Hotel Tokyo. From September 2011, he has been the Executive Chef of the French bistro "Rue d'Or", and appointed to be the Executive Chef of St. Regis Osaka from April 2012. Using local delicacies around Japan in careful selection, he looks forward to the debut of his Osaka-originated French cuisine, harmonized in Japanese flavors.