ANA to expand flight schedule for second half of FY2013
---
Tokyo August 21, 2013 –ANA Group is set to expand capacity on routes between Japan, Asia and North America in a modification to its international and domestic air transportation plan for second half of FY2013. This expansion will allow the airline to capitalize on the strong demand for travel to Japan and for flights between Asia and North America.

On international routes, ANA Group is preparing for the second round of additional takeoff and landing slots for international routes at Haneda Airport. In addition, the airline is increasing the frequency of flights on routes to North America and expanding supply capacity on Asian routes, in line with its strategy to absorb increasing demand for flights to Japan and flights between Asia and North America, transiting in Japan.

These service enhancements will make it more convenient for ANA passengers to travel both domestically and internationally and will improve ANA's standing as a full-service carrier, further enhancing the Company's competitive edge.

Details can be found below.
*These plans are subject to the approval of the relevant authorities and may change for certain reasons.
ANA Group has strengthened its North American route network by increasing flights to New York from October 2012 and by increasing flights to Chicago from September 1. In addition, in order to respond to further increases in demand for flights to Japan and flights between Asia and North America transiting in Japan via the Narita Airport hub, ANA Group will be expanding capacity on Asian routes by introducing larger aircraft.

(1) Introduction of B 787-8 on Asian routes
The B787-8, which is larger than the B767-300ER, will be introduced on the routes below.


*All 14 flights will be operated by B787-8 from Sunday, October 27, 2013


(2) Other aircraft changes



(3) Route suspensions and flight reductions




(4) The introduction of premium economy service on B787-8 aircraft flying long-haul international flights

The premium economy seats and services which have proved extremely popular on Boeing 777-300ER long-haul international flights (routes to Europe and North America) will be sequentially introduced on to 787* flights.

From September 1, 2013, premium economy service will begin on the Haneda = Frankfurt route, and will subsequently be introduced sequentially onto other routes.
*Seat specifications: Business class 46 seats, premium economy class 21 seats, economy class 102 seats (Total: 169 seats)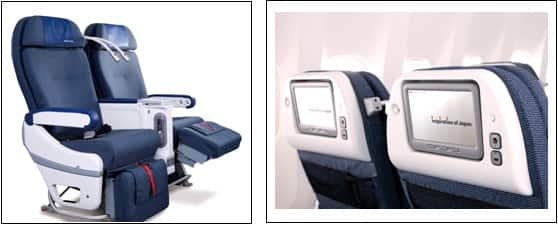 ANA Group is planning, at the end of fiscal year 2013, to retire all Boeing 747-400 aircraft, which have served for many years as the Group's mainstay aircraft model, principally on major routes.

For Cargo flights, ANA Group is launching two new routes from Sunday, October 27, 2013. The routes are Narita=Guangzhou and Okinawa=Qingdao, both operated by Boeing 767-300F . Tokyo(Narita)=Guangzhou will serve from above date until Monday, March 3, 2014.
Furthermore, at the end of fiscal 2013, ANA will be taking delivery of its tenth Boeing 767-300F dedicated cargo aircraft, with the aim of expanding cargo business.
Contact: Ryosei Nomura, Maho Ito and Megumi Tezuka, ANA Public Relations TEL +81-3-6735-1111
ANA Public Relations
All Nippon Airways (ANA) is the eighth largest airline in the world by revenues (2011) and the largest in Japan by passenger numbers (2012). Founded in 1952, ANA flies today to 31 international destinations and 50 domestic cities with a fleet of 232 aircraft serving a network of 175 routes. ANA has 14,000 employees. In 2012, it carried 45 million passengers and generated revenues of $15.8 bn. ANA has been a core member of Star Alliance since 1999 and has joint-ventures with United Airlines on trans-Pacific and Asia routes and with Lufthansa, Swiss International Airlines and Austrian Airlines on Japan-Europe routes. Its Frequent Flyer Program, ANA Mileage Club, has more than 24 million members. ANA was voted Airline of the Year for 2013 by Air Transport World Magazines, and was awarded five stars by the world's leading Airline and Airport review site, SKYTRAX. ANA is the launch customer and biggest operator of the Boeing 787 Dreamliner.

ANA to expand flight schedule for second half of FY2013