TOKYO February 26, 2014 - From March 1, ANA passengers will be able to purchase internet access on-board selected international flights using the new ANA Wi-Fi Service.
Passengers will be able to use their own devices, such as smartphone or tablet, to surf the web, access e-mail and update social networks including Facebook and Twitter and more. Latest wire report is available on portal site for free.
The new service is introduced in response to customer requests for on-board internet access, as more people become accustomed to using smartphone and tablet technology on the move. We are delighted to introduce this service which will allow our customers to experience even more convenient and enjoyable flights with ANA.
The service will be provided in partnership with JSAT Mobile Communications which supports the "Internet OnAir" Wi-Fi service in Japan.
Details are set out below.
Schedule, Routes for the service
The ANA Wi-Fi Service will be available on all class of selected international flights serviced by Boeing 777-300ER and Boeing 767-300ER aircraft.
ANA Wi-Fi Service is available on the aircraft with logo: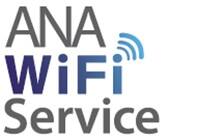 Applicable Devices
Wireless-LAN-enabled devices of passengers.
ANA Wi-Fi Service is suitable for smartphones and tablets. (PCs are not recommended)
Fees
Different usage plans are available:
Up to 5MB $US6
Up to 10MB $US12
Up to 20MB $US24
*Payments by credit card only.
ANA Public Relations : TEL: +81 -3-6735-1111
About ANA
All Nippon Airways (ANA) is the eighth largest airline in the world by revenues (2011) and the largest in Japan by passenger numbers (2012). Founded in 1952, ANA flies today to 31 international destinations and 50 domestic cities with a fleet of 232 aircraft serving a network of 175 routes. ANA has 14,000 employees. In 2012, it carried 45 million passengers and generated revenues of $15.8 bn. ANA has been a core member of Star Alliance since 1999 and has joint-ventures with United Airlines on trans-Pacific and Asia routes and with Lufthansa, Swiss International Airlines and Austrian Airlines on Japan-Europe routes. Its Frequent Flyer Program, ANA Mileage Club, has more than 24 million members. ANA was voted Airline of the Year for 2013 by Air Transport World Magazines, and was awarded five stars by the world's leading Airline and Airport review site, SKYTRAX. ANA is the launch customer and biggest operator of the Boeing 787 Dreamliner.
About OnAir
OnAir sets the benchmark for global inflight connectivity solutions, with over 60 customers on five continents. It is the only provider to offer consistent global coverage for both inflight cellular and Wi-Fi services.
OnAir's products enable passengers to use their own mobile phones, smartphones, tablets and laptops in the same way as on the ground, through the onboard Wi-Fi hotspot. The products are available as linefit or retrofit for all commercial aircraft, as well as government, VIP and business jets. OnAir products operate over all satellite links.
OnAir was incorporated in February 2005 and is owned by SITA, the leading IT solutions provider to the air transport world.
About JSAT Mobile
JSAT MOBILE Communications (JSAT Moblie) uses Inmarsat satellites to provide satellite communications services on land, at sea and in the air in addition to satellite mobile telephone services. Its services are widely used by government agencies and broadcasters to serve areas that cannot be reached by mobile phone networks.
JSAT Mobile has also begun providing the Swift Broad Inmarsat satellite communications service which is designed for aircraft and will serve as the backbone network supporting the in-flight Wi-Fi service Internet OnAir. JSAT Moblie with required licenses enabled to provide service to Japanese aircrafts.