'Tastes of JAPAN' by ANA
Featuring Niigata, Kanagawa and Shiga Prefectures

---
TOKYO, August 10, 2015 - In September 2013, ANA Group launched its 'Tastes of JAPAN' campaign. This project, which introduces regional beverages and cuisine to ANA flights, airport lounges and other services, is designed to raise the profile of Japan's lesser-known prefectures, particularly to overseas customers, and drive tourism to Japan. The project is also intended to stimulate local economies, in part by boosting consumption of regional agricultural products.

The ninth phase of the project will introduce ANA customers to products from Niigata, Kanagawa and Shiga prefectures between September and November 2015. This will include:
Niigata
In first class, passengers can enjoy "compote made with Le Lectier", a renowned brand of pears from Niigata, as well as pear and raspberry ice cream". Le Lectier pears are a sought-after fruit and the compote is made by simmering the pears in red wine.
Other in-flight and airport options include "mille-feuille made with eel (anago) and foie gras", "caramelized Le Lectier pears from Niigata", and "Niigata beer".
Kanagawa
At the "Dining h" restaurant inside the ANA SUITE LOUNGE at Haneda, diners can order "Yokohama Beef Kuroge Wagyu sirloin steak" in September. This high-quality steak is cooked to order and served together with a Japanese-style sauce. Other in-flight and airport options include "Eggs Benedict served with Shonan pork sausage" and "pudding made from red Sagami eggs".
Shiga
Passengers in business class can taste local Shiga cuisine. The main dish is "somen noodles served with grilled mackerel", a local style of noodles from Nagahama, which has been passed down the ages. The simple flavors of the noodles combine with the rich flavors of the mackerel to produce a true delicacy. Other in-flight and airport options include "Omi Wagyu hamburger with cheddar cheese and Madeira wine flavored sauce" and "white chocolate mousse and Shiga blueberry jam served with a waffle".
Airport Lounges: Japanese Sake Corner
As part of the project, ANA customers are able to sample Japanese sake, shochu and awamori, the 'Kokushu' or national spirits of Japan, at ANA airport lounges in Haneda, Narita and Kansai Airports.
'Tastes of Japan' website
Information on the featured prefectures is available on our dedicated web site in English and Chinese: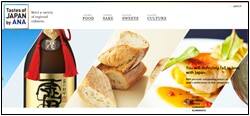 http://ana-tastesofjapan.com
http://ana-tastesofjapan.com/ch1/
http://ana-tastesofjapan.com/ch2/
ANA Group operates Japan's only 5-star rated airline with Japan's largest domestic network and an expanding network of international routes. It will continue to implement various initiatives to promote the culture and heritage of Japan and serve as a bridge between Japan and the rest of the world.
Notes to Editors
'Tastes of JAPAN' by ANA features different prefectures in 3-month cycles. The project introduces food, drinks, and desserts to customers through ANA services, the website and other channels.
Prefectures previously featured by the 'Tastes of JAPAN' project are Kumamoto, Hokkaido, Miyagi, Ehime, Miyazaki, Shizuoka, Hiroshima, Nagasaki, Ishikawa, Okayama, Oita, Yamagata, Kagawa, Yamaguchi, Fukushima, Osaka, Tottori, Toyama, Nara and Fukuoka.
Contact: Ryosei Nomura and Maho Ito, ANA Public Relations TEL +81-3-6735-1111
About ANA
All Nippon Airways (ANA) is the largest airline in Japan by revenues and passenger numbers. Founded in 1952, ANA flies today on 73 international routes and 117 domestic routes. The ANA group has 35,000 employees and a fleet of 245 aircraft. In FY2014, it carried 50.4 million passengers and generated revenues of 1.71 trillion Japanese yen. ANA offers trans-Pacific connections between Asia through the gateway of Japan and 11 North American destinations namely; New York, Washington D.C, Chicago, Los Angeles, San Francisco, San Jose, Seattle, Houston, Vancouver, and Honolulu. ANA has been a member of Star Alliance since 1999 and has joint-ventures with United Airlines on trans-Pacific and Asia routes and with Lufthansa, Swiss International Airlines and Austrian Airlines on Japan-Europe routes. Its Frequent Flyer Program, ANA Mileage Club, has more than 26 million members. ANA was voted Airline of the Year for 2013 by Air Transport World Magazine, and in 2015 was awarded five stars for the third consecutive year by the world's leading Airline and Airport review site, SKYTRAX. ANA is the launch customer and biggest operator of the Boeing 787 Dreamliner.

'Tastes of JAPAN' by ANA Featuring Niigata, Kanagawa and Shiga Prefectures