ANA Group upgrades flight schedule for second half of FY2015
Full Flat Seats Now Available in Business Class on All Flights to US Mainland
---
TOKYO, 19 August, 2015 – ANA, Japan's leading airline, is overhauling its flight schedule for the second half of FY2015 to take advantage of the strong demand for inbound travel to Japan and inter-connecting services linking North America and the Asian continent. The improvements will see the launch of new routes and additional flights to some existing destinations along with the use of larger aircraft and improved passenger services such as full flat seats.

During the first half of FY2015, ANA strengthened its network of flights from Narita Airport with the addition of two new routes to Houston and Kuala Lumpur and increased the frequency of flights on the three routes to Singapore, Bangkok and Honolulu.

During the second half of the year, ANA will further enhance and expand its international flight network with the introduction of new Narita-Brussels and Haneda-Sydney routes. ANA will also introduce new routes and increase flights between Haneda and China, where demand for travel to Japan is very strong.

ANA will be introducing larger aircraft and new cabin products on some of the routes between North America and the Asian continent where demand is strong. As a result of these changes, full flat seats will be available in business class on all routes to the US mainland, following their introduction on all routes to Europe in February.

On domestic routes, ANA is working to improve convenience for passengers by optimizing the number of routes, flights and aircraft types to take advantage of demand trends in light of the competitive environment.

As a result of these modifications to ANA's flight schedule, there will be increased flights to a number of international and domestic destinations while services on a number of other short-haul and long-haul routes will be reduced or suspended. Services between Narita and Paris will be suspended. However, services from Haneda to Paris will continue as normal and ANA will replace the Boeing 787-8 aircraft which currently operates this route with the larger 787-9.

For cargo flights, ANA will continue to operate flights on the Bangkok-Jakarta route, which opens in September, to harness the rapidly growing demand for cargo services in the ASEAN region. ANA is also working to further enhance and expand its cargo network, particularly for flights to China, as ANA's eleventh freighter goes into full service.

Details of all these changes are shown below.

*These plans are subject to approval of the relevant authorities and schedules are subject to change.

(1) New Routes and Additional Flights


*1 Flights to Haneda will operate from October 26, 2015.
*2 Fights currently serve Hongqiao Airport but additional flights will serve Pudong Airport.
*3 Additional flights will operate on Mondays, Saturdays and Sundays.



(2) Reduced Flights and Suspended Routes




(3) Changes in aircraft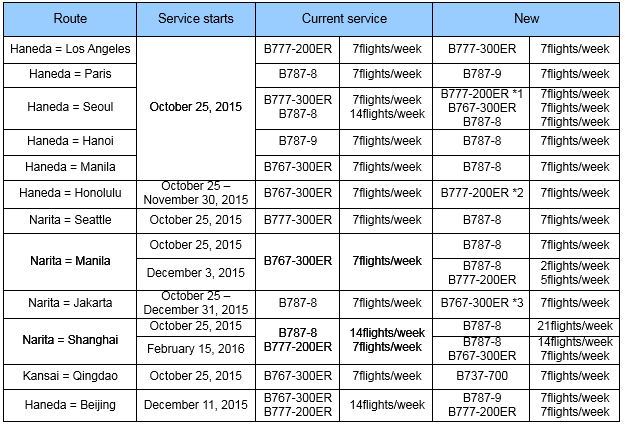 *1 From February onwards, B777-200ER aircraft are scheduled to begin flying 14 return flights per week.
*2 From December, B767-300ER aircraft are scheduled for re-introduction.
*3 From January, Boeing 787-8 aircraft are scheduled for re-introduction.

(1) Additional Flights




(2) Reduced Flights and Suspended Routes


(1) New Routes and Additional Flights


*1 From October 27, 2015, 3flights will operate per week.
*2 Flights operate one way.



(2) Reduced Flights and Suspended Routes


*1 This flight will be suspended from October 27, 2015.
*2 Flights operate one way.

| | |
| --- | --- |
| Contact: | Ryosei Nomura and Maho Ito, ANA Corporate Communications |
| | TEL +81-3-6735-1111 |
About ANA
All Nippon Airways (ANA) is the largest airline in Japan by revenues and passenger numbers. Founded in 1952, ANA flies today on 73 international routes and 117 domestic routes. The ANA group has 35,000 employees and a fleet of 245 aircraft. In FY2014, it carried 50.4 million passengers and generated revenues of 1.71 trillion Japanese yen. ANA offers trans-Pacific connections between Asia through the gateway of Japan and 11 North American destinations namely; New York, Washington D.C, Chicago, Los Angeles, San Francisco, San Jose, Seattle, Houston, Vancouver, and Honolulu. ANA has been a member of Star Alliance since 1999 and has joint-ventures with United Airlines on trans-Pacific and Asia routes and with Lufthansa, Swiss International Airlines and Austrian Airlines on Japan-Europe routes. Its Frequent Flyer Program, ANA Mileage Club, has more than 26 million members. ANA was voted Airline of the Year for 2013 by Air Transport World Magazine, and in 2015 was awarded five stars for the third consecutive year by the world's leading Airline and Airport review site, SKYTRAX. ANA is the launch customer and biggest operator of the Boeing 787 Dreamliner.

ANA Group upgrades flight schedule for second half of FY2015