TOKYO, August 27, 2015 - ANA, Japan's largest airline, today announced the addition of four acclaimed culinary professionals to its in-flight meal, THE CONNOISSEURS lineup starting in September 2015. The new partners include a chef renowned for Japanese cuisine along with three esteemed partners for international cuisine and beverage, bringing the total number of THE CONNOISSEURS to 25.

ANA first launched THE CONNOISSEURS back in September 2013. Its members are comprised of a team of renowned chefs, liqueur and coffee professionals working closely with ANA's own chefs to produce extraordinary gastronomy for passengers on ANA's international flights departing Japan. These exceptional menu choices have proved to be extremely popular with passengers from Japan and overseas.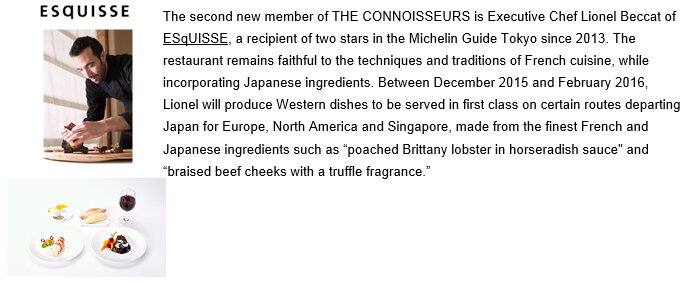 Contact: Ryosei Nomura and Maho Ito, ANA Corporate Communications +81-3-6735-1111
About ANA
All Nippon Airways (ANA) is the largest airline in Japan by revenues and passenger numbers. Founded in 1952, ANA flies today on 73 international routes and 120 domestic routes. The ANA group has 35,000 employees and a fleet of 242 aircraft. In FY2014, it carried 50.4 million passengers and generated revenues of 1.71 trillion Japanese yen. ANA has been a member of Star Alliance since 1999, and has joint-ventures with United Airlines on trans-Pacific and Asia routes, and with Lufthansa, Swiss International Airlines and Austrian Airlines on Japan-Europe routes. Its Frequent Flyer Program, ANA Mileage Club, has more than 26 million members. ANA was voted Airline of the Year for 2013 by Air Transport World Magazine, and in 2015 was awarded five stars for the third consecutive year by the world's leading Airline and Airport review site, SKYTRAX. ANA is the launch customer and biggest operator of the Boeing 787 Dreamliner.