'Tastes of JAPAN' by ANA
Featuring Aichi, Gifu and Mie Prefectures
---
TOKYO, November 9, 2015 - In September 2013, ANA Group launched its 'Tastes of JAPAN' campaign. This project, which introduces regional beverages and cuisine to ANA flights, airport lounges and other services, is designed to raise the profile of Japan's lesser-known prefectures, particularly to overseas customers, and drive tourism to Japan. The project is also intended to stimulate local economies, in part by boosting consumption of regional agricultural products.

The tenth phase of the project will introduce ANA customers to products from Aichi, Gifu and Mie prefectures between December 2015 and February 2016. This will include:
Aichi
In Business Class, passengers can enjoy "Blancmange dessert combo prepared with green tea from Aichi Prefecture's Nishio District and fresh soybean milk". An impressive dessert ensemble comprised of two mouth-watering blancmange masterpieces: One crafted from powdered green tea cultivated in the renowned tea growing district of Nishio in Aichi Prefecture, the other meticulously molded with fresh soybean milk.
Other in-flight menu includes, in the international business class, "Stewed beef in Kinshachi Nagoya akamiso lager beer-flavored sauce."
Gifu
"DINING h" inside ANA SUITE LOUNGE in the International Terminal of Haneda Airport will serve "Hida and Mino Kenton pork wrapped in yam with touchi sauce and yuzu-flavored risotto" (February 2016). The tender non-fatty pork loin is wrapped in yam, grilled on low heat, and cooked in the French style.
Furthermore, the international Business Class will serve "Rolled wagyu beef with grape mustard Gifu Nagara wine sauce."
Mie
"Local Cuisine Mie", the black small shrimp served as the appetizer is the food highly evaluated by local people because of its refined taste, will be served in Business Class.
The main dish is the Mie yellowtail with a moderate amount of fat, covered with grated turnip sauce and flavored with Meyer lemon. Furthermore, "Jelly of mandarin orange juice grown in Mie" will be served at ANA SUITE LOUNGE at Narita and Haneda Airports.
Airport Lounges: Japanese Sake Corner
As part of the project, ANA customers are able to sample Japanese sake and shochu, the 'Kokushu' or national spirits of Japan, at ANA airport lounges in Haneda, Narita and Kansai Airports.
'Tastes of Japan' website
Information on the featured prefectures is available on our dedicated web site in English and other languages: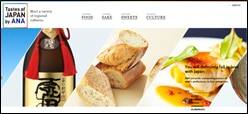 http://ana-tastesofjapan.com
http://ana-tastesofjapan.com/ch1/
http://ana-tastesofjapan.com/ch2/
ANA Group operates Japan's only 5-star rated airline with Japan's largest domestic network and an expanding network of international routes. It will continue to implement various initiatives to promote the culture and heritage of Japan and serve as a bridge between Japan and the rest of the world.
Notes to Editors
'Tastes of JAPAN' by ANA features different prefectures in 3-month cycles. The project introduces food, drinks, and desserts to customers through ANA services, the website and other channels.
Prefectures previously featured by the 'Tastes of JAPAN' project are Kumamoto, Hokkaido, Miyagi, Ehime, Miyazaki, Shizuoka, Hiroshima, Nagasaki, Ishikawa, Okayama, Oita, Yamagata, Kagawa, Yamaguchi, Fukushima, Osaka, Tottori, Toyama, Nara, Fukuoka, Niigata, Kanagawa and Shiga.
Contact: Ryosei Nomura and Maho Ito, ANA Corporate Communications TEL +81-3-6735-1111
About ANA
All Nippon Airways (ANA) is the largest airline in Japan by revenues and passenger numbers. Founded in 1952, ANA flies today on 73 international routes and 117 domestic routes. The ANA group has 35,000 employees and a fleet of 245 aircraft. In FY2014, it carried 50.4 million passengers and generated revenues of 1.71 trillion Japanese yen. ANA offers trans-Pacific connections between Asia through the gateway of Japan and 11 North American destinations namely; New York, Washington D.C, Chicago, Los Angeles, San Francisco, San Jose, Seattle, Houston, Vancouver, and Honolulu. ANA has been a member of Star Alliance since 1999 and has joint-ventures with United Airlines on trans-Pacific and Asia routes and with Lufthansa, Swiss International Airlines and Austrian Airlines on Japan-Europe routes. Its Frequent Flyer Program, ANA Mileage Club, has more than 26 million members. ANA was voted Airline of the Year for 2013 by Air Transport World Magazine, and in 2015 was awarded five stars for the third consecutive year by the world's leading Airline and Airport review site, SKYTRAX. ANA is the launch customer and biggest operator of the Boeing 787 Dreamliner.

'Tastes of JAPAN' by ANA Featuring Aichi, Gifu and Mie Prefectures