ANA to Launch Services to Phnom Penh, Cambodia
Promoting the Introduction of Full-flat Seats in Business Class
---
TOKYO, January 20, 2016 - In its summer schedule for 2016, ANA will further expand its international network from Narita to strengthen the airport's role as an international hub. In addition to new services on the Narita-Wuhan route from April 28 (announced on December 7, 2015), ANA will launch flights linking Narita and Phnom Penh, the capitol of Cambodia, on September 1. With this new service, Cambodia becomes the eighth country served by ANA in the Association of Southeast Asian Nations (ASEAN), which is enjoying explosive economic growth. The flights will also become the only direct air service between Japan and Cambodia.

In fiscal 2015, as part of our dual hub strategy in Tokyo, we strengthened our international network and enhanced customer convenience while launching new daily services from Narita/Haneda airports to Houston in the USA, Kuala Lumpur in Malaysia, Brussels in Belgium and Sydney in Australia. Strengthening our dual hub operations helps us meet growing demand at Narita for international transfers between North America and Asia, and at Haneda for international-domestic connections.

We are also expanding full-flat seat service in Business Class. This summer the service will be introduced to Vancouver route and thus will be available on all six European routes and all 10 North American routes. Three Asian flights, including Mumbai, will also be equipped with full-flat seats.

Details of new and increased flight plans are outlined below.
*Flight plans are subject to approval by the relevant authorities. All schedules are subject to change.
International new routes to meet strong demand
Celebrating the 30th anniversary of our first regular international services in 2016, we continue to expand the ANA network for the convenience of our customers.

Our new services to Phnom Penh will meet increasing business travel demand. Companies around the world are eying the rapidly emerging Cambodian market, drawn to Phnom Penh as a manufacturing center and the country as a high-potential market for their products and services. This year also marks the 60th anniversary of the conclusion of a friendship treaty between Japan and Cambodia. By launching the first direct flights from Japan, ANA aims to contribute to the further development of friendly relations and bring the world closer to the dynamic Cambodia market.

Flights to Wuhan, the largest city in central China, will also serve growing business travel demand linked to Japanese companies advancing their presence in the region and growing demand for travel to Japan by Chinese tourists





*When finalized, flight schedule details will be available online at ANA SKY WEB.
Changes in aircraft and schedule
During the first half of fiscal 2016, ANA will start introducing new Boeing 787-9 configured for mid-haul international services primarily on Asian routes. Equipped with full-flat Business Class seats and Premium Economy seats, the aircraft will enable us to upgrade our services on introduced routes.

From the end of April, the B787-9 will also start flying on our Haneda-Vancouver route, meaning that all six European and all 10 North American routes will feature full-flat seats in Business Class. The aircraft will also be introduced to Narita-Mumbai and Haneda-Singapore route from end of March.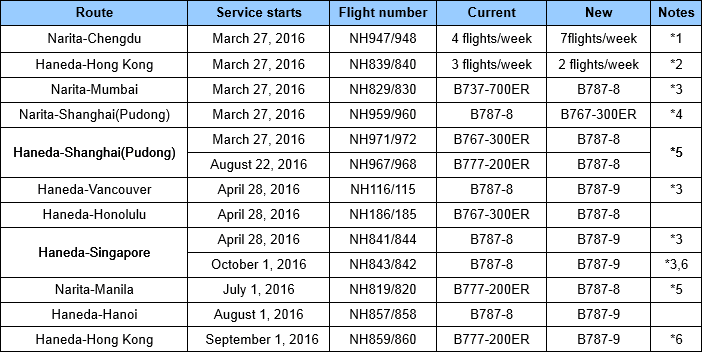 *1 Flights were reduced during the 2015 winter schedule.
*2 From March 27, flights will operate on Mondays and Saturdays.
*3 Premium Economy service will start in line with change in aircraft.
*4 From August 1, B787-8 will be used on flights NH959/960.
*5 Return flight will operate from the following day.
*6 B787-9 (new configuration) will be used.
ANA is opening following two new routes.




*Scheduled to operate during March 27 - October 29.
By the end of fiscal 2015, ANA will launch its fleet of 12 freighters. We are also expanding our logistics network in China and Asia, where cargo demand is strong, adding new route as follows.



*To Singapore/from Hong Kong, the flights can be connected from/to Okinawa.
Contact: Ryosei Nomura and Maho Ito, ANA Corporate Communications, +81-3-6735-1111
About ANA:
ANA is the largest airline in Japan by revenues and passenger numbers. Founded in 1952, ANA flies today on 81 international routes and 112 domestic routes. The ANA group has 35,000 employees and a fleet of about 240 aircraft. In FY2014, it carried 50.4 million passengers and generated revenues of 1.71 trillion Japanese yen. ANA has been a member of Star Alliance since 1999, and has joint-ventures with United Airlines on trans-Pacific and Asia routes, and with Lufthansa, Swiss International Airlines and Austrian Airlines on Japan-Europe routes. Its Frequent Flyer Program, ANA Mileage Club, has more than 26 million members. ANA was voted Airline of the Year for 2013 by Air Transport World Magazine, and in 2015 was awarded five stars for the third consecutive year by the world's leading Airline and Airport review site, SKYTRAX. ANA is the launch customer and biggest operator of the Boeing 787 Dreamliner.

ANA to Launch Services to Phnom Penh, Cambodia