on March 31th, 2020 (JST) current information.
Furthermore, the details under "Visa" and "Passport" are for Japanese nationals.
This information is likely to change suddenly, so please contact the relevant official authority (e.g., embassy) for the latest information.
A visa is required to enter the country. You can have a visa issued in 1 to 2 business days by applying to the embassy or consulate of the Kingdom of Cambodia in Japan. You can also have an e-visa issued on the Internet. You can also have one issued at Siem Reap or Phnom Penh, Sihanoukville airport or at a land border, but it is better to get one in advance. You can stay for 30 days with a regular tourist visa (single visa).
To enter Cambodia, your passport must be valid for at least six months from the planned date of entry into the country.
Visa, passport, and other information is subject to change without notice. Be sure to check with the Embassy, Consulate, or travel agency.
When visiting from Japan, it is prohibited to bring the following items into Cambodia.
a. Plants, plant fragments, forest products, or processed forest products
b. Plants that may bring in disease
c. Wooden boxes or packaging, woodchips
d. Soil, plant roots, or soil with plant roots attached
e. Organisms or meat that may have or may cause disease
There are no special restrictions for travelers bringing it in for personal use.
For bringing and possession of tax-free cigarettes
Cash equivalent to US$10,000 or less
400 cigarettes, 200 cigars, 400g of loose tobacco
Up to 2L of alcohol
The above cannot be brought in by those aged 18 or younger
Time difference and Daylight Saving Time
Cambodia is 2 hours behind Japan. When it is noon in Japan it is 10:00 in Cambodia. Daylight saving time is not observed.
Cambodia has a tropical monsoon climate, and its seasons are roughly divided into the dry season in the wet season. The seasons do not differ greatly between regions during the same period. The best season for traveling is the dry season from November to May, and the period from November to January is the most comfortable, with little rain.
If you are going to visit Siem Reap or Phnom Penh, you can wear the same clothes you would wear in Japan in summer all year round. It is useful to have one long-sleeved shirt for places with strong air-conditioning and to prevent sunburn.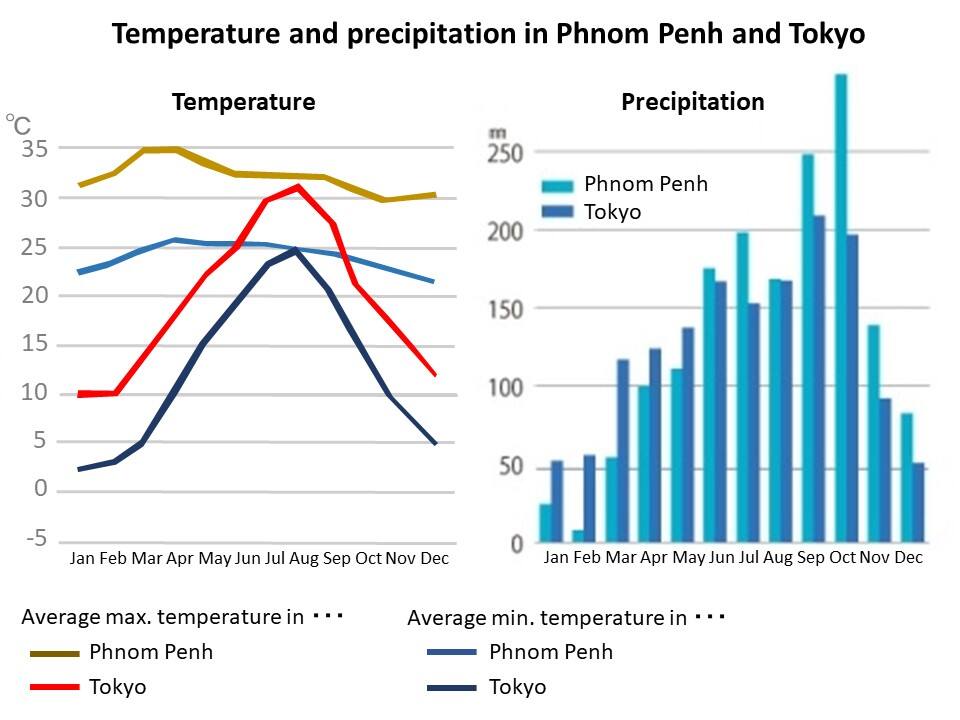 Temperatures and precipitation in Phnom Penh and Tokyo
The average maximum temperature in Tokyo and Phnom Penh, The average minimum temperature in Tokyo and Phnom Penh

| month | The average maximum temperature in Tokyo | The average minimum temperature in Tokyo | The average maximum temperature in Phnom Penh | The average minimum temperature in Phnom Penh |
| --- | --- | --- | --- | --- |
| Jan. | 10℃ | 2℃ | 31℃ | 23℃ |
| Feb. | 10℃ | 2℃ | 32℃ | 24℃ |
| Mar. | 13℃ | 5℃ | 35℃ | 25℃ |
| Apr. | 18℃ | 10℃ | 35℃ | 26℃ |
| May | 23℃ | 15℃ | 33℃ | 25℃ |
| Jun. | 25℃ | 18℃ | 32℃ | 25℃ |
| Jul. | 28℃ | 23℃ | 32℃ | 25℃ |
| Aug. | 31℃ | 24℃ | 32℃ | 25℃ |
| Sep. | 27℃ | 21℃ | 31℃ | 24℃ |
| Oct. | 23℃ | 15℃ | 30℃ | 23℃ |
| Nov. | 17℃ | 10℃ | 30℃ | 22℃ |
| Dec. | 13℃ | 5℃ | 30℃ | 21℃ |
The average precipitation in Tokyo and Phnom Penh

| month | The average precipitation in Tokyo | The average precipitation in Phnom Penh |
| --- | --- | --- |
| Jan. | 60mm | 30mm |
| Feb. | 60mm | 10mm |
| Mar. | 120mm | 60mm |
| Apr. | 120mm | 100mm |
| May | 140mm | 110mm |
| Jun. | 170mm | 170mm |
| Jul. | 150mm | 200mm |
| Aug. | 170mm | 160mm |
| Sep. | 210mm | 250mm |
| Oct. | 200mm | 300mm |
| Nov. | 90mm | 140mm |
| Dec. | 60mm | 80mm |
Currency and Exchange Rate, Tax, Currency exchange, Tip
Currency and Exchange Rate
Banknotes feature portraits of the King, historical remains, monuments, and other pictures. Four types of coins (50, 100, 200, and 500 riel) are issued, but they are not in use.
The unit of currency is the Riel (denoted R on the website), and there is no subunit. 100R is approx. 2.6yen (as of March 10, 2020). There are over 20 different types of officially issued banknotes, but only 18 are actually distributed in the market: 50, 100 (2 types), 200, 500 (2 types), 1000 (3 types), 2000 (2 types*1 ), 5000 (2 types), 10,000 (2 types), 20,000, 50,000, and 100,000R. In addition, US dollars can be used normally as currency in Cambodia. However, cents that are the subunit of US dollars are not used.* A new 2000 riel banknote has also been issued, but it is not shown in the photo.
Basically, a 10% value added tax (VAT) is imposed, but in reality it is usually not imposed on shopping and payments at the tourist level. Travelers pay VAT at mid/high class hotels and upscale restaurants or when shopping at a supermarket or other place where a receipt is issued at the cash register. There is no VAT refund system in Cambodia.
Tipping is generally not required as there is no custom for tipping in Cambodia.
Restaurants: Not required in restaurants other than upscale restaurants. Even in upscale restaurants, it is unnecessary when a service charge is added.
Hotels: Tip bellhops and room service approx. 2000 to 4000 R.
Taxies: Not necessary.
Motorbike taxis, tuk-tuks: Not necessary.
Guides: Approx. 1 to 3 USD a day.
Hired drivers: Approx. 1 to 3 USD a day.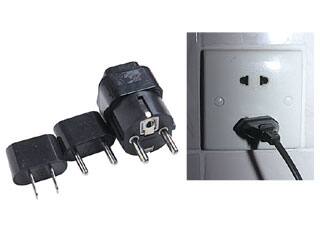 A type A, type C, and type SE adapter
Socket types differ among regions, hotels, and guest rooms
220V and 50Hz. Many plugs are a combination of Type A and Type C. There are Type A, Type C, and in rare instances, Type SE plugs. A transformer is needed to use 100V electrical equipment from Japan. Some high class hotels will lend you a transformer.
Cambodia generally uses PAL, but secondhand equipment is often imported from overseas, so many TVs and video players are compatible with multiple systems including NTSC that is used in Japan and the US and SECAM. However, it is becoming increasingly difficult to get video players as VCDs and DVDs become more commonplace.
VCDs were most common up until several years ago, but now DVDs are mainstream. Note that there are many illegal copies in distribution. Do not forget to check the region code when making your purchase. The region code is 2 in Japan and 3 in Cambodia, so you can only watch DVDs in Japan that are labeled "All code". Note that even regular DVDs with an official government seal are often actually copies and some products have region codes for the US or other countries.
Though post office business hours differ slightly for each post office, they are usually open from 7:00 to 18:00 and many are open on Sundays too.
Airmail to Japan costs 3000 R from Siem Reap and 2000 R from Phnom Penh for a postcard, and 2700 R up to 20 g, 4800 R up to 50 g, 8200 R up to 100 g, and 15900 R up to 200 g for sealed letters. Small packages are about 7.5 USD up to 0.5 kg and 15 USD up to 1 kg by air.
Telephoning Japan from Cambodia
001 (International telephone identification number)*1
81 (Country Code, Japan )
×× (Remove the first 0 for area codes)*2
1234-5678 (Other parties telephone number)
*1.

When calling from a hotel room, start with the number for calling an external line.

*2.

Also emit the first 0 when calling cell phone numbers that start with 090 or 080, for example.
Telephoning Cambodia from Japan
International Telephone Company No.
001 (KDDI)*1
0033 (NTT Communications)*1
0061 (SoftBank )*1
005345 (au Mobile)*2
009130 (NTT DoCoMo Mobile)*3
0046 (SoftBank Mobile)*4
010 (International Identification No.)
855 (Country Code, Cambodia)
×× (Area code, remove first 0)
123-456 (Other parties telephone number)
*1.

Not required if you have an international registration with "My Line" or "My Line Plus". See URL My Line/My Line Plus(www.myline.org) for details.

*2.

au does not require 005345.

*3.

Pre-registration to World Wing is required for NTT DoCoMo. Does not require 009130.

*4.

Call are possible without dialing 0046 from SoftBank.
For the three cell phone carriers, hold down 0 until + appears, then add the country code and the phone number your wish to dial.
Holiday / National holiday
Holiday / National holiday
Holidays with dates that vary by year are marked with an *1 .
The dates for the 2020 holidays below are based on the official government calendar, but please note that the dates may differ from those shown.
January 1: International New Year's
January 7: Victory over Genocide Day
March 8: International Women's Day
April 13 to 16: Khmer New Year*1
May 1: Labor Day
May 3: Royal Ploughing Ceremony*1
May 14: King Sihamoni's Birthday
May 6: Visak Bochea (Buddha's Day)*1
May 10: *Royal Ploughing Ceremony
June 18: Queen Mother's Birthday
September 24: Constitution Day
September 16 to 18: Pchum Ben Festival (Ancestor's Day)*1
October 15: King Father's Commemoration Day
October 29: King Sihamoni's Coronation Day
November 9: Independence Day
November 30 to December 1: Water Festival*1
The official language is Khmer (Also called Cambodian). English and French are often understood in travel-related places. Vietnamese, Thai, and Chinese are also understood in many places.
Below are guidelines for general business hours, which differ by shop or restaurant.
Mon. to Fri. 8:00 to 12:00 and 13:00 to 17:00. Closed on Sat., Sun., and holidays.
Mon. to Fri. 8:00 to 16:00. Closed on Sat., Sun., and holidays (many banks are open on Saturday mornings).
8:00 to 18:00 (shops for travelers stay open until 21:00).
Usually from 10:00 to 22:00, but some places open at 6:00 and close at 24:00. In addition, some restaurants close for 2 to 3 hours between lunchtime and dinnertime.
Tobacco and alcohol is restricted to persons 18 years old and older in Cambodia. A driver's license is required for driving cars or 49 cc or higher motorcycles (same for foreigners). Helmets and rear-view mirrors are mandatory when driving motorcycles. Cambodia is a member of the Vienna Convention; according to international law, you can drive in Cambodia with an international driver's license without the need to switch to a Cambodian driver's license. However, many general police officers do not know about international driver's licenses, and you may be fined if subject to an inspection. Motorcycle accidents by foreign tourists are very common, and great caution is a must when driving.
Avoid topics related to politics or war. When visiting a temple, do not wear shorts or short skirts, and remove your footwear when entering the temple hall. Always show respect for the Buddhist monks. Women are not allowed to touch monks or hand them objects directly. As there are thought to be spirits above everyone's heads, you should avoid touching someone else's head or patting the children on the head.
Copyright (C) Globe-Trotter Media Partners Inc. All Rights Reserved.
Copyright (C) Diamond-Big Co., Ltd. All Rights Reserved.