on January 20th, 2020 (JST) current information.
Furthermore, the details under "Visa" and "Passport" are for Japanese nationals.
This information is likely to change suddenly, so please contact the relevant official authority (e.g., embassy) for the latest information.
If you meet the following criteria, you do not need a visa.
For tourism.
Stays of up to ninety days (note that this does not mean three months).
A passport that is valid until the date of departure is acceptable, but it is preferred that there be at least 90 days of validity after the date of departure.
It is best to have a reserves return trip ticket or a reserved ticket for leaving South Korea.
When visiting from Japan, it is prohibited to bring the following items into South Korea.
a. Animals, livestock products, meat, ham, sausages, jerky, or other processed meats, young deer horns, bones, or other animal products, eggs, egg whites, powdered egg, or other processed egg products, milk, cheese, butter, or other dairy products
b. Live plants, fruit, vegetables, agricultural products, forest products, flowering plants, wood, herbal medicine*1
c. Live marine products (fish, shellfish, crustaceans), chilled or frozen abalone, oysters, shrimp*2
d. Soil
e. Live pathogenic bacteria or noxious insects (including pets)
*1.

Cooked plants and plants that have been processed into food products (e.g. kimchi or mochi) are not subject to inspection.

*2.

Cooked and/or dried products are not subject to inspection.
Although there are no clearly stated restrictions on bringing them in for the personal use of the traveler, Gimpo International Airport customs currently applies the same rules as regular cigarettes as of November 2019. The scope of tax exemption for regular cigarettes is the equivalent of 200 cigarettes.
For bringing and possession of tax-free cigarettes
Liquor: 1 bottle (less than 1L and under $400)
Tobacco: 200 cigarettes, 50 cigars or 250g of other types
Perfume: 60ml
Time difference and Daylight Saving Time
There is no time difference between Japan and South Korea. Neither is daylight saving time observed, so the time in South Korea is the same as Japan throughout the year.
South Korea's climate can be considered nearly identical to the northern to central regions of Honshu in Japan. There are four distinct seasons and a rainy season. Usually, visitors from Japan can wear the same type of clothing as they wore in Japan at the time of their departure. Winter is quite cold, so precautions against the cold must be taken. Generally, the disparity between cold and warm temperatures is more extreme than Japan.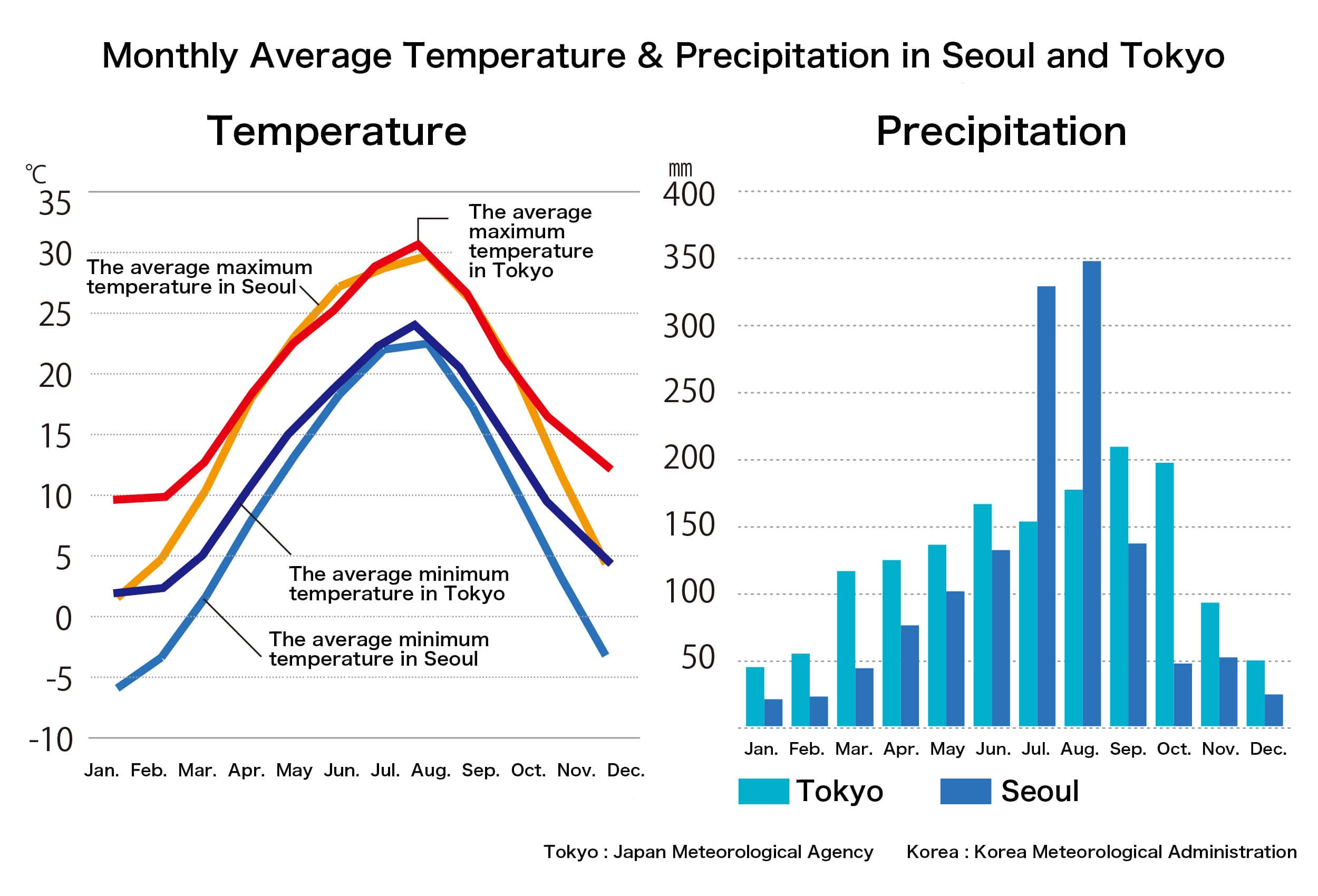 Monthly Average temperature & Precipitation in Seoul and Tokyo
The average maximum temperature in Tokyo and Seoul, The average minimum temperature in Tokyo and Seoul

| month | The average maximum temperature in Tokyo | The average minimum temperature in Tokyo | The average maximum temperature in Seoul | The average minimum temperature in Seoul |
| --- | --- | --- | --- | --- |
| Jan. | 10℃ | 2℃ | 2℃ | -6℃ |
| Feb. | 10℃ | 2℃ | 3℃ | -4℃ |
| Mar. | 13℃ | 5℃ | 8℃ | 0℃ |
| Apr. | 18℃ | 10℃ | 15℃ | 5℃ |
| May | 23℃ | 15℃ | 24℃ | 12℃ |
| Jun. | 25℃ | 18℃ | 27℃ | 15℃ |
| Jul. | 28℃ | 23℃ | 28℃ | 22℃ |
| Aug. | 31℃ | 24℃ | 30℃ | 22℃ |
| Sep. | 27℃ | 21℃ | 26℃ | 15℃ |
| Oct. | 23℃ | 15℃ | 20℃ | 8℃ |
| Nov. | 17℃ | 10℃ | 13℃ | 2℃ |
| Dec. | 13℃ | 5℃ | 4℃ | -3℃ |
The average precipitation in Tokyo and Seoul

| month | The average precipitation in Tokyo | The average precipitation in Seoul |
| --- | --- | --- |
| Jan. | 50mm | 30mm |
| Feb. | 60mm | 40mm |
| Mar. | 120mm | 50mm |
| Apr. | 130mm | 80mm |
| May | 130mm | 100mm |
| Jun. | 170mm | 150mm |
| Jul. | 160mm | 330mm |
| Aug. | 150mm | 340mm |
| Sep. | 210mm | 130mm |
| Oct. | 160mm | 50mm |
| Nov. | 90mm | 60mm |
| Dec. | 50mm | 30mm |
Currency and Exchange Rate, Tax, Currency exchange, Tip
Currency and Exchange Rate
South Korean banknotes and coins
The unit of currency is the won, abbreviated as W. As of January, 2020, W100 is equal to approx. JPY9.44. There are four denominations of banknotes: W50000, W10000, W5000, and W1000. There are seven types of coins: W500, W100, W50, W10 (new and old), W5, and W1.
Consumption activities are subject to a 10% value added tax (VAT). Foreign tourists can receive a maximum 9% tax refund on purchases of at least W30,000 at stores with a TAX FREE symbol by completing a procedure. You cannot get a refund for accommodation fees at hotels or food and drink costs at restaurants that are not eligible for a tax refund.
Tipping is not required. A service charge is added in advance to expenses such as meal charges at upscale establishments and room fees at hotels. It is acceptable to tip when receiving a special or excessive service.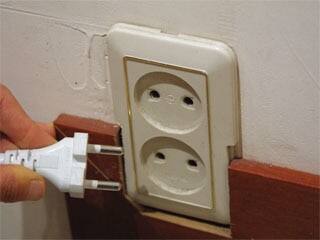 In South Korea, the voltage is 220V and outlets are mostly the same shape as Europe, type SE (that also fit type C plugs). In Japan, the voltage is 110V and outlets are type A, so a plug adapter or transformer is needed when using Japanese electronics there. Japanese electronics that are also compatible with 220V only require a plug adapter and not a transformer.
The DVD region code is 2 in Japan and 3 in South Korea. When buying DVDs, get ones that are region free (all region). DVDs cannot be played on store-bought DVD players with a different region code. The region code can be changed on computers, but usually only up to 5 times. For Blu-ray, both Japan and South Korea are region A, so Blu-rays bought in South Korea can be played normally in Japan.
International postage rates to Japan are as follows.
International Postal Fees to Japan
Postcards sent by airmail are W430.
Sealed Letters up to 10g sent by airmail are W570.
A parcel up to 2kg sent by surface mail is W15500, a parcel up to 500g by airmail is W21000, and packages up to 500g sent by EMS is W23500.
Post office is ucheguk in Korean. You can buy stamps at post offices as well as some stationery shops, hotel front desks, and other places, but they are not sold at convenience stores.
Telephoning Japan from South Korea
Ex. When calling (03) 1234-5678 or (090) 1234-5678
dial 001 or 002 (International telephone identification numbers)
81 (Country Code, Japan )
3 or 90 (Remove the first 0 for area codes and mobile telephone numbers)
1234-5678 (Other parties telephone No.)
Telephoning South Korea from Japan
Ex. When calling Seoul (02) 123-4567
International Telephone Company No.
001 (KDDI)*1
0033 (NTT Communications) *1
0061 (SoftBank Telecom) *1
005345 (au Mobile) *2
009130 (NTT DoCoMo Mobile) *3
0046 (SoftBank Mobile)*4
010 (International Identification No.)
82 (Country Code, South Korea)
2 (Remove the first 0 from telephone numbers)
123-4567 (Other parties telephone No.)
*1.

Not required if you have an international registration with "My Line". See URL My Line/My Line Plus(www.myline.org) for details.

*2.

au does not require 005345.

*3.

Pre-registration to World Wing is required for NTT DoCoMo. Does not require 009130.

*4.

Call are possible without dialing 0046 from SoftBank.
For the three cell phone carriers, hold down 0 until + appears, then add the country code and the phone number your wish to dial.
Holiday / National holiday
Holiday / National holiday
South Korean national holidays include those according to the Gregorian calendar and those according to the lunar calendar. Dates of holidays according to the lunar calendar change each year. There are three: the Korean New Year (lunar New Year), Buddha's birthday, and Chuseok (similar to the Bon festival of the lunar calendar in Japan).
January 1: New Year's Day
January 24 to 26: Seollal (Lunar Calendar New Year's, Lunar Calendar New Year's Eve to January 2)
March 1: March First Day (Independence Movement Day)
April 30:Buddha's Birthday
May 5: Children's Day
June 6: Memorial Day
August 15: Gwangbokjeol (Liberation Day)
September 30 to Octoder 2 : Chuseok
October 3: Gaecheonjeol (National Foundation Day)
October 9: Hangeul Proclamation Day
December 25: Christmas
The official language is Korean. Hangul, a system of phonetic characters created in the 15th century.
Mon. to Fri. 9:00 to 16:00, closed on Sat., Sun., holidays. Most ATMs are available 24 hours a day.
Mon. to Fri. 9:00 to 18:00, closed Sat., Sun., holidays. The Seoul Central Post Office and Gwanghwamun Post Office are open on Saturdays until 13:00; closed on public holidays that fall on a Saturday.
Both regular stores and department stores open from 10:00 to 20:00. Many buildings devoted to fashion-related shops are open until very late at night.
Generally open around 10:00 to 23:00. Many shops are closed during the lunar calendar New Year's and Chuseok.Many shops close on the Chinese New Year and on Chuseok.
Sale of tobacco and alcohol to persons under 19 years of age is prohibited.
Copyright (C) Globe-Trotter Media Partners Inc. All Rights Reserved.
Copyright (C) Diamond-Big Co., Ltd. All Rights Reserved.