ANA Group's Business Activities
ANA HOLDINGS INC. is…
ANA HOLDINGS INC. is a holding company that holds the shares of other companies such as ANA (ALL NIPPON AIRWAYS)・ANA WINGS・Air Japan ,the Full Service Carrier of Air Transportation. Also holds the shares of the Low Cost Carrier as Vanilla Air, Travel Services as ANA Sales and Trade and Retail as ALL NIPPON AIRWAYS TRADING.ANA HOLDINGS will promote the multi-brand strategy both the ANA brand and the LCC brand. Having Group companies autonomously manage their operations for speed and efficiency will enable the management structure necessitated by global competition and will build the base for our future growth strategies.

ANA Group will devote to safety so that we can be chosen by our customers. Business environment continues to change rapidly. ANA Group will make great effort to increase company and shareholder's value.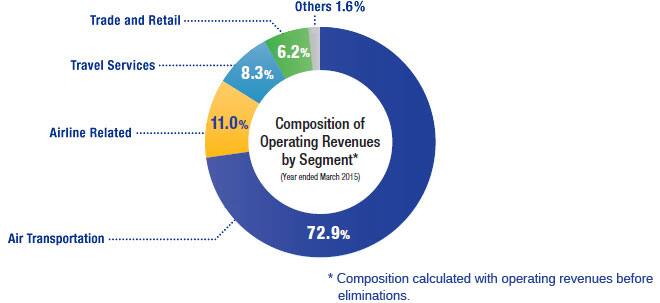 Air Transportation
Air Transportation is our core business "to be the world's leading airline group," a goal set forth in our Management Vision. Looking at its global rankings, the ANA Group currently ranks 9th in terms of the number of passengers on domestic operations and 15th in terms of the total number of passengers, including international operations. The Air Transportation generated 72.9% of the total operating revenues of the ANA Group in the year ended March 31, 2015. This business is undertaken by the three full service carriers ALL NIPPON AIRWAYS CO., LTD., ANA WINGS CO., LTD. and Air Japan Co., Ltd., and one LCC, Vanilla Air Inc.
Air Transportation mainly comprises Domestic Passenger Operations, International Passenger Operations, and Cargo and Mail Operations. In Domestic Passenger Operations, we seek to maintain profitability by optimizing demand and supply while retaining the largest share in the Japanese market. Meanwhile, International Passenger and Cargo and Mail Operations will serve as our growth drivers over the medium and long terms. It is on these main pillars that we will work to maximize the ANA Group's earnings.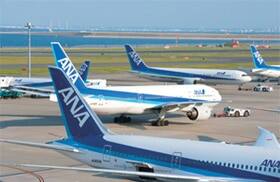 Airline Related
ANA AIRPORT SERVICES Co., Ltd., ANA Base Maintenance Technics, Co., Ltd., ANA TELEMART CO., LTD. and certain other ANA Group companies are involved in a variety of businesses in support of the Air Transportation. These businesses include airport ground services, aircraft maintenance, vehicle maintenance, cargo and logistics, in-flight catering and call centers, as well as commission work from airlines outside the group. Under the holding company structure, the ANA Group companies will work closely with one another with the aim of enlarging their businesses.
Looking ahead, we will expand and diversify our earnings sources by progressing businesses that have strong synergies with the group's existing businesses, such as the pilot training business and the aircraft maintenance, repair and overhaul (MRO) business.
Travel Services
The ANA Sales Group is involved in airline ticketing and travel services. Its ticketing business is targeted at both individual and corporate customers, while the Travel Services plans and markets travel packages that combine air transportation services offered by the ANA Group with lodging and other travel options. A wide variety of travel services are offered, including travel packages such as ANA Sky Holiday for domestic travel and ANA Hallo Tour and ANA Wonder Earth for international travel, as well as travel savings plans.
This business strengthens its initiatives to capture growing demand for inbound travelers to Japan. As part of these efforts, H.I.S. ANA Navigation JAPAN Co., Ltd. was set up as a joint venture with H.I.S. Co., Ltd. in the fiscal year ended March 31, 2015.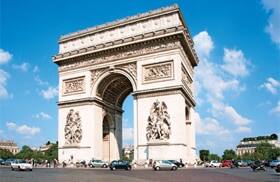 Trade and Retail
ALL NIPPON AIRWAYS TRADING CO., LTD. and others are involved in aircraft parts procurement, aircraft import/export, leasing and sales, planning and procurement for in-flight services and merchandise sales, airport retail operations and other businesses related to air transportation. It also imports and sells paper, pulp and food products; imports and exports semiconductors and electronic components; provides advertising agency services; and operates an online shopping site.
In the fiscal year ended March 2015, we expanded sales at our airport duty free shops and other airport retail operations, and commenced exports of Japanese food products to address growing overseas demand for Japanese cuisine. We have also been taking steps to increase earnings. Measures include capturing active demand by in-bound travelers to Japan and launching new businesses in Asia.