Strengthening the ANA Brand for Growth Strategies
-To be a highly evaluated airline in the global market-
(1/3)
Rated as a 5-Star Airline by SKYTRAX for the Second Consecutive Year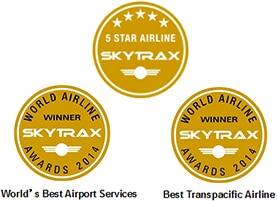 The ANA Group has been expanding its international network at Haneda Airport since the end of March 2014. FY2014-16 ANA Group Corporate Strategy shows expansion on the international network as a future growth driver. Demand for inbound tourism to Japan is expected to grow going forward with Tokyo to host the 2020 Olympic and Paralympic Games. To capture that demand, it is important to advance a multi-brand strategy for providing appropriate value through networks, products and services tailored to the features of customer needs. Working to broaden LCC business and continually increasing the value of the ANA brand that has been built as a full-service carrier are imperative to achieving our goals. Specifically, this involves enhancing the competitiveness of our airline operations and improving profitability, while coming closer to realizing growth as set out in our current Corporate Strategy.
In 2013, ANA was certified as the first 5-Star Japanese airline, which is the highest ranking in the world currently issued by SKYTRAX. This was the result of our efforts to enhance services by front line staff and it was recognition of ANA's high quality products including seating and in-flight meals. Thereafter, ANA keeps accomodating needs and wants in products and services from customers at a global level. This made us worthy of the 5-Star rating for the second consecutive year. We were also awarded the World's Best Airport Services and Best Transpacific Airline of the World Airline Awards in July 2014.
This feature is going to explain the growth strategies to strengthen the ANA brand, as a driving force in winning the 5-Star rating, from the viewpoints of Hospitality, Products & Services and Marketing Strategy.
About SKYTRAX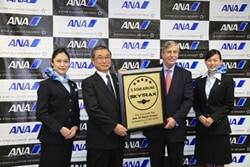 Established in 1989, SKYTRAX is a rating company for the airline industry and is based in London. Its Airline Star Ranking awards airlines between 1 and 7 Stars. SKYTRAX also holds the World Airline Awards, recognizing the best of over 200 airline companies based on independent online questionnaires and other customer surveys.
The Airline Star Ranking covers over 800 items spanning airport to in-flight services. ANA is one of the seven airlines worldwide holding a 5-Star rating (as of July 2014), which is the highest rating currently.