Strengthening the ANA Brand for Growth Strategies
-To be a highly evaluated airline in the global market-
(2/3)
HOSPITALITY

Responding to Customer Needs
To aim for enhanced quality as a full-service carrier, we held a Customer Service Skills competition with separate divisions for cabin attendants and ground staff. This competition is designed to generate role models among those in these respective positions. Such initiatives definitely encourage customer satisfaction, get employees applying themselves regardless of the divisions they belong to and are instrumental in developing seamless service.
With a mind to making careful responses to customer requirements, we have firmly established a system of suggesting improvements mindful of the PDCA (Plan-Do-Check-Action) cycle, and quickly share various information received from customers and employees with relevant business units in our drive to improve further. ANA's service quality is improved with the accumulation of these small considerations by applying them on a daily basis while carrying out duties.
"Human Resources" Development to Realize Competitiveness of the ANA Brand
We resumed recruiting cabin attendants as permanent employee in the fiscal year 2014 (company entrance basis), seeking to strengthen service quality, essential to develop ANA's Brand, through enhanced human values. By expanding younger employees Egrowth opportunities and providing an arena where staff can maximize their abilities, we will cultivate human resources who can take an active role in operations and encourage their high performance including by helping to come up with services that are hard to emulate in an increasingly competitive climate.
Improving service quality requires a foundation wherein each employee's aim to advance their career while building experience leads to the organization's overall growth. On the front lines where there are many female employees, we recognize and support establishing an environment where such valuable human resources can stay with the company for a long time, and it is one of the responsibilities for management to keep such an environment.
The Newly Established "Global Promotion Division Ewill Strengthen our Response to Global Customers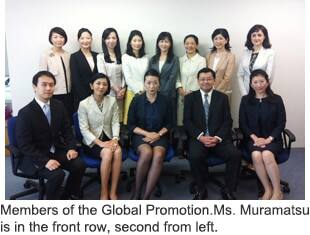 The ANA Group has approximately 7,300 cabin attendants. Our division's primary role is to enhance the qualification to respond to global customers including training overseasbased cabin attendants and developing new bases abroad. Currently, we have around 400 non-Japanese cabin attendants from China, South Korea, Taiwan and 15 European- based countries. Some attendants have over 10,000 hours of on-duty flight experience, and offer services with an understanding of the Japanese-style "OMOTENASHI Ethat has been well evaluated by Japanese and foreign customers alike.
Eriko Muramatsu
Leader, Overseas Section, Global Promotion, Inflight Service Center,
All Nippon Airways Co., Ltd.
The Driving Force behind the SKYTRAX 5-Star Airline Rating and Visible Tasks
Receiving 5-Star Airline rating by SKYTRAX has led to our great confidence as a form of recognition of our efforts because it means ANA's service is superior at a global level. We see our rating as an evaluation of our outstanding development of services, which is given thorough consideration to respond to various customers Erequirements. Our service skills are catching up with advanced levels to respond to each customer's needs.
One driving force behind that is diversity of background. Our cabin attendants and ground staff are diverse in terms of nationality, age, employment type, and more. These ideas and suggestions proposed from a variety of angles reflect to the service with regard to those views. Moreover, management's endorsement of staff's experiences, decisions, and actions has created a work environment marked by organization- wide support where failure is not feared. This empowers each and every employee to have confidence in their judgment and take customer service a step further. We believe this embodiment of Japanese-style "OMOTENASHI Eis tied to our global acclaim.
However, analysis on our 5-Star rating also sheds light on tasks we should do. For instance, we still need to work on our foreign language abilities and other aspects of service for customers worldwide. Language skills require bolstering and ongoing improvement efforts. We also need to be better able to handle irregularities. Any airline can offer a certain level of service under normal operation. It is when there is bad weather, some other irregularities, or customers are in trouble that our true ability as a full-service carrier and the real value of that is put to the test.
ANA Brand Ambassador Supporting the Growth Strategy
We feel the customers on International Passengers Operations are growing thanks to economic recovery. Inbound travelers to Japan are growing and the number of non-Japanese customers flying with ANA is also steadily increasing.
We boast the greatest market share for Domestic Passenger Operations. At the same time, we are an airline group seeking growth opportunities in the global market mainly in Asia. To realize growth while leveraging business opportunities, we must always keep up and improve our service quality's competitive edge and capture air traffic demand expanding globally going forward. Along with this, we need to pursue efficiency and productivity gains and get Cost Restructuring Initiatives underway at all group companies.
Goals like this cannot be achieved on the front lines alone. Rather, we believe it is necessary to pull together all of our strengths, including in product strategy, hardware & product planning, marketing power and network building.
As ANA brand ambassador, we will continue to make our efforts to help to ensure safe, comfortable flights and strengthen airline business profitability.

PRODUCTS AND SERVICES

Product Strategy as a Full-Service Carrier
Together with cabin attendants and ground staff, the Product and Service Strategy Department is entrusted with an extremely important role in terms of realizing high-quality service.
While considering the direction of future product and service development is a tough task, we need to constantly seek a "change. ETo ensure that customers have a comfortable flight, we must devise strategies based on forward-thinking discussions about matters from seating, in-flight meals and entertainment to amenity goods.
What we are attempting to do is to lead the formation of an ideal ANA brand by thinking outside the box. When we actually provide customers in aircraft or in airports with the products we have created, it is important to get that concept across and give it traction within and outside the group.
Products Supporting the Growth of the Air Transportation Business
One of the products ANA can market with pride is business class products on international services. From 2010, we began successively introducing business class seats that are staggered and lie fully flat for long-haul international flights. All of these seats offer direct access to aisles, and have been a hit with customers since their launch. Nearly all aircraft used for trans- Pacific and European routes will be equipped with these seats by the end of March 2015. Further, we have long worked to upgrade in-flight meals and raise the quality of amenity goods. Additionally, we started providing in-flight Wi-Fi service in March 2014 and plan to gradually expand this to aircraft for international services.
These kinds of high-quality products and services are major strengths that underpin ANA's growing international business. At present, we are seeing steady growth in passenger traffic on international flights in step with the ongoing expansion in the scale of our operations. This growth is being driven by both ANA's superior products services and improved air travel demand supported by economic recovery.
Meanwhile, we have been promoting the installation of lightweight, low-profile seating on aircraft for domestic services since 2012. By reducing the weight of aircraft and making preparations for departure more efficient (improving punctuality) without deteriorating onboard comfort, we are also contributing to the Cost Restructuring Initiatives being advanced by all group companies.
The "Papa Mama Chef Team Edeveloping in-flight meals for children
ANA Catering Service Co., Ltd. has formed a "Papa Mama Chef Team Ewhose members have small children themselves and to develop in-flight meals for kids.
These in-flight meals are designed to delight children with garnishing magic while keeping overall nutritional balance in mind. We will continue to provide such original products which only ANA can produce.

Taking Action to Address Various Needs of Customers
Considering that customers have a myriad of requests for in-flight services, ANA continues to embrace challenges in a multitude of fields in order to become the preferred airline of more customers. In in-flight meal services, for example, ANA is working to provide collaboration menus with world-renowned chefs, along with taking steps to address the worldwide popularity of Japanese cuisine in recent years. With an increasing number of customers choosing Japanese meals on ANA flights, ANA Catering Service Co., Ltd. is now providing overseas catering companies with operational guidance to enhance the quality of Japanese meals served on flights departing from overseas locations. We believe that these measures will help to make ANA the preferred airline of many more foreign travelers visiting Japan, who will only continue to increase in number going forward.
Moreover, in March 2014, we opened the "DINING h Erestaurant inside the "ANA SUITE LOUNGE Eat Haneda Airport for customers on late-night international flights. The restaurant allows customers to enjoy a full-course meal before departure so that they are able to rest comfortably during their flights. From the standpoint of improving the level of "Customer Experience, Ewe are pursuing a new concept that integrates airport and in-flight services, considering the total experience of customers at all points of contact with ANA, from before boarding to after their trips.
ANA has the strength of possessing the largest international route network at Haneda Airport. To tie this strength into growth, we think it is important to continue providing choices responding to various needs in a way only ANA is capable of doing.
To Maintain and Improve the ANA Brand Value into the Future
We must always keep in mind a medium- to long-term perspective to develop services and products for the future. In March 2014, we decided to purchase 70 aircraft to be delivered by the fiscal year 2027. This large-scale, unprecedented strategic aircraft order will form the basis of our medium- to long-term growth, which leads to our next-generation in-flight products and services that we have already started taking into consideration. Furthermore, we are also preparing to acquire halal certification to expand and strengthen our in-flight meal services for customers from the Islamic world, said to comprise a population of 1.6 billion. We also plan to expand our in-flight entertainment selections including movies and music, in addition to promoting multilingual support for these.
Going forward, supported by the advantages of the expanding network, we here at product development will present the highest quality products tied in with the efforts of front line staff aiming to provide the highest quality of services.
As a result, we are convinced that we can maintain a steady presence heading into the future to show that the ANA brand is worthy of the 5-Star rating.