Strengthening the ANA Brand for Growth Strategies
-To be a highly evaluated airline in the global market-
(3/3)
MARKETING STRATEGY

Raising ANA Brand Recognition by Promoting a Dual-Hub Network for International Passenger Operations
With the expansion of slots at Haneda Airport from the end of March 2014, ANA became the airline with the largest international network at Haneda. Mainly targeting business travel demand for the Tokyo metropolitan area, the move aims to capture international flight demand for which growth continues and to increase unit price and yield. The ANA Group is also leveraging its robust domestic route network to bolster steps to develop demand for connections to international flights from local cities in Japan.
Meanwhile, ANA launched services on new routes at Narita Airport and adjusted flight schedules for routes that overlap with those at Haneda Airport to meet the various needs of customers. We plan to make transit flight schedules more convenient and work with joint venture partners to accommodate customers between Asia and Pacific routes where growth is expected to remain strong.
We will offer increased opportunities for customers to choose to fly ANA by developing a dual-hub network in the greater Tokyo metropolitan area capitalizing on the respective strengths of Haneda and Narita airports. By supporting even more customers'business and travel in this way, we believe ANA's globally renowned services and products will gain wider recognition and our brand's value will rise both in Japan and overseas.
Combining Service & Products with Marketing Power
The Japanese government targets 20 million inbound tourists annually in 2020. The ANA Group's current Corporate Strategy targets expanding available seat-kilometers in International Passenger Operations by around 45% by the fiscal year 2016 compared to the fiscal year 2013. We are not only focusing on demand for flights in and out of Japan but also global passenger traffic, and aim to capture growing demand for travel to Japan.
We also intend to proactively work on Domestic Passenger Operations, including by enhancing domestic airfare lineups to capture demand from inbound travelers for tourism within Japan and planning domestic travel packages.
To capture a greater share of global demand while actively utilizing various alluring destinations within Japan for people abroad, we, the marketing division, need to make efforts on sales initiatives. In addition, the excellent service quality provided by our frontline staff and the ANA brand supported by product development will be invaluable tools to achieve this goal.
Deploying a New Marketing Strategy through our Customer Foundation
ANA's frequent flyer program, ANA Mileage Club (AMC), has around 26 million members. Until now, we have positioned AMC as a scheme to increase airline user's loyalty only. However, we plan to utilize AMC as a customer-related business foundation to expand our earnings domain.
By placing various services offered by group companies within the ANA Group's economic realm, we will use the customer foundation developed by AMC to promote cross selling. For example, we will strive to encourage AMC members to use airport shops and online stores. At the same time, we will also consider sales for our own media,"ANA SKY WEB, Eas an online advertising media that capitalize on ANA's brand power. Utilizing the customer foundation will enable business expansion not only in the business-toconsumer but also in the business-to-business market.
Recognition of our service quality as 5-Star by SKYTRAX does more than simply contribute to the further growth of air transportation business. By effectively using our customer foundation built on that service quality and our brand value, as assets, potential exists to contribute to the ANA Group's overall operations.
While strengthening ties between the front lines, product development divisions and marketing divisions from all group companies, we will polish the ANA brand and pursue the growth of entire group.
Contributing to Enhance a Business Platform by the ANA Card Business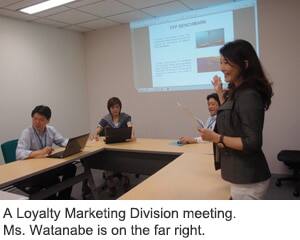 The ANA Card, with credit card functionality, celebrates its 30th anniversary in 2014 and it is a stable revenue source for ANA, because about ¥2.3 trillion transactions were recorded in the year 2013. Also, various fees including annual fees and mile charges are contributed to the revenues. It is highly accepted mainly by ANA's frequent flyers and is used by around 70% of ANA Premium Members. In addition, over 80% of the total transaction value settled by ANA Cards is for items other than airline ticket purchasing which means many customers who have an ANA Card use it regularly in their daily life. Moving ahead, we will keep working to enhance our services to customers with the ANA Card over the long term.
Yukiko Watanabe
Deputy Director, Business Strategy Team, Loyalty Marketing, Marketing,
All Nippon Airways Co., Ltd.