FY2014-16 ANA Group Corporate Strategy
(1/3)
The ANA Group set out FY2014-16 ANA Group Corporate Strategy for leading ahead in the competitive environment of the airline industry and achieve further growth. Following is a summary of the strategy's key points.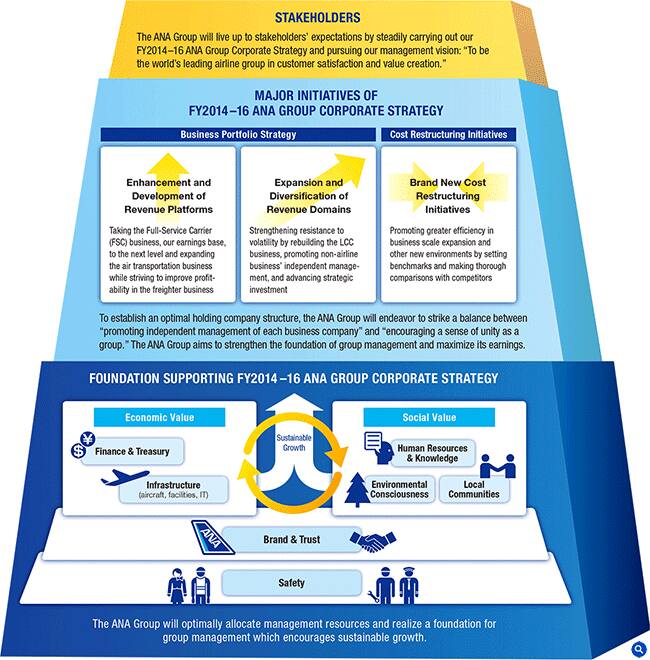 Major Initiatives
Theme 1: Business Portfolio Strategy
(Enhancement and Development of Revenue Platforms)
Improve an earnings power of existing business segments for enhancing and developing our earnings base.
For the air transportation business, the group's largest earnings source, the ANA Group will expand International Passenger Operations as our growth driver while firmly maintaining stable earnings on Domestic Passenger Operations. Furthermore, the group will improve profitability in areas like LCC (low-cost carrier) and freighter businesses to expand and evolve our earnings foundation.
In airline related, travel services and trade and retail businesses, the ANA Group aims for larger contributions to the group's earnings by expanding existing operations, advancing toward new growth opportunities, and actively investing to increase operating revenues acquired from outside the group.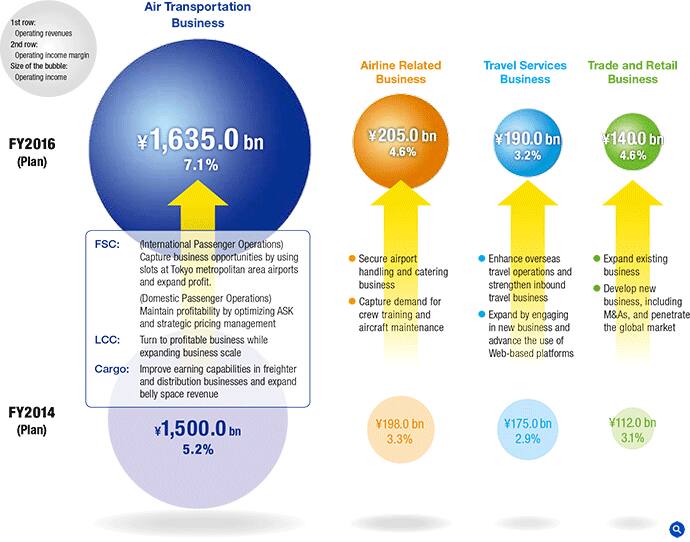 Theme 2: Business Portfolio Strategy
(Expansion and Diversification of Revenue Domains)
Each group company will maximize group-wide earnings growth which will lead to expansion and diversification of revenue domains.
For businesses on inter-group transactions, the ANA Group will raise productivity to improve cost structures to beat the competition even in external markets. This will contribute to groupwide earnings growth. Also, it will enable businesses with earnings bases outside of the group instead of inter-group transactions by providing products and services with market competitiveness. By enlarging the market scope including global expansion, developing new products or doing both, the ANA Group will expand and diversify revenue domains.
Along with this process of existing business evolvement, making strategic investments will add depth and breadth to the expansion of the group's business scope and diversification of revenue domains.
A holding company's role is to work toward business portfolio optimization by evaluating the profitability of individual businesses and properly allocating management resources. The ANA Group aims to expand the top-line and enhance cost competitiveness, while raising resistance to volatility in order to build strong group management.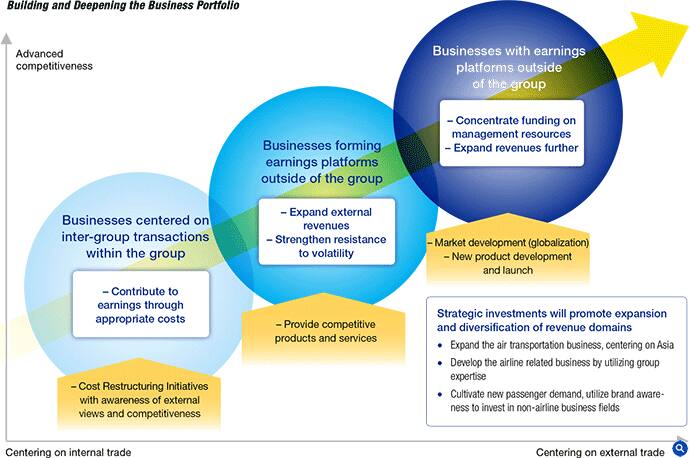 Theme 3: Brand New Cost Restructuring Initiatives
Verify the results of cost restructuring initiatives and set out to delve into reforms to develop profitability.
The ANA Group reduced costs by a total of ¥52.5 billion from the fiscal year 2011 to the fiscal year 2013. For the fiscal year 2014, our budget reflects ¥34.0 billion in reductions comprising attainable items. The group thus forecast total cost reductions of ¥86.5 billion over the four years from the fiscal year 2011.
Furthermore, the current Corporate Strategy adds new cost reductions of ¥50.0 billion over the two fiscal years 2015 and March 2016. This brings total reduction benefits to ¥136.5 billion over the six years from the fiscal year 2011. Converted to unit cost of air transportation business (excluding fuel expenses), this represents a reduction of around ¥1.5.
Regarding the Brand New Cost Restructuring Initiatives, the ANA Group will continue with and build on our cost-cutting steps which have been taken so far. Additionally, the group will move to an appropriate cost cognizant of market competitiveness by setting benchmarks to incorporate an outside perspective. Furthermore, the group will bring growing costs related to International Passenger Operations business in line with global standards. Also on the agenda is expanding our concentrated purchasing scope and transforming other business process frameworks. While interweaving such efforts from a multitude of angles, the entire group will strive to meet its goals.