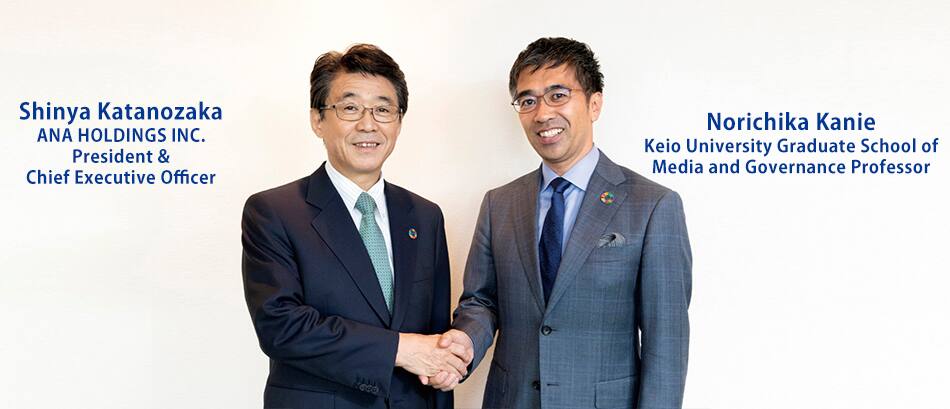 Discussion: Future-Oriented ESG Management and Contributing to the SDGs through Corporate Activities
The ANA Group aims for sustainable growth through the simultaneous creation of social value and economic value. At the same time, interest is rising in ESG (environment, social, and governance) investment. We invited Professor Norichika Kanie from Keio University Graduate School, and leading authority on research into the SDGs, to once again talk with Shinya Katanozaka, President & CEO of ANA HOLDINGS INC. This year, Messrs. Kanie and Katanozaka discussed co-existence and co-prosperity in future society (including contributions to the SDGs) and a deeper global-scale commitment to ESG management at ANA HOLDINGS.
Developments since the Previous Year
Kanie Over the past year, I have sensed a significant rise in interest in the relationship between ESG investment and the SDGs. The Japanese government, banks, and securities firms have shown a more positive attitude toward stable investments from a long-term viewpoint. Even financial products targeting individual investors are focusing more on stable long-term returns as they live longer post-retirement.
Katanozaka In April of this year, I accompanied a Keidanren mission to New York and Washington, D.C. together with senior managers in banking and securities firms. We conducted seminars for investors and the most welcome message I received was about the importance of growing long-term profits and long-term value. I felt keenly the critical nature of ESG management and long-term investment. Motivated by this experience, we added a section about non-financial indicators to our earnings reports, where our IR materials had focused mainly on financial indicators in the past. As you can see, our annual report now contains more content about ESG management, our contribution to the SDGs, and our response to climate change than we have provided in prior years.
Kanie More entities in the financial sector are evaluating companies from the standpoint of ESG management and the contribution to the SDGs. This reflects an emphasis on investing in companies that one can trust over the long term.
Specific ANA Group Initiatives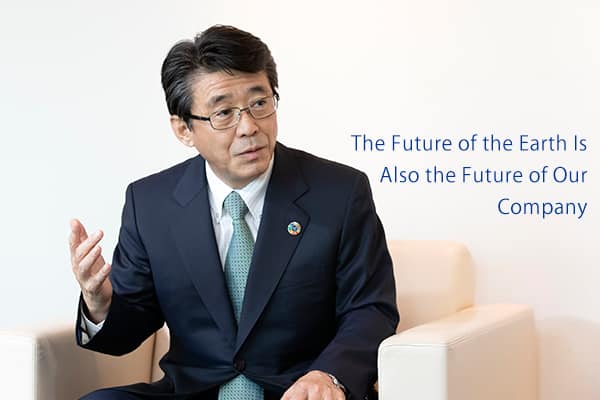 Katanozaka The 2016 ICAO General Assembly adopted an international commitment to generate carbon-neutral growth (CNG 2020) with no increase in CO2 emissions after the year 2021. One of our most important initiatives is to control CO2 emissions from our aircraft. ANA is very proactive in adopting fuel-efficient aircraft and biojet fuel to replace fossil fuels. We are also cooperating in developing algae as a raw material for Japanese-produced biojet fuel. Preventing illegal wildlife trade and human trafficking via aircraft are two major issues we are tackling in the air travel industry. We are working closely with government agencies, NGOs, NPOs, and other companies in our industry to address these issues. On-site staff receive training on specific content to become more familiar and more well-versed in these matters.
Universal service is another concept steadily gaining traction within the Group. For instance, we are widening our boarding gates for easier access to customers using wheelchairs and families with strollers. We have also upgraded our internet reservation system accessible for visually impaired persons. We plan to invest approximately ¥5 billion to improve facility accessibility. Promoting universal service allows any customer to use our businesses with confidence, and that will bring us benefits as we make advancements in this area. I believe it is important to discuss social value and economic value as a paired set in this way.
Kanie I have always said that there is no real sustainability without economic activity. Lately, I feel the reality of this statement even more. I feel very encouraged to know you have the same opinion as a top management.
Katanozaka One of the material issues with which we are engaged is regional revitalization. Revitalizing outlying regions by promoting tourism and increasing non-resident populations will lead us to profit as well. We have signed comprehensive partnership agreements with several prefectures in Japan. Our promotion of tourism and sales of local products revitalizes regional economies. We also work closely with local governments for disaster relief support, provide education to the next generation of citizens, and engage in other activities. More recently, we have launched projects utilizing the innovative technologies of Society 5.0*1. One such project involves the ANA Avatar*2 teleportation technology for education, medical treatment, welfare, and other means to resolve social issues in outlying regions. I want to emphasize that these kinds of regional revitalization initiatives are intertwined with value creation.
Kanie Many regional governments are searching for good partners. I look forward to seeing more activities in the communities the ANA Group serves.
Katanozaka I want to follow up on the food loss discussion from last year. Recently, we began a pre-order service for in-flight meals serving international business class customers. This service helps us meet passenger requests for in-flight meals. At the same time, we eliminate the need to load extra meals. This service improves customer satisfaction, while reducing costs and food loss.
Kanie I get the impression there are things you may be unconscious of or unaware of that may offer benefits to a variety of stakeholders. Employee awareness leads to more efficient operations and elimination of waste. I think this results in greater customer satisfaction as well.
Katanozaka We still have many in management and front-line positions who equate ESG with social contribution. ESG is meant to raise corporate value and make a company more attractive to investors. We need to do a better job of communicating this. Last October, we became the first airline in the world to issue Green Bonds. We were recognized for the environmentally friendly standards of construction in our new training center, which includes rooftop greening and solar power equipment among other facilities. This May, we issued Social Bonds to fund capital expenditures for universal service initiatives. I want to make sure investors are aware of our initiatives here.
Kanie I believe that linking benefits to society and to the future with corporate profits is highly important. Investors are also positive about this approach, and I would like to see the ANA Group expand even further on initiatives to date.
*1.

Society 5.0: A human-centered society that balances economic advancement with the resolution of social problems by a system that highly integrates cyberspace and physical space. Society 5.0 was proposed in the 5th Science and Technology Basic Plan as a future society that Japan should aspire to. It follows the hunting society (Society 1.0), agricultural society (Society 2.0), industrial society (Society 3.0), and information society (Society 4.0).
(Source: Cabinet Office website https://www8.cao.go.jp/cstp/english/society5_0/index.html

Opens in a new window.In the case of an external site,it may or may not meet accessibility guidelines.

)

*2.

ANA Avatar: A new mode of instantaneous transportation that will enable humanity to connect limitlessly. Integrating multiple exponential technologies ranging from robotics to haptics, real-world avatars will allow anyone to teleport their presence, consciousness, knowledge, and skills to a remote location.
Japanese-Style ESG Management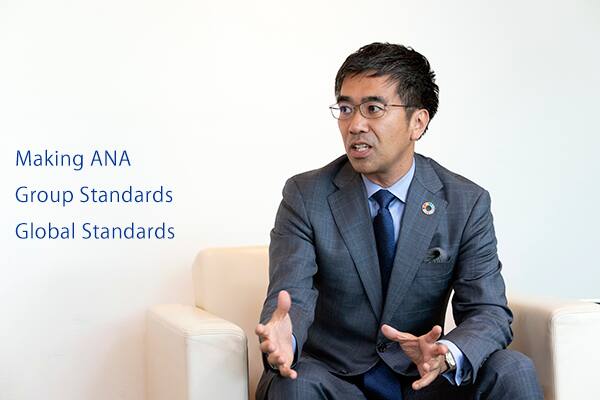 Katanozaka I believe there is a such thing as Japanese-style ESG management and contribution to the SDGs. In ancient times, Japanese used the phrase Sampo Yoshi, which means good for everyone. I think Japanese companies have always had a willingness to increase engagement while dealing with a variety of stakeholders.
Kanie I think we can add one more idea to this Sampo Yoshi that you mentioned when considering this current era and the dizzying pace of change. This idea is Mirai Yoshi (good for the future). There may have been a time when companies didn't have to think so much about the future. But I think today, society is looking for Sampo Yoshi Plus One, which is good for everyone plus good for the future.
Katanozaka Here, we are adding a time axis to the concept. When Wangari Maathai won the Nobel Peace Prize in 2004, she introduced the Japanese word mottainai (respect and gratitude for the resources around us) to the rest of the world. Similarly, I think we can introduce other words to the world that reflect Japanese-style customs and consciousness.
Kanie Even though the terms ESG and the SDGs are used in all manner of situations throughout Japan, it's Europe and the Americas that are taking the lead globally. Japan must insinuate itself into the global decision-making process, playing the role in creating various standards.
Katanozaka When we talk about ESG and the SDGs, these concepts tend heavily toward Western standards and philosophies.
If Japan were to participate from the standards creation phase, these standards could also reflect traditional Japanese values.
Kanie The ANA Group is an airline group that conducts business globally. I expect to see the Group demonstrate initiative during the creation of global standards and indicators, taking the leadership to make ANA Group standards global standards.
Enhanced Information Disclosure and Future-Oriented Goals
Katanozaka From among your comments, the viewpoint of the future stands out as very important. I truly sense that the future is changing, even in terms of the course of typhoons and other changes in the climate. Climate change is shifting the location of industry, including the best regions to grow rice and fruit. Airline companies must also shift their business to meet future changes. I think the impact of climate change on corporate management will be significant.
Kanie Even the SDGs, such as Goal 1 (end poverty), are impacted by climate change. The effects of climate change can destroy houses through flooding or be a trigger that eliminates jobs, causing people to fall into poverty. Assuming that climate change and other elements combine to change the future, we must steer a proper course while looking ahead to what the world might be like 10 or 20 years from now.
Katanozaka We must look toward the future and tailor our approach to a new era, even for those initiatives we have been pursuing for some time. Soon, we plan to begin discussions about our management plans for fiscal 2020. One key phrase on which we intend to focus is what to do now for a world that will have changed in 10 years from now? From the early stages of our Group Management Committee, we have addressed the creation of social value. Even this topic has changed in nature over the years.
Kanie What had been supplementary topics have now become a central issue for management. We are now in an era in which management must consider the future in any decision making.
Katanozaka Although top management tends to be short-term oriented, the times demand a more long-term approach. Going forward, we will determine the ANA Group key performance indicators (KPIs) related to ESG and be more proactive in disclosing non-financial information. As one measure, we decided to declare our support for the Task Force on Climate-related Financial Disclosures (TCFD) in March of this year. I just mentioned the major impact that climate change will have on business. Our policy is to analyze the opportunities and risks for corporate strategy presented by climate change and to disclose the impact on our finances. As we provide more visibility to our environmental and social initiatives, as well as the related processes and results, we will rise in the estimation of our investors. And, while I don't believe KPIs are something to change every year, we should review them as appropriate in the face of a rapidly changing world.
Kanie I believe it is effective to set major goals across a longer time frame. For example, where you want to be as a company by the year 2050. Declaring major goals communicates a stance and a vision of the future to stakeholders. People say that the SDGs emphasize qualitative targets, but I believe it is important to also set targets for goals that cannot be measured quantitatively.
Katanozaka Although our management plan includes feedback from the front lines of our organization, the main drivers are directors and general managers who are at least in their 50s. However, we have started to solicit the opinions of a broad range of younger employees to define the ideal form of the ANA Group 20 and 30 years from now. This includes the young Generation Z employees who have just joined our company, millennials in their 30s, and employees in their 40s.
Kanie When a company's organization and thinking becomes homogenized, so do its weak points. But diversity gives rise to a resilience capable of withstanding a one-point attack. This type of involvement raises awareness among the younger generation of employees. It also creates a positive cycle for a positive future.
Expectations for the ANA Group and the Resolve of Senior Management
Kanie I have high expectations for the ANA Group to participate and show leadership in the creation of global standards and indicators. Through stronger sustainability initiatives, I believe your group can have a positive impact throughout your entire value chain, including your vendors. I am particularly excited to see your initiatives related to human rights and food loss make their way through the supply chain.
Katanozaka For fiscal 2019, we have set goals to communicate ESG management and the SDGs throughout the Group. However, out of the 17 goals of the SDGs, our current Group medium-term corporate strategy only addresses seven specific initiatives: gender equity, clean energy, decent work, industry innovation, reduced inequalities, sustainable communities, and climate action. I have stated in our Group Management Committee that we should take the time to create initiatives related to all 17 goals. I will move even further forward with ESG management and the SDGs in the same fashion as our current initiatives. It is important that we raise awareness to consider the future of the earth. The future of the earth is also the future of our company.