ANA HOLDINGS NEWS

For Immediate Release

Isetan Singapore, Yamato Transport and ANA Cargo to start E-Commerce Business for Singapore to deliver Japanese Seasonal Fresh Food
Isetan Singapore Ltd
Yamato Transport Co. Ltd
ANA Cargo Inc.
(8 JANUARY 2016)
Isetan Singapore Ltd. Managing Director, Lim Tien Chun, Yamato Transport Co. Ltd. Managing Director Nagao Yutaka and ANA Cargo Inc. President, Okada Akira will launch a new "delivery order" business scheme via Isetan Singapore's E-commerce site,"I ONLINE" to deliver Japanese seasonal agricultural and fishery products to consumers in Singapore within 6 - 14 days after the order is placed. The freshness of the products is guaranteed as the Japanese suppliers will deliver to consumers within 4 days after the order is processed. Please refer below for the detailed operation flow.
Remarks
1. Background
In recent years, the AEASN E-Commerce market is on a rapid growth with the rise of the Internet. Singapore, as the greatest economic power in Southeast Asia, has an increasing need to purchase high quality Japanese agricultural and fishery products from the different regions through e-commerce sites.
Isetan Singapore first launched our e-commerce site, I ONLINE in 2009. With its rich history as a Japanese departmental store since 1972, Isetan Singapore continues to satisfy customers' growing expectations for genuine and superior quality Japanese food through exploring different channels.
Yamato Transport and ANA Cargo, air cargo affiliate company of the largest Japanese airline group, enhanced their partnership since May 2015 through the reinforcement of their business model based on Okinawa cargo hub at Okinawa's Naha airport. Through this, they developed new markets for Japan agricultural products in Asia through e-commerce.
Isetan Singapore, Yamato Transport and ANA Cargo will sell superior quality Japanese agricultural products on I ONLINE and deliver to Singapore. This will create opportunities for Japanese producers and satisfy Singapore consumers' demands for fresh Japanese food.
2. Business Model Outline - Creating New Cross-Border E-Commerce Site
Isetan Singapore will have an e-commerce site,"ISETAN JAPAN DIRECT" for Singaporean consumers to purchase high quality Japanese foods.
URL: https://www.isetan.com.sg/t/categories/isetan-japan-direct-2016/isetan-japan-direct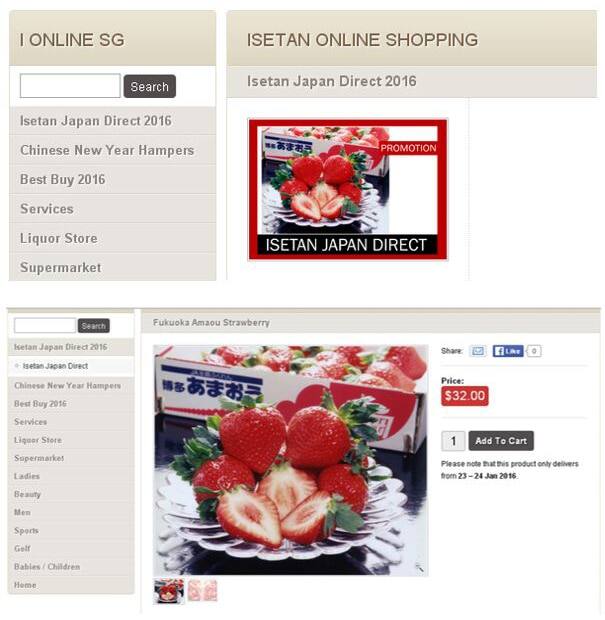 Total Support: Rapid Product-delivery From Pick Up to Logistics
We will deliver fresh and superior quality Japanese food through the efficient logistic delivery system that Yamato Transport and ANA Cargo provides, the "International Cool TA-Q-BIN".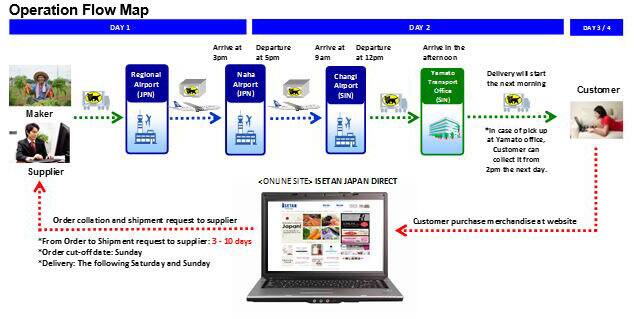 END
Press release issued by Isetan Singapore, Yamato Transport and ANA Cargo. For all media-related enquires, please contact:

Isetan Singapore, Yamato Transport and ANA Cargo to start E-Commerce Business for Singapore to deliver Japanese Seasonal Fresh Food