Featuring Akita, Saitama and Shimane Prefectures
---

TOKYO, August 18, 2016 - In September 2013, ANA Group launched its 'Tastes of JAPAN' campaign. This project, which introduces regional beverages and cuisine to ANA flights, airport lounges and other services, is designed to raise the profile of Japan's lesser-known prefectures, particularly to overseas customers, and drive tourism to Japan. The project is also intended to stimulate local economies, in part by boosting consumption of regional agricultural products.
The thirteenth phase of the project will introduce ANA customers to products from Akita, Saitama and Shimane prefectures between September and November 2016. This will include:

Akita
For our International Business Class passengers, ANA is pleased to offer "Akita Cuisine." The main dish of Hinai-jidori chicken, revered as one of Japan's three tastiest local chicken brands, is served in the classic Akita specialty of kiritanpo nabe (skewered mashed rice hot pot). At "DINING h" restaurant inside the ANA SUITE LOUNGE at Haneda Airport, an October highlight is beef filet and foie gras sauté with "Fukura" French toast in blueberry sauce. Fukura refers to a spicy French toast version of cake made from Akita tofu, which pairs immaculately with the meat sauté and vegetable side.

Saitama
Featured this November at "DINING h" restaurant at the ANA SUITE LOUNGE at Haneda Airport is "Musashi wheat-fed pork loin" from Saitama Prefecture, fried in onions and ginger. A delicacy of late fall, this pork is renowned for its delectable balance of rich red and sweet fatty meat, prepared here for your dining delight in the classic ginger-fried style. Served at the ANA SUITE LOUNGE at Haneda and Narita Airports, meanwhile, is gourmet onion bread made with "Hanamanten" brand wheat grown in Saitama. Dough created from this wheat is kneaded with onions, black pepper and coarse-grained green pepper, then baked to a scrumptious finish.

Shimane
Served in our International First Class is fried tilefish caught in Shimane Prefecture, paired with sautéed abalone and flavored with garland chrysanthemum puree and olive oil. Savor the light and tender texture of both the tilefish and abalone from Shimane, with puree sauce glistening from the brilliant green of garland chrysanthemum leaves. At "DINING h" restaurant inside the ANA SUITE LOUNGE at Haneda Airport, a September special is rockfish harvested from the waters of Shimane Prefecture prepared in a sauce of seaweed salt from the Hamada region. The rich fatty meat of the rockfish is fried to a mouth-watering finish in mellow salty sauce marketed under the Hamamori brand.
Airport Lounges: Japanese Sake Corner
As part of the project, ANA customers are able to sample Japanese sake and shochu, the 'Kokushu' or national spirits of Japan, at ANA airport lounges in Haneda, Narita and Kansai Airports.
'Tastes of Japan' website
Information on the featured prefectures is available on our dedicated web site in English and other languages:
https://www.ana.co.jp/tastesofjapan/en/
(*Relevant information is available from August 23rd.)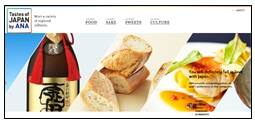 ANA Group operates Japan's only 5-star rated airline with Japan's largest domestic network and an expanding network of international routes. It will continue to implement various initiatives to promote the culture and heritage of Japan and serve as a bridge between Japan and the rest of the world.
Notes to Editors
'Tastes of JAPAN' by ANA features different prefectures in 3-month cycles. The project introduces food, drinks, and desserts to customers through ANA services, the website and other channels.
Prefectures previously featured by the 'Tastes of JAPAN' project are ; Kumamoto, Hokkaido, Miyagi, Ehime, Miyazaki, Shizuoka, Hiroshima, Nagasaki, Ishikawa, Okayama, Oita, Yamagata, Kagawa, Yamaguchi, Fukushima, Osaka, Tottori, Toyama, Nara, Fukuoka, Niigata, Kanagawa, Shiga, Aichi, Gifu, Mie, Aomori, Kyoto, Saga, Fukui, Yamanashi and Kagoshima.
Contact: Wataru Yoshioka and Maho Ito, ANA Corporate Communications TEL +81-3-6735-1111
About ANA
ANA is the largest airline in Japan by revenues and passenger numbers. Founded in 1952, ANA flies today on 83 international routes and 116 domestic routes. The ANA group has 35,000 employees and a fleet of about 250 aircraft. In FY2015, it carried 50.8 million passengers and generated revenues of 1.79 trillion Japanese yen. ANA has been a member of Star Alliance since 1999, and has joint-ventures with United Airlines on trans-Pacific and Asia routes, and with Lufthansa, Swiss International Airlines and Austrian Airlines on Japan-Europe routes. Its Frequent Flyer Program, ANA Mileage Club, has more than 26 million members. ANA was voted Airline of the Year for 2013 by Air Transport World Magazine, and in 2016 was awarded five stars for the fourth consecutive year by the world's leading Airline and Airport review site, SKYTRAX. ANA is the launch customer and biggest operator of the Boeing 787 Dreamliner.