'Tastes of JAPAN' by ANA
Featuring Tochigi, Chiba and Tokushima Prefectures
---

TOKYO, April 27, 2016 - In September 2013, ANA Group launched its 'Tastes of JAPAN' campaign. This project, which introduces regional beverages and cuisine to ANA flights, airport lounges and other services, is designed to raise the profile of Japan's lesser-known prefectures, particularly to overseas customers, and drive tourism to Japan. The project is also intended to stimulate local economies, in part by boosting consumption of regional agricultural products.
The sixteenth phase of the project will introduce ANA customers to products from Tochigi, Chiba and Tokushima prefectures between June 2017 and August 2017. This will include:

Tochigi
During July, ANA serves at "DINING h" restaurant inside the ANA Suite Lounge at Haneda Airport a specialty of succulent beef rib and dried gourd shavings from Tochigi Prefecture. Rib strips are wrapped with gourd morsels and stewed to a flavorful finish. In June, the lounge is offering the "ANA Original Kita Kanto Tochigi Parfait" dessert. For this, a sherbet is blended from ice cream produced from top-grade milk from Nasu Highlands and a famous local brand of lemon-flavored milk. Loaded onto this base is pound cake baked from batter mixed with premiere brand Tochiotome strawberries, then crowned with a topping of oven toasted gyoza dumpling skins. All ingredients are tour de force specialties of Tochigi Prefecture.

Chiba
For the distinct pleasure of our International Business Class passengers, from June through August ANA is happy to be offering an astoundingly tender cut of beef tenderloin steak. This simple yet full-fledged gourmet-caliber dish is served with an invigorating Japanese-style sauce concocted from white sweet sake brewed in the Sawara district of Chiba Prefecture and soy sauce. Throughout the month of June, meanwhile, the "DINING h" restaurant inside the ANA Suite Lounge at Haneda Airport proudly presents a genuinely exceptional sautéed salmon masterpiece. This particular connoisseur offering is partnered with a sauce prepared from dried nori seaweed from Chiba, balsamic vinegar, olive oil and citron pepper.

Tokushima
For the dining contentment of our International Business Class passengers, from June through August ANA is offering "Local Cuisine from Tokushima". The main dish of "Awao Chicken" showcases the poultry brand boasting Japan's highest production volume. The meat is meticulously broiled in an original sauce with "Mimagara" (a locally realized fiery hot spice) as the secret ingredient, coaxing out a sweet and full-bodied savor. The ANA Suite Lounge at Haneda Airport is elated to be serving a dessert crafted exclusively from "Naruto Kintoki" brand sweet potatoes from Tokushima. A paste prepared from these famous sweet potatoes is merged with butter and fresh cream, and then baked to mouth-watering perfection.
Airport Lounges: Japanese Sake Corner
As part of the project, ANA customers are able to sample Japanese sake and shochu, the 'Kokushu' or national spirits of Japan, at ANA airport lounges in Haneda, Narita and Kansai Airports.
'Tastes of Japan' website
Information on the featured prefectures is available on our dedicated web site in English and other languages:
https://www.ana.co.jp/tastesofjapan/en/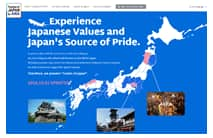 ANA Group operates Japan's only 5-star rated airline with Japan's largest domestic network and an expanding network of international routes. It will continue to implement various initiatives to promote the culture and heritage of Japan and serve as a bridge between Japan and the rest of the world.
Notes to Editors
'Tastes of JAPAN' by ANA features different prefectures in 3-month cycles. The project introduces food, drinks, and desserts to customers through ANA services, the website and other channels.
Prefectures previously featured by the 'Tastes of JAPAN' project are ; Kumamoto, Hokkaido, Miyagi, Ehime, Miyazaki, Shizuoka, Hiroshima, Nagasaki, Ishikawa, Okayama, Oita, Yamagata, Kagawa, Yamaguchi, Fukushima, Osaka, Tottori, Toyama, Nara, Fukuoka, Niigata, Kanagawa, Shiga, Aichi, Gifu, Mie, Aomori, Kyoto, Saga, Fukui, Yamanashi, Kagoshima, Akita, Saitama, Shimane, Tokyo, Gunma and Wakayama.
Contact: Wataru Yoshioka and Naheel Dajany, ANA Corporate Communications TEL +81-3-6735-1111
About ANA
ANA is the largest airline in Japan by revenues and passenger numbers. Founded in 1952, ANA flies today on 87 international routes and 114 domestic routes. The ANA group has about 35,000 employees and a fleet of about 250 aircraft. In FY2015, it carried 50.8 million passengers and generated revenues of 1.79 trillion Japanese yen. ANA has been a member of Star Alliance since 1999, and has joint-ventures with United Airlines on trans-Pacific and Asia routes, and with Lufthansa, Swiss International Airlines and Austrian Airlines on Japan-Europe routes. Its Frequent Flyer Program, ANA Mileage Club, has more than 26 million members. ANA was voted Airline of the Year for 2013 by Air Transport World Magazine, and in 2017 was awarded five stars for the fifth consecutive year by the world's leading Airline and Airport review site, SKYTRAX. ANA is the launch customer and biggest operator of the Boeing 787 Dreamliner.