New Culinary Highlights on ANA Flights Starting This Winter
Four new co-stars join THE CONNOISSEURS program
Collaboration with famous Chef Adam Liaw
New meals selected by ANA fans
---
TOKYO, November 16, 2017 - ANA, Japan's largest airline, is proud to announce three new highlights around our in-flight meal service, further enriching our customers' experiences on board.
Firstly, from December 2017, we are adding two Japanese cuisine chefs and two wine sommeliers into our "The Connoisseurs" program, comprising a total of twenty-two members. We collaborate with worldwide renowned professional chefs, who create our original in-flight meals and select our beverages served in First Class and Business Class. This five-star ranking culinary and service quality is especially loved by all ANA customers.
Secondly, not only for flights departing from Japan, but also for flights departing from cities outside of Japan, we have been collaborating with famous chefs, such as for Business Class meals served on flights from Singapore, Taiwan, India, and Los Angeles. And starting this December, we are going to collaborate with the famous chef, Adam Liaw for meals on the Sydney - Haneda flight.
Lastly, new Premium Economy and Economy Class meals selected by ANA social media fans through a "General Election for In-flight Meals" voting process will be served on flights departing from Japan.
ANA takes pride in being the only Japanese airline to earn five stars for consecutive years in the U.K based SKYTRAX World Airline Star Rating. ANA has continued to achieve this honor for five consecutive years, in appreciation of its innovation on initiatives to constantly improve services for its passengers.
1. New "THE CONNOISSEURS " members from December 2017
Hirokazu Tomisawa, Executive Chef of "YOSHIMURA"
Japanese Menu on Premium Class (Dinner), flights departing from Sapporo (Chitose), Osaka (Itami), Fukuoka, Okinawa between March and May 2018
A native of Yamagata Prefecture. Based on rich experiences accumulated in both the Kanto and Kansai regions of Japan, he currently marshals his expertise as Executive Chef at the restaurant "Yoshimura." He is also active as an instructor, managing director and in various other capacities, making strong contributions to progress in the culinary world. He holds many honors and awards, including the "Tokyo Meister" recognition for superior technical skills, Edo Master Artisan designation for traditional techniques, and the Commissioner for Cultural Affairs Award. He has received the award of Contemporary Master Craftsman in 2017.

Shinji Ishida, Chef of "NOGIZAKA SHIN"
Japanese Menu on Premium Class (Dinner), flights departing from Tokyo (Haneda) between March and May 2018
A native of Tokushima Prefecture. He patiently cultivated his skills for 15 years at an upscale restaurant in his local, Tokushima, followed by the further pursuit of the culinary craft through a five-year stint at another fine Japanese restaurant in the exclusive Ginza quarter of Tokyo. When this Ginza restaurant opened a branch in Paris, he traveled abroad to directly support that launch. During his time in France, he spent much time with Yasuhide Tobita, a wine sommelier and licensed Master of Sake; with the two men sharing their future visions and dreams. That bonding eventually bore fruit when the pair opened "NOGIZAKA SHIN" in June 2016 in the Akasaka quarter of Tokyo.

Olivier Poussier, Best Sommelier in the World
Selected white and red wine for Business Class on flights between Japan and Europe from December 2017 till February 2018. Wine advisor for wines served in ANA lounges and on international and domestic flights in late 2018
He was sommelier in the famous restaurant "La Tour d'argent", five-star* hotel "The Connaught" in the UK and three-star* restaurant "Pavillon Ledoyen" in Paris. In 1989, he was awarded Best Sommelier in France and in 2000, was selected Best Sommelier in the World in Montreal. Poussier is now running a wine consulting company and is the Chef Sommelier of Lenôtre in France.
*The number of stars is as of 2017

<Specially selected Wine between December and February>
●White Wine: Dócil Loureiro 2016 Vinho Verde, Portugal
The wine offers up a pale-yellow robe with glints of green. The seductive smell gives off aromas of green apple and lemon. Lovely freshness livens up this wine, the mineral influence of the granite gives it good depth. Very precise complexity where the acidity and the presence of the carbonic maceration invigorate the wine, producing a finely-chiselled, saline wine with lovely bitters on the palate that add relief and persistence.
●Red Wine: Acústic Negre 2015 Monstant, Spain
The Montsant appellation lies in southern Catalonia, famous for the quality of the old Grenache vines. The wine spends 10 months on wood, in used barrels. The 2015 vintage is a solar year which has produced a very full and dense wine defined by juicy fruit redolent with dark berries and spices. The wood underscores the wine but does not dominate. Very full and rich mouthfeel, with fully developed tannins; mid-palate, the wine is round and voluptuous.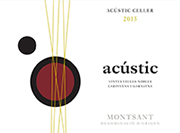 Satoru Mori, Executive Sommelier of "Conrad Tokyo"
Wine advisor for wines served in ANA lounges, international and domestic flights in late 2018
Joined Conrad Tokyo in October 2013 as Head Sommelier, and now Executive Sommelier since August 2016. Mori has been awarded numerous awards including Japan's Best Sommelier in 2008, Asia-Oceania Best Sommelier in 2009. He has been the Managing Director of Japan Sommelier Association since February 2014. He has received the award of Contemporary Master Craftsman in 2017.

2. New in-flight menus on Premium Economy and Economy class selected through "General Election for In-flight Meals" which was conducted on ANA social media pages
Dedicated to creating in-flight meals with the passengers, ANA has been launching "General Election for In-flight Meals" since 2013. This is the fifth election, and this year, out of the twelve meals, four (two Japanese style and two International style) were chosen. Among the twelve meals, eight were famous and popular in the past elections and four were newly designed by ANA chefs.
50,000 votes were received via ANA social media pages. The highest rated Japanese and International meals will be served on Premium Economy and Economy Class from December 2017 on flights departing from Haneda and Narita International Airports (Tokyo area). These meals will also be served for the first time on Economy Class departing from Nagoya and Kansai Airports (Regional area).
3. Collaboration with famous chef Adam Liaw for our Sydney- Haneda Flight
In order to provide exclusive meals, from 2013, ANA has been collaborating with well-known chefs, restaurants, or hotels in each area and produced its original menu.
From December 2017 till May 2018, ANA proudly announces that we will collaborate with Adam Liaw, an Australian TV personality and winner of MasterChef Australia in 2010, for our Japanese meal served in Business Class, Premium Economy and Economy Class on flights from Sydney to Tokyo. Providing a collaboration meal for Premium Economy and Economy Class for flights from outside of Japan is the first time for ANA.
An original video showing how Adam put the collaboration menu together, will be shown in the in-flight entertainment.
For Business Class on flights from Taiwan, since the collaboration menu with Regent Taipei was highly acclaimed for two years, we will collaborate again with a new menu starting January 2018.
Other Business Class collaboration meals include working with Patina, for flights from Los Angeles; with Regent Singapore, A Four Seasons Hotel, for flights from Singapore; and with Taj Mahal Palace Mumbai for flights from India.
ANA hopes this will be a special dish for both passengers just starting and wrapping up their journey on ANA.
Contact: ANA Corporate Communications, TEL +81-3-6735-1111
About ANA
ANA is the largest airline in Japan by revenues and passenger numbers. Founded in 1952, ANA flies today on 87 international routes and 121 domestic routes. The ANA group has 35,000 employees and a fleet of about 250 aircraft. In FY2016, it carried 52.1 million passengers and generated revenues of 1.77 trillion Japanese yen. ANA has been a member of Star Alliance since 1999, and has joint-ventures with United Airlines on trans-Pacific and Asia routes, and with Lufthansa, Swiss International Airlines and Austrian Airlines on Japan-Europe routes. Its Frequent Flyer Program, ANA Mileage Club, has more than 26 million members. ANA was voted Airline of the Year for 2013 by Air Transport World Magazine, and in 2017 was awarded five stars for the fifth consecutive year by the world's leading Airline and Airport review site, SKYTRAX. ANA is the launch customer and biggest operator of the Boeing 787 Dreamliner.