Regarding in-flight medical support
To provide peace of mind to our customers, ANA can call upon the help of doctors and medical professionals in cases where passengers fall ill on board and where medical help is required. On international routes, we provide medical services for our passengers and crew in cooperation with MedAire. These services allow cabin crew and any doctors or other medical personnel on board to receive advice from medical care professionals and security specialists, 24 hours a day, 365 days a year.
Additionally, in order to provide non-Japanese passengers with immediate medical attention, the tablet terminals carried by our cabin attendants are all installed with language tools to help provide initial treatment in various languages. There are 17 language options available*.
*Japanese, English, Simplified Chinese, Cantonese, Traditional Chinese, Korean, Hindi, Bahasa Indonesia, Thai, Vietnamese, Myanmar language (Burmese), Khmer, Malay, French, German, Tagalog, Spanish
The linguistic assistance is not just textual, but can also provide verbal responses and handle a range of passengers, including those with disabilities.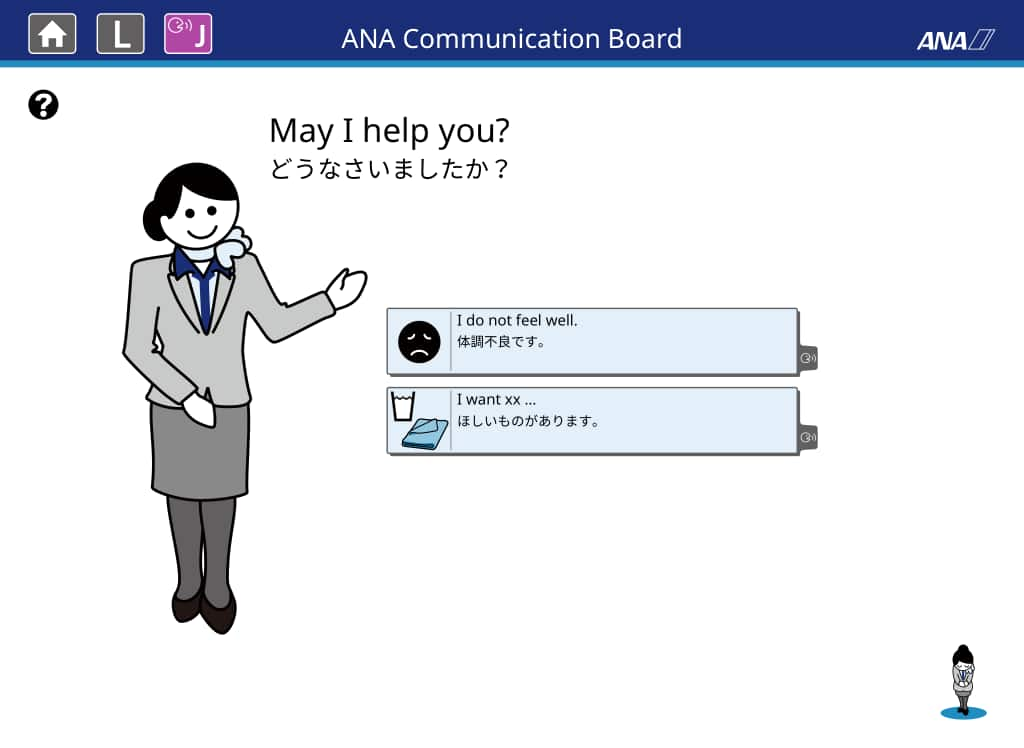 The "ANA Doctor on board" program is one in which medical practitioners who are also members of our mileage club will be able to voluntarily register themselves with ANA on a preliminary basis, and cooperate in providing medical procedures in the event of somebody on the plane suddenly becoming ill.
The cabin attendants will be able to immediately call upon the doctors for help, thus enabling rapid medical response in emergencies.
If it becomes difficult for a registered doctor to provide assistance because they themselves feel unwell, they may withdraw themselves from the medical team, simply by telling the cabin attendants that they are unfit to provide assistance.
Please note that in the event that responsibility for damage compensation arises from the medical treatment offered, ANA will act as the subject of any action except in the cases of accidents or gross negligence.
Medication on board flights
ANA is attempting to stock its flights with a wide range of medications and medical apparatus in order to be able to provide appropriate treatment for people on board who feel unwell.
A list of some of the medications carried on board by ANA is available for viewing on the company website.