From Australia to Japan Information on entry
Useful Australia to Japan entry travel information such as passport & visa, climate & clothing, currency, voltage & plug, transportations, etc. are introduced. Information you would like to confirm when visiting from Australia to Japan such as currency, rates, and Australian embassy are also available.
---
You do not need a visa for stays of up to ninety days for the purpose of business, a conference, tourism, or visiting friends or relatives. A visa is required for longer stays, for study, or for carrying out activities for which remuneration will be received in Japan.
Your passport should be valid until at least the end of your stay.
*Visa, passport, and other information is subject to change without notice. Be sure to check with the Embassy, Consulate, or travel agency.
For bringing and possession of tax-free cigarettes
Tobacco only: 400 foreign cigarettes and 400 Japanese cigarettes
Cigars only: 100
Alcohol: 3 bottles (760 mL each)
Perfume (excluding eau de cologne and eau de toilette): 2 ounces (1 ounce = approx. 28 mL)
Time difference and Daylight Saving Time
Japan is one hour behind the states in the east coast, 30 minutes behind the central region, and one hour ahead of the west region (Western Australia) in Australia. The time difference becomes an hour longer during daylight saving time (summertime) in observing regions.
Although the islands of Japan are mostly in the temperate zone, it has four distinct seasons. However, as the country stretches lengthwise north to south, it contains different climates, such as the subpolar zone in Hokkaido and subtropical zone in Okinawa. June and July are the rainy season for all of Japan except for Hokkaido. Rainfall becomes increased and prolonged. From July to October, tropical cyclones called typhoons arise in the southern ocean waters and move north. In particular, Okinawa and the Kyushu region experience strong winds and torrential rain that sometimes cause natural disasters.
Spring (March to May): Many days are relatively warmer. Although it often becomes hot during the daytime, it is best to have a light jacket.
Summer (June to August): It is often both hot and humid.
Autumn (September to November): The number of less humid, more comfortable days increases.
Winter (December to February): Seasonal winds from the continents result in plenty of snow on the Sea of Japan side and a cold wind blowing on the Pacific side. The temperature drops quite low as well, so a coat or down jacket is a must.
Currency and Exchange Rate, Tax, Currency exchange, Tip
Currency and Exchange Rate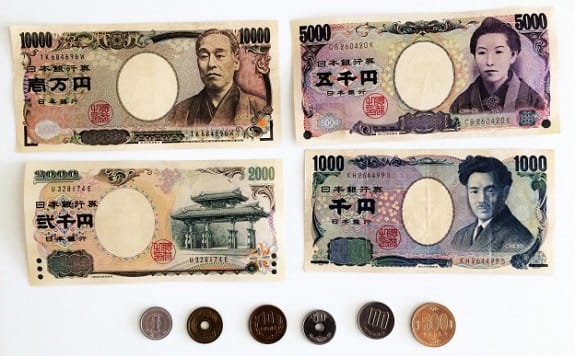 Banknotes and coins used in Japan
The unit of currency in Japan is the yen. It is denoted by ¥. There are six types of coins and four types of banknotes currently in distribution. Coins in distribution are 1, 5, 10, 50, 100, and 500 yen coins. Banknotes in distribution are 1,000, 2,000, 5,000, and 10,000 yen notes. However, there are very few 2,000 yen notes in distribution and they are rarely seen. As of April 10, 2017, A$1 = approx. 83 yen
Although tipping is not customary, a service charge is often added to your bill. Also, the traditional custom of handing over some money folded into paper or slipped into a decorative paper envelope as a gratuity to the waitress remains at upscale Japanese inns.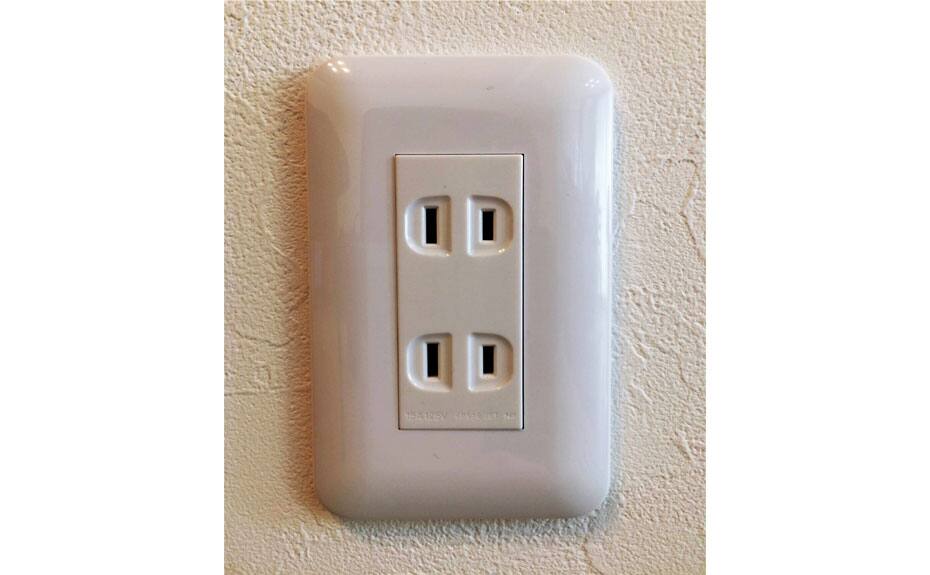 Voltage in Japan differs between east and west Japan. It is 100 V with a frequency of 50 Hz in east Japan and 60 Hz in west Japan. You do not have to consider the difference between east and west Japan when using Japanese electrical devices, but a transformer is needed when using non-Japanese devices. Japan uses Type A plugs with two parallel rectangular pins.
The TV system in Japan is NTSC, and the DVD region code is region 2. Note that DVDs purchased in other countries may not be able to be played on a Japanese DVD player.
Japanese Blu-rays are region code A. Blu-rays with region code A still cannot be played on video players with a different region code.
Although the hours vary depending on the branch or services offered, general over-the-counter services are usually available from 9:00 to 16:00. Some branches have a Yuyu counter offering postal services on Saturdays.
Air mail postage for postcards is the same to any country and is 70 yen at the post office. There are four types of international mail services each with different rates and delivery times: Express Mail Service (EMS), air post, Economy Air (SAL), and sea mail.
Situation
How to Phone
[Telephoning Japan from Australia]
Ex. When calling (03)1234-5678
0011 (International telephone identification number)
▼
81 (Country Code, Japan)
▼
3 (Remove the first 0 for area codes and mobile telephone numbers)
▼
1234-5678 (Other parties telephone No.)
[Telephoning Australia from Japan]
When calling Cairns (07)1234-5678
010 (International phone code)
▼
61 (Australia phone code)
▼
7 (remove the first "0" from the area code)
▼
1234-5678 (Other parties telephone No.)
Holiday / National holiday
Holiday / National holiday
In Japan, national holidays are stipulated by the Act on National Holidays and are decreed to be public holidays. As of 2016, there are 16 public holidays a year. When a public holiday falls on a Sunday, the following Monday is a substitute holiday. If a weekday falls between two public holidays, it also becomes a national holiday.
2017
January 1 New Year's Day
2nd Monday in January Coming of Age Day
February 11 Foundation Day
March 20 Vernal Equinox Day
April 29 Showa Day
May 3 Constitution Memorial Day
May 4 Greenery Day
May 5 Children's Day
3rd Monday in July Sea Day
August 11 Mountain Day
3rd Monday in September  Respect for the Aged Day
September 23 Autumnal Equinox Day
2nd Monday in October  Health and Sports Day
November 3 Culture Day
November 23 Labour Thanksgiving Day
December 23 The Emperor's Birthday
Japanese. English can be used at hotels and restaurants catering to foreigners, but the level of English at other places tends to be low.
Government and business offices and banks are generally closed twice a week. Shops and restaurants are closed on different days depending on the establishment.
Banks: Monday to Friday, 9:00 to 15:00; closed on Saturdays, Sundays, and holidays. Note that currency exchange is not available unless there are over-the-counter services. ATMs are generally available from 8:00 to 23:00 on weekdays and Saturdays and until 21:00 on Sundays.
Restaurants: Hours vary by establishment. Casual dining chain restaurants are generally open from 7:00 until late at night, and some are open 24-hours a day. Privately-run restaurants have various types of operation, for example being open 11:00 to 14:00 for lunch, closed in the afternoon, and open again from 18:00 to 22:00 for dinner.
Department stores and shops: From 10:00 or 11:00 to 20:00 or 21:00. The restaurant floors of most department stores stay open until 22:00 or 23:00.
Convenience stores: Most places are open 24-hours a day, 365-days a year.
Tobacco and alcohol are prohibited for those under 20 years of age.
Smoking is prohibited for those under 20. Also, some regions have bylaws prohibiting smoking while walking to prevent burns or discomfort to other pedestrians. Be sure to smoke in designated smoking areas. An increasing number of eating establishments are creating separate smoking areas or rooms, and some restaurants, cafes, and other places do not allow any smoking during lunchtime.
---