The finest choice of red and white wines produced by top caliber wineries from around the world have been selected to complement our First Class menu.
Savor our modern cuisine with top-class wines and experience the highest quality journey available in the skies.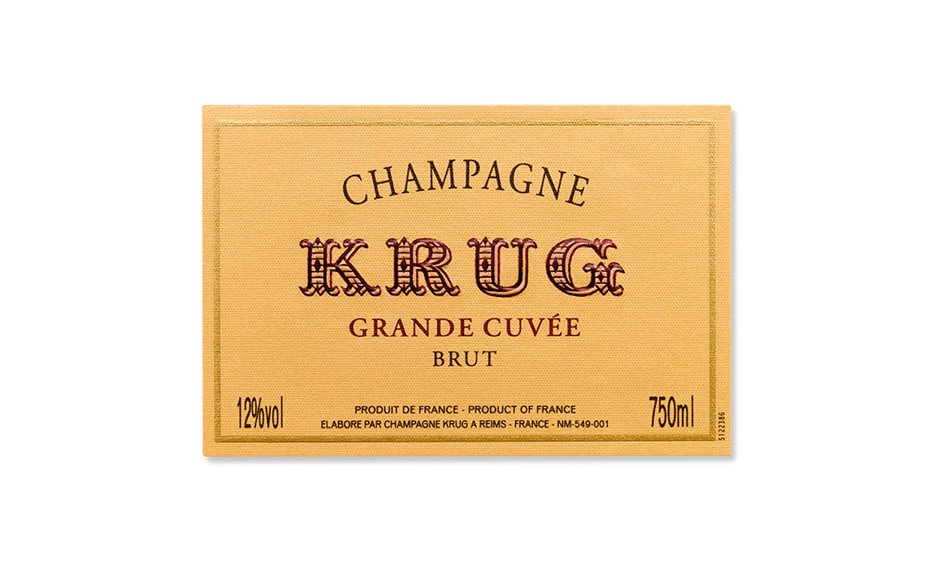 Krug Grand Cuvée (Champagne)
Champagne, France
Cuvée garners unparalleled praise as the world 's top champagne.Above all else, Grand Cuvée is a superb blend of different wines from the harvest year.It has a profoundly nuanced bouquet, with the freshness of a green apple.Bubbles spread slowly throughout the palette and combine with tartness to bring out an exquisite taste.It has a good length, and faint yet long aftertaste of bitter citrus.ANA has been committed to serving the very best champagne in ANA First Class since it was introduced in 1986, and continues to serve Krug to this day.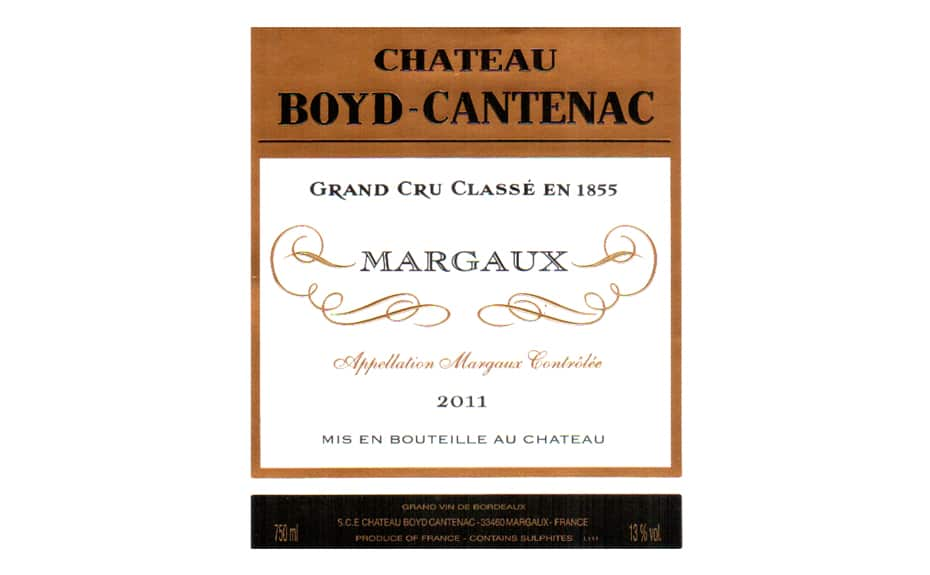 Château Boyd Cantenac 2011
(Margaux, Bourdeaux, France)
Château Boyd Cantenac is a Cru Classé property in Margaux, producing mid-weighted, savory Cabernet blends redolent of currant, cedar and cigar box tones. Taut, gravelly tannins meld these complex flavors with Margaux's distinctive violet aromas, while a beam of freshness propels all into a long finish.
Château Gazin Rocquencourt 2013
(Pessac-Leognan, Bourdeaux, France)
Château Gazin Rocquencourt is a white Bordeaux of esteemed pedigree exhibiting lemon curd, lime rind and greengage notes. These are framed by a delicate level of oak handling and bright, persistent acidity to give a long finish with a gentle phenolic pucker.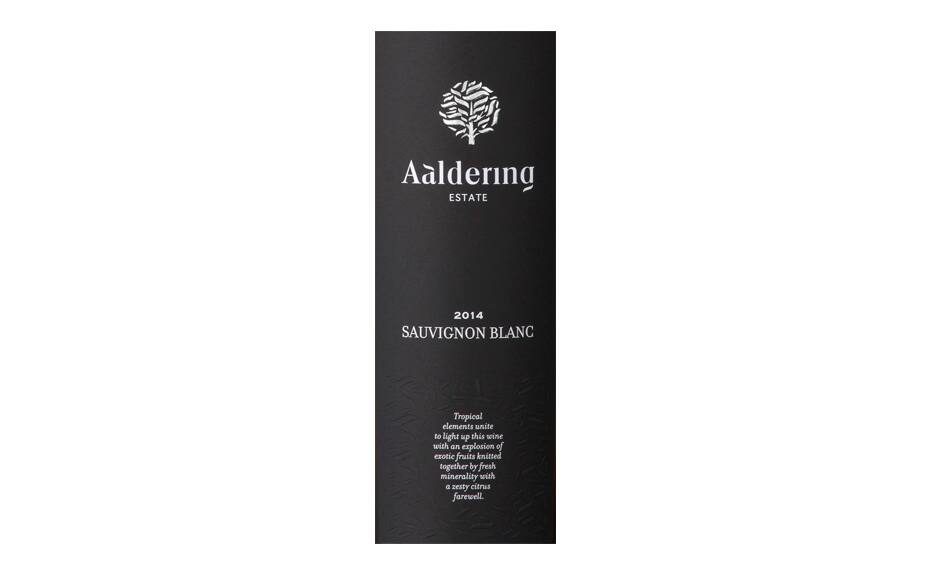 Aaldering Estate Sauvignon Blanc 2014
(Stellenbosch, South Africa)
Classic Stellenbosch Sauvignon Blanc, displaying aromas of greenage, nettle, freshly cut grass and passionfruit, stretched across a light-weight frame bound to piercing, juicy and racy length.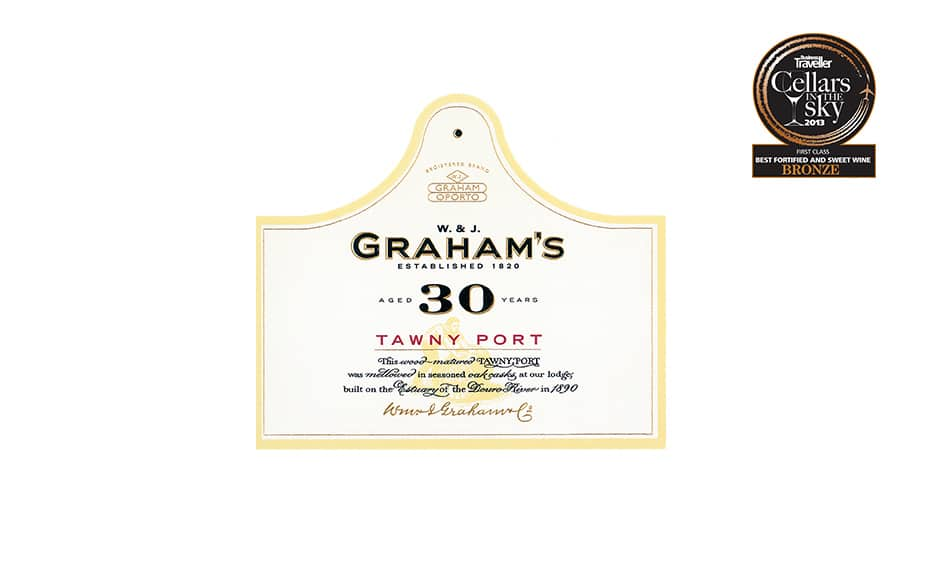 Graham's 30 Year Old Tawny (Port Wine)
An outstanding port, long admired as a gem of Portugal.Established in 1820, Graham's continues to ferment grapes by handmade techniques in granite tanks under the strict quality control of the prestigious Symingtons.Rich aromas of caramel and licorice.The complex sweetness spreads smoothly despite the 20 percent alcohol.Try this tawny, an intoxicant favored by the British aristocracy, as a digestif.
*Check "Meal/Drink Menu" for the serving period and routes of the above labels. *Beverage brand is subject to change without prior notice. Please accept our apology if your choice is not available.
ANA's Premium Wine Selection for 2016 - Wine Selection Process -
From June 2016, ANA presents an entirely new wine selection for your enjoyment on board. After the selection principles were set, the wines were selected over the following six months.Wines from over 2,300 labels entered the initial review.Approximately 300 candidate wines that passed the document screening stage were scored in the final blind tasting test. The highest-scoring wine in this process becomes ANA's selection to be served on board and in airport lounges for one year from March.
Each year, in addition to the wine selections that originate in ANA destinations (such as France, the U.S. and Germany), wines from other various countries are also chosen to make ANA's wine list distinctive and diverse.
Treat yourself to the marriage of fine wines and food for high-quality air travel on ANA.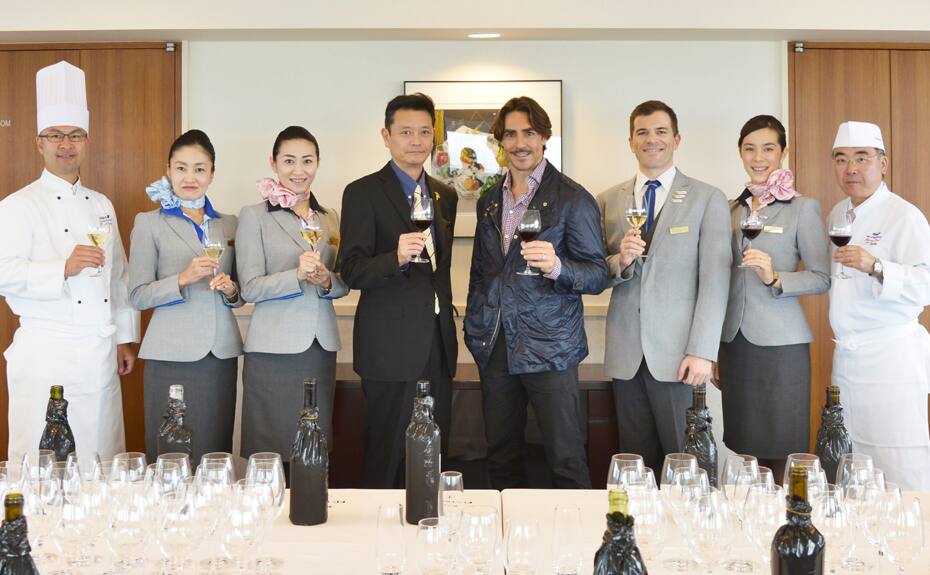 Tasters at the Wine Selection
When choosing the tasters for our premium wine selection, we try to match the real-life composition of passengers in an ANA cabin. Together with certified sommeliers, we mix in wine novices and persons of all ages, keeping the gender ratio close to even.The panel of about 50 tasters includes cabin attendants with sommelier certification, chefs in charge of in-flight meals, ANA employees who design services, and most importantly, the wine connoisseur and a member of THE CONNOISSEURS, Ned Goodwin (Master of Wine) and Katsuhito Inoue (senior sommelier).