Toute une gamme de produits de bien-être sont disponibles à bord afin d'assurer votre confort.
N'hésitez pas à contacter notre personnel de bord.
- Les accessoires de bien-être varient selon les lignes.
- Les photographies sont à titre d'exemple.


Quality of sleep is determined by multiple factors including posture, bedding texture, weight, heat retention, and breathability. Our ultra-light comforter is made from the highly functional Teijin Nanofront® fibers using the latest technologies from Nishikawa Sangyo. Moreover, its AiR® mattress features a unique structure that disperses body pressure, while its Angel Float® pillow offers a flexible fit even when lying face up or sideways. Also enjoy our blanket made with the finest cashmere and Tenerita's organic cotton that meets strict international standards, as well as the double-sided knitted loungewear with a truly soft texture.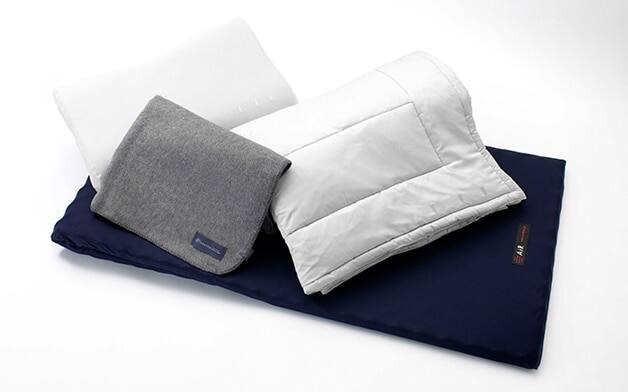 Bed pad, Comforter, Pillow, Blanket
Bed pad

Nishikawa Sangyo's AiR® is favored by many athletes while they travel abroad. This conditioning mattress disperses the pressure placed on your body through a unique, three-layer structure, maintaining a favorable sleeping position and promising a good night's rest. AiR®'s excellent design is praised by both inside and outside Japan, winning various design awards around the world.

Comforter

This ultra-light, next-generation comforter is created through the technologies of Nishikawa Sangyo. The bedding materials include highly functional fibers such as Nanofront® polyester nanofibers from Teijin - the thinnest in the world - and cotton with special polyester fibers that insulate and retain heat.
This comforter is soft, thin, and warm to allow you to rest comfortably.

Pillow

Nishikawa Sangyo's comfortable Angel Float® pillow is amazingly soft and has a unique form that fully supports different sleeping positions while still being amazingly soft. It also has excellent heat dissipation, moisture absorption, and moisture desorption features. It maintains the softness in different temperatures.
* Feather pillow is also available.

Blanket

Tenerita blanket is made from safe, high-quality organic cotton that has passed the world's strictest international standards. High-grade cashmere is used on the front side of the blanket to combine the heat retention of cashmere with the breathability of cotton. This soft, light blanket enfolds you in comfort created by the finest materials.
Loungewear

The double-sided knitted top and bottoms are made from pre-dyed threads for a light and smooth texture. They come with a convenient storage pouch, perfect for taking the loungewear home.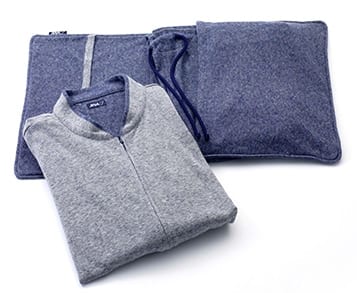 We also offer below items for your complete relaxation throughout the journey.
Knit wear (rental)

knit wear
Slippers

slippers,

shoe horn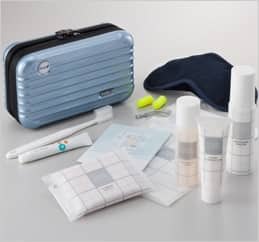 Amenity kit

A premium amenity kit with the finest products is prepared to each passenger, to ensure you have a more pleasant journey on our long-haul flights.

●ANA original "RIMOWA" amenity kit

●Basic Care set by "The Ginza Cosmetics"

・Energizing lotion
・Moisturizing emulsion
・Creamy cleansing foam
・Facial cotton pads (4 pieces)

●Tooth brush set, eye mask, ear plugs

* Amenity kit may vary in color.



A different amenity kit will be offered during the period below.
Period :

mid-December 2013 ~ end of January, 2014*

Details :

Departures from Japan — ANA original "RIMOWA" amenity kit
Departures from outside of Japan — ANA original amenity kit (ANA original "RIMOWA" amenity kit will be offered when it is out of stock)
*Service period may change.
Other Amenities
A wide-range of amenities have been prepared for you.
[ Limited Offer ]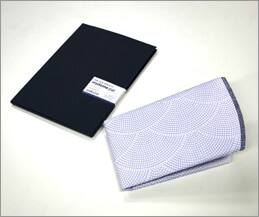 Sleeping, Thermal-insulating & Moisturizing Cover
"mydome・pal"

"mydome・pal" is a sleeping good made with breathable nonwoven fabric, a product manufactured by Mitsubishi Paper Mills Ltd. Simply wear it and cover your face before sleeping or taking a nap.
Your breath will be circulated inside the cover to keep you warm and moisturized. Also its soft, nonwoven fabric cover will block the light which ensures a comfortable sleep.

Routes :

Narita ⇔ New York(NH10・NH9),
Narita ⇔ Frankfurt

Period :

16 December 2013(Mon)~about 1 month
(Service ends when out of stock)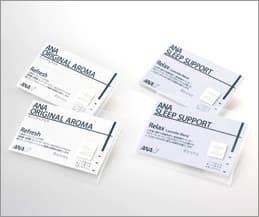 ~ANA's Original~Aroma Cards

This special aroma is a collaboration with @aroma, an international company.
No matter at the ANA lounges, or in-flight services, you can feel the ANA brand with this original aroma.
The aroma cards are sleep support items good for your rest time. Feel free to choose from "Relax" or "Refresh", to suit your various needs.


Soins de santé

Masseur pour pieds
Ensemble papeterie

Carte postale,

stylo à bille,

bloc-notes
Rinces-bouche, serviettes rafraîchissantes pour le visage et le corps, serviettes rafraîchissantes pour les jambes, peignes, chaussettes et mouchoirs sont à votre disposition. N'hésitez pas à contacter notre personnel de bord.
- Selon disponibilité.
*Content is subject to change without prior notice. Your choice of amenity may not always be available.