About itineraries
About stopovers
The airline, passenger, sector and route cannot be changed. Neither is it possible to change a destination and a stopover (stay of more than 24 hours) to an ordinary transfer (transit within 24 hours) or vice versa.
Stopovers in Japan are not allowed for itineraries departing from Japan. 2 stopovers are permitted within Europe.)Only 1 stopover is permitted for each city. Ground transportation during an itinerary is regarded as a stopover.
No stopovers or ground transportation within the country of origin are permitted on international routes (itineraries that include 2 or more countries).
In the case of Round-the-World tickets only, up to 8 stopovers are permitted between the origin and final destination. However, only 3 stopovers are permitted within Europe.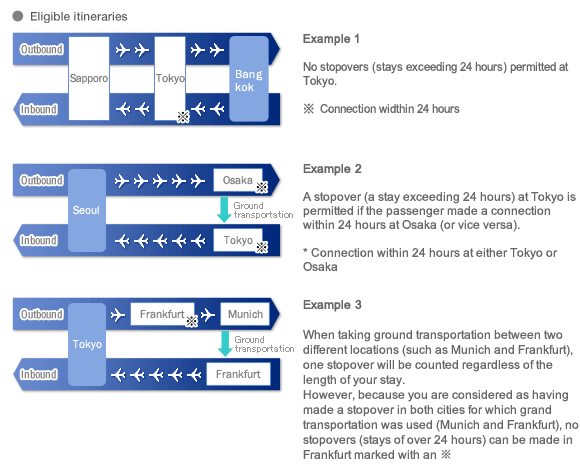 Other itineraries
Routes cannot pass through the region of departure en route to another destination.
You cannot arrange an itinerary to go to a third country via the departure country.
The departure airport and the final destination on the itinerary may differ, but must be in the same country.
Mileage for ground transportation segments are not included when calculating the travel mileage in the itinerary.
Scandinavian countries (Sweden, Norway, and Denmark) are defined as the same country, and itineraries with different departure and final destination countries can be used.
Buses with a Lufthansa flight number cannot be used.
A Singapore Airlines 380 or B777-300ER First Class cabin cannot be used for this offer.
You can only travel within Hawaiian inter-island when using Hawaiian Airlines.
[Round-the world flights]
Round-the-world flights must precede in either an easterly or westerly direction and may not backtrack. Round-the-world flights must include one trip over the Pacific Ocean on one trip over the Atlantic Ocean. Passengers must board the final international flight returning to the country of departure at least 10 days after the date of their first international flight.
*Reservations cannot be made with ANA SKY WEB. Please contact the ANA Mileage Club Service Center.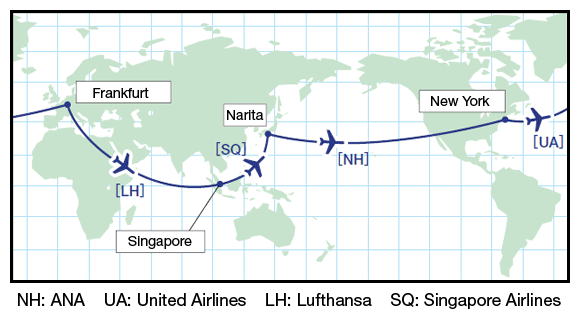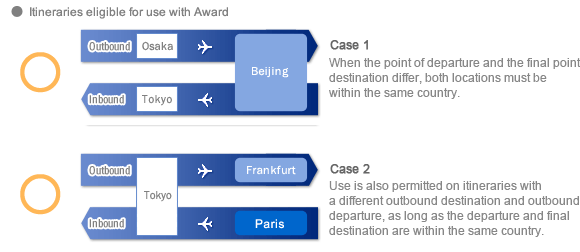 Connections with Japanese Domestic Flights
Only ANA Japanese domestic flights can be used (IBEX Airlines flights cannot be used).
When connecting from ANA Japanese domestic flights (including ANA Connection) to international flights, or vice versa, the required mileage is calculated based on all segments including Japanese domestic flights. However, stopovers (stay exceeding 24 hours) in Japan are not permitted for an itinerary departing from Japan. Itineraries departings from overseas allow only 1 stopover in Japan.
Japanese domestic flight may be booked only for regular seats. Qatar Airways, Virgin Atlantic, Jet Airways cannot be combined with other airlines.
Mixed classes
Only one class can be used. To use a different class within the itinerary, you can apply the mileage for the higher class to the entire itinerary.
Segments with First Class and Economy Class require the Award level for each boarding class. When traveling on a UA or US flights within USA, between USA and Canada or a SA flight within South Africa with 2 classes (First Class and Economy Class) on an itinerary connecting to an international flight with Business Class, the passenger may travel in First Class by applying the mileage required for Business Class to the entire itinerary.
Transport Rules
Based on the rule banning transport between two domestic hubs inside the U.S., you cannot arrange an itinerary to go to Guam / Saipan via a third country such as Japan from the continental U.S. with only non-U.S.-Based airlines. In addition, you cannot arrange an itinerary to go to the continental U.S. via a third country such as Japan from Guam / Saipan with only airlines which are non-U.S.-based.