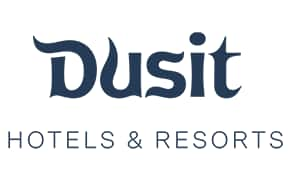 For over 65 years, Dusit International has been synonymous with world-class hospitality, delivered with the iconic touches of service and artistry of Thailand.
From pioneering hospitality and education to leading development in emerging destinations, Dusit International offers an encompassing range of 29 hotels and resorts in China, Egypt, Kenya, Maldives, Philippines, Thailand, United Arab Emirates and United States of America.
Each Dusit brand endeavours to create a personalised welcome under the brand promise that started it all: the delivery of an experience that enlivens the individual spirit , no matter the journey.
500 miles per stay
* 250 miles per stay for Dusit Princess brands
Conditions for Mileage Accrual
Miles will be credited only when booked through Dusit Hotels & Resorts website, by e-mail or by telephone at eligible rates (Dusit Best Available Rates). AMC members must show their AMC cards at time of check-in.
Miles are credited on a per-stay basis. Consecutive nights at the same hotel will be considered as one stay, regardless of the number of check-ins, and a maximum of one room per stay applies.
Miles can only be credited by one member per room and cannot be split between two or more members occupying the same room.
Eligible Rates
Dusit Best Available Rates
Qualifying Corporate Rates
Corporate Package Rates (promotion on www.dusit.com such as Dusit Discovery, Family Getaway, Couple's Getaway, Cultural Getaways, etc.)
Excluded Rates
Group rates
Travel Industry rates
Government rates
Special discount rates
Dusit Thani Bangkok
Dusit Thani Hua Hin
Dusit Thani Pattaya
Dusit Thani Krabi Beach Resort
Dusit Thani Laguna Phuket
Dusit Island Resort Chiang Rai
dusitD2 Chiang Mai
dusitD2 Khao Yai
Dusit Princess Chiang Mai
Dusit Princess Korat
Dusit Princess Srinakarin, Bangkok
Dusit Thani Dongtai, Jiangsu
Dusit Thani Fudu Qingfeng Garden, Changzhou
Dusit Devarana Hot Springs & Spa Conghua, Guangzhou
Dusit Princess Wellness Resort Panzhiuhua, Sichuan
dusitD2 Fudu Binhu, Changzhou
dusitD2 Nairobi
Dusit Thani Lake View Cairo
Dusit Thani Maldives
Dusit Thani Abu Dhabi
Dusit Thani Dubai
dusitD2 Kenz Hotel, Dubai
Dusit Thani Guam Resort
Dusit Residence Dubai Marina
Please allow approximately 1-2 months to confirm mileage accrual after stay.
Please contact the following for retroactive registration of mileage.
* Please click here to confirm the retroactive registration method.
Dusit Hotels & Resorts

By mail :Partnership Marketing Department, Dusit Thani Building, 3rd Fl., 946 Rama IV Road, Silom, Bangrak, Bangkok 10500 Thailand

By E-mail :ffp@dusit.com
Dusit Hotels & Resorts

+66 (0) 2636 3333