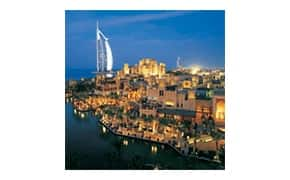 Jumeirah's promise of STAY DIFFERENT? delivers imaginative and exhilarating experiences in culturally connected environments offering thoughtful and generous service.
In line with this core essence, the individuality of the Jumeirah portfolio is unmistakable, encompassing the world renowned Burj Al Arab, the world's most luxurious hotel and recognised as the symbol of Dubai, the multi-award winning Jumeirah Beach Hotel, Jumeirah Emirates Towers, Madinat Jumeirah, the Jumeirah Carlton Tower and Jumeirah Lowndes Hotel in London; and the Jumeirah Essex House in New York.
Jumeirah's ambitious expansion plans to grow its portfolio of luxury hotels and resorts worldwide to 60 by 2012 are well underway, with projects currently under development in the United Arab Emirates, Jordan, Qatar, Oman, Bahrain, Kuwait, Morocco, Maldives, Bali, Thailand, China, Panama, Spain, England, Scotland, Germany, Egypt and the US Virgin Islands.
Earn 1 Mile per each $1 spend when staying on eligible room rate. (including room, food and drink fee)

* Earn 1 Mile per each $1 spend on food and drink when staying on a non-eligible room rate.

Earn a bonus 5,000 miles when stay at any Jumeirah Hotels & Resorts for 15 nights or more in a calendar year.
Transfer 2 Jumeirah Sirius Points to 1 Mile
Conditions for Mileage Accrual
Please click here to confirm conditions for mileage accrual.
Please click here to confirm mileage accrual method.
Please allow approximately 1-2 months to confirm mileage accrual after stay.
Please contact the following for retroactive registration of mileage.
* Please click here to confirm the retroactive registration method.
ANA Mileage Club Service Center

Kamata Post Office District 144-8526
Jumeirah Hotels & Resorts


005-311-60601
24 hours (all year round)