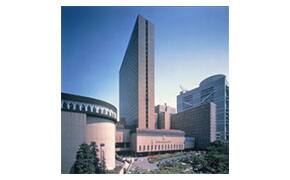 RIHGA Royal Hotel was founded as Shin Osaka Hotel out of the aspiration of the political and economic communities of the Kansai region that had sought "the finest modern hotel in Osaka to host their honored guests".
Heartfelt hospitality is fostered for long-term stays as we welcome VIP guests at Rihga Royal Hotel Group & Associate Hotels.
The Hotel has now grown to operate in 10 major cities across Japan that includes Kyoto, Hiroshima and Tokyo. Amongst all, the one in Osaka which is reckoned as a city of water remains a crown jewel, standing on an island in river Nakanoshima, adjoining to the Osaka International Convention Center.
Being a multifunctional modern city hotel, the Hotel offer a range of styled rooms from luxurious ones on the Executive Floor of the Presidential Tower to compact standard ones, providing utmost comfort whilst meeting diverse needs of businesses, leisure and family travels.
Above all, a collection of Japanese and world's gourmet restaurants, bars and lounges, and world's leading fashion brand boutiques complement the Hotel amenities to provide quality accommodation in the Royal style.
Room rates eligible to earn miles will be changed from stays on/after October 1, 2017. For details, please ask the hotels at the time of booking.
200 - 500 miles per room per night
* Please click here (Text is available in Japanese only.) to confirm accrual miles.
Conditions for Mileage Accrual
Please click here to confirm conditions for mileage accrual.
Please click here to confirm mileage accrual method.
Please allow approximately 1-2 months to confirm mileage accrual after stay.
Please contact the following for retroactive registration of mileage.
* Please click here to confirm the retroactive registration method.
RIHGA Royal Hotel Group & Associate Hotels

Contact the reception at each hotel.
RIHGA Royal Hotel Group & Associate Hotels


0120-116180
Mon. - Fri. 9 a.m. - 6 p.m.
Sat., Sun. and National Holidays 10 a.m. - 4 p.m.
(except Year End / New Year Holidays)
* Text is available is Japanese only.