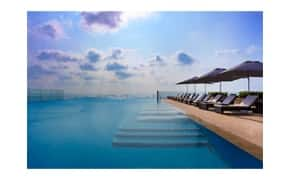 At the Sheraton, guests are not merely visitors. We want to help you have the best time possible during your stay, whether you are relaxing, sightseeing or even working. Guests never simply drop off their luggage at the entrance upon arrival. We understand the importance of transforming the stress of travel to the relief of arrival and making guests feel truly welcome and feeling completely at ease when they glide through the door. After all, we have all experienced the trials and tribulations of travel. Sheraton hotels can be found in popular cities and resorts throughout the world. We are your bridge to whatever most matters to you, no matter where you travel. Guests do not simply stay here. This is the place to feel connected at heart.
Westin Nagoya Castle was changed to "Hotel Nagoya Castle", for the termination of their franchise contract with Westin Hotels & Resorts. Miles cannot be accrued for stays after January 31, 2018.
Preferred Guest = 2 miles per US$1
Gold Preferred Guest = 3 miles per US$1
Platinum Preferred Guest = 3 miles per US$1
Conditions for Mileage Accrual
You must already be enrolled as a Starwood Preferred Guest to accrual miles and you also must select ANA Mileage Club as your automatic mileage transfer destination.
Please click here to confirm other conditions for mileage accrual.
Please click here to confirm mileage accrual method.
Please allow approximately 2-4 weeks to confirm mileage accrual after stay.
Please contact the following for retroactive registration of mileage.
* Please click here to confirm the retroactive registration method.
Starwood Preferred Guests

0120-92-5659

03-5423-6062

Mon. - Fri. 9 a.m. - 8 p.m. Sat. 9 a.m. - 5 p.m.

(except Sun., National Holidays and Year End / New Year Holidays)

* Text is available is Japanese only.
Starwood Preferred Guest


0120-00-3535
Mon. - Fri. 9 a.m. - 6 p.m.
Sat. 9 a.m. - 5 p.m. (except Sun., National Holidays and Year End / New Year Holidays)