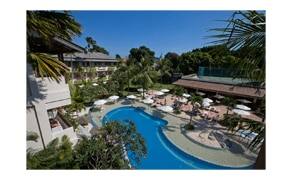 WORLDHOTELS is an exclusive collection of the world's most unique independent hotels under the banner "Unique Hotels for Unique People". The company's mission is to offer business and leisure travellers easy access to a wide range of 4 and 5 star hotels with character and distinction. Each hotel in the WORLDHOTELS portfolio has passed a rigorous selection process and meets the group's stringent quality standards. Over 1000 quality criteria are anonymously tested on an annual basis.
Conditions for Mileage Accrual
Please click here to confirm conditions for mileage accrual.
Please click here to confirm mileage accrual method.
Please allow approximately 1-2 months to confirm mileage accrual after stay.
Please contact the following for retroactive registration of mileage.
* Please click here to confirm the retroactive registration method.
WORLDHOTELS

+65-6227-5535

FAX: +65-6227-0565

e-mail: singapore@worldhotels.com

10 Kallang Avenue #05-17 Aperia Tower 2 Singapore 339510
WORLDHOTELS


0120-557-537
Mon. - Fri. 9 a.m. - 6 p.m.
(except Sat., Sun., National Holidays and Year End / New Year Holidays)